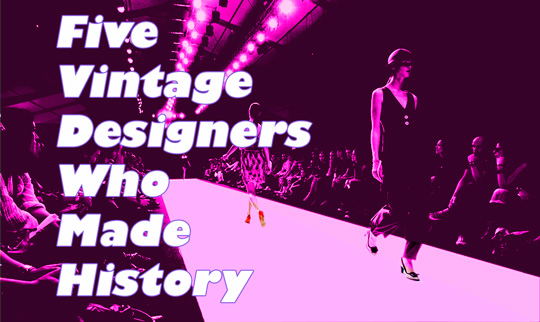 Vintage designers are the most influential, but unrecognized names in the fashion vernacular today.
Sure, the average fashion aficionado knows who Balenciaga, Christian Dior and Chanel are. But how about vintage designers Pauline Trigere, Biba, Ceil Chapman, Malcolm Starr or Bonnie Cashin?
Don't fret! Before writing this post, I knew about 25 percent of what I know now. From 1950s clothing to 1970s clothing trends, these are only a handful of vintage designers who influenced fashion history as we know it.
For example, Bonnie Cashin introduced "layering" to a woman's wardrobe while Biba pioneered fast fashion disposable trends, paving the way for today's contemporary stores Topshop, H&M and Forever 21.
Whatever your vintage designer knowledge, read on for the facts every fashion lover should know about 5 designers with enduring style you'll want to buy for your contemporary wardrobe right now.
If you already own or happen to acquire a garment with one of these vintage designer labels, I encourage you to research that designer name's value before selling or collecting. In 2004, a Pauline Trigere coat sold for $5,000 at Doyles. You just never know what value you may have!
Who are your favorite vintage designers?
Let me know by leaving a comment below the post, or by saying hello on Twitter, Facebook, Instagram or by subscribing to my newsletter. Also, I'm now offering consulting calls on Clarity to help advise all your awesome vintage lovin' needs. Let's chat! 
xx, SD
Vintage Designers: Pauline Trigere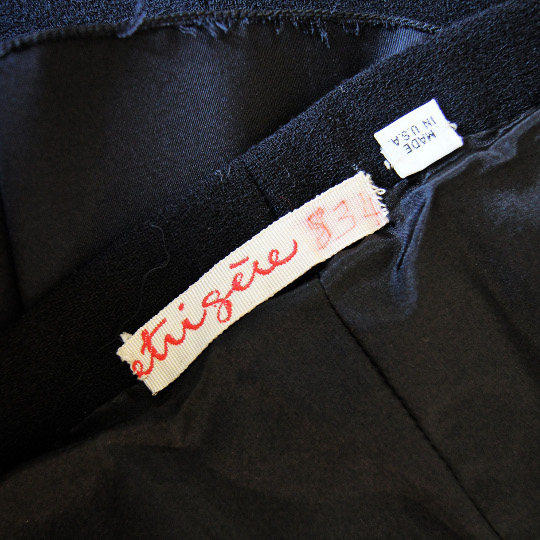 Source: Shrimpton Couture
Pauline Trigere was an illustrious designer of both notable achievements and memorable personality. Born in Paris in 1909 to a tailor and dressmaker, she grew up helping her father and mother's business and learning the craft as their daughter-student.
Despite learning how to operate a sewing machine by the age of 10 and designing her own dress to wear to a dance at 13, she had no interest in wanting to work professionally in fashion.
It wasn't until 1937 when as World War II loomed ahead, she and her then-husband fled Paris with their two children and settled in New York City, where Trigere would begin work as a fashion designer in Manhattan's garment district.
In 1942 she partnered with her brother to found the self-named line, Trigerie.
Design Ethos: It's said that wearing a Trigere piece feels like wearing a "second skin." If you were lucky enough to be fitted for a garment by Trigerie herself, she'd place cloth on your body and live cut it to perfect dimensions.
She was remembered most for garments made from wools which appeared seamless, as if the entire dress was made from one piece of fabric. This new spin on "perfectly tailored" was just one of her many innovative ideas for elegant designs without frill or fuss.
The tailoring stood for itself, offering women clothing that remains as wearable today as when originally made.
Fashion Impact: Trigere's designs were shown at New York Fashion Week until 1994, when she was forced to shut doors when bankrupt clients couldn't pay her back.
Today, the average woman under 40 has no idea who Trigere was or what she designed. Her legacy was not everlasting because unlike other fashion houses (Chanel, Christian Dior, Balenciaga) she controlled every aspect of hers which limited its growth potential to live on as an enduring brand.
Still, in 2004 a Trigere a canvas coat sold for $5,000 at Doyles, and considering the quality, craftsmanship and unseen-anywhere-today characteristics of her designs, owning a Trigere piece is perhaps the closest thing a vintage lover could to a modern day piece of haute couture.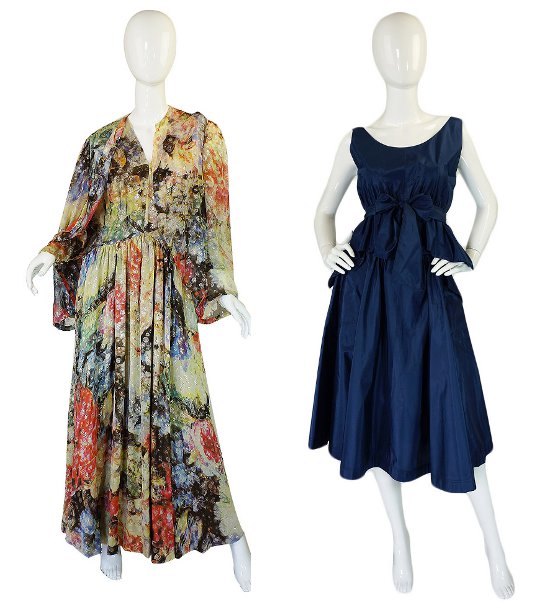 Buy it Vintage: Pauline Trigere 1970s Silk and Lame Gown & Pauline Trigere Early 1950s Navy Silk Set, Shrimpton Couture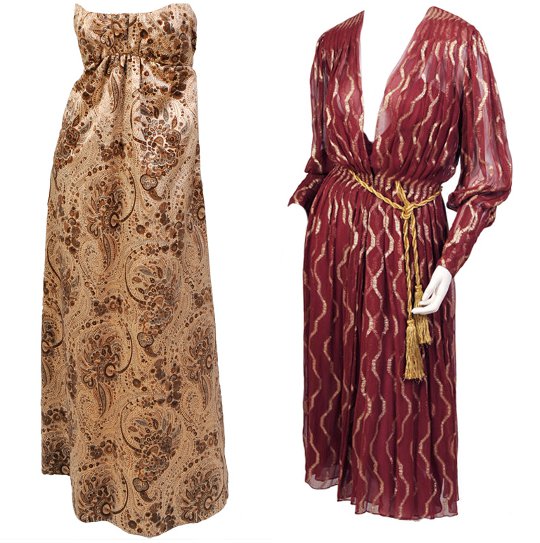 Buy it Vintage: Pauline Trigere 1960s Strapless Emerald Gown & Pauline Trigere Cinnamon Silk Chiffon Dress, Katy Kane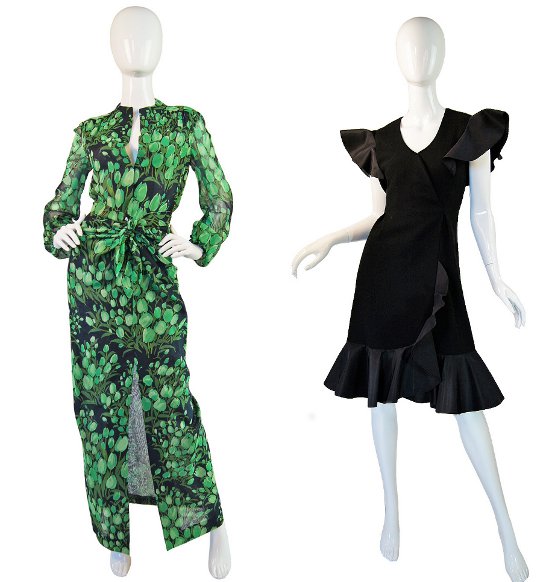 Buy it Vintage: Pauline Trigere 1970s Tulip Print Dress & Pauline Trigere Late 1970s Black Ruffle Dress, Shrimpton Couture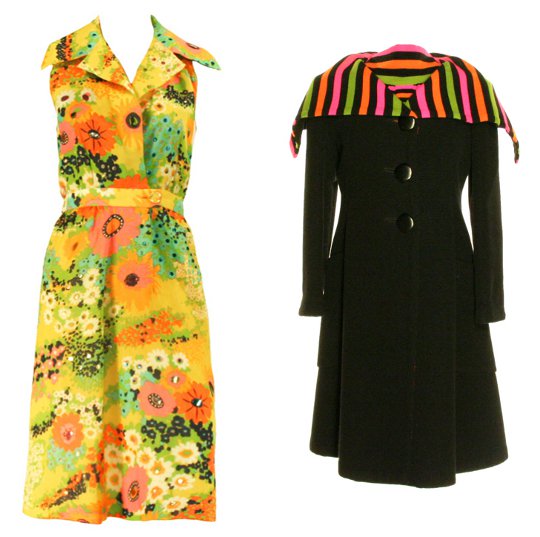 Buy it Vintage: Pauline Trigere 1970s Floral Print Set & Pauline Trigere 1964 Striped Dress & Matching Coat, C. Madeleine's
Vintage Designers: Biba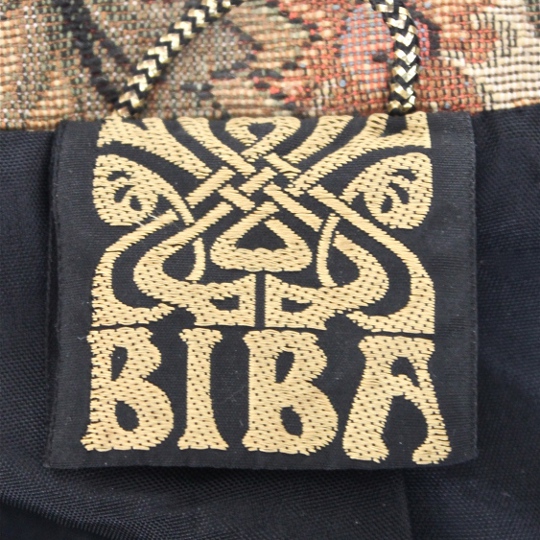 Source: Jennifer Kobrin 
Synonymous with the swinging '60s scene of London, Biba had humble beginnings as a small boutique founded by husband-wife team Barbara Hulanicki and Stephen Fitz-Simon on Abingdon Road in Kensington, London in 1964.
This tiny boutique became famous for producing the trendiest lookalike celebrity styles, but at only a fraction of the price.
Biba attracted the likes of Anita Pallenberg (Mick Jagger's girlfriend), Brigitte Bardot, Bianca Jagger, Raquel Welch, Twiggy and Yoko Ono shopping at the cutting edge store, which played its music loud and blackened windows with paint so that no natural light entered the store, making it feel more like a club scene than a boutique.
Design Ethos: By the early 1970s, Biba became an international name and represented the free spirited, mod styles of British and American youth.
The "Biba Look" of mini skirts and micro mini dresses in an earth tone palette (browns, greens, oranges, purples) was marketed to the teens and 20-something girls described as being, "fresh little foals with long legs, bright faces and round dolly eyes."
Smock dresses, velvet trouser suits and suede boots were also signature style staples, emphasizing the wearer's legs over the bust and hips, as Christian Dior's "New Look" styles had influenced in fashion design for the previous two decades. When Biba came along, it was out with the old and in with the new.
Fahion Impact: Biba's clothing sold for an average of 3 pounds a garment – or approximately $35 dollars today. Clothing was made to be disposable, designed to capture the cutting edge trends of the day for a handful of wears.
Biba's philosophy for fast fashion paved the way for modern fashion's H&Ms, Forever 21s and Topshops, who similarly offer only the latest at the cheapest cost (and arguably lowest quality production) for Pretty Young Things to wear and play in until throwing away.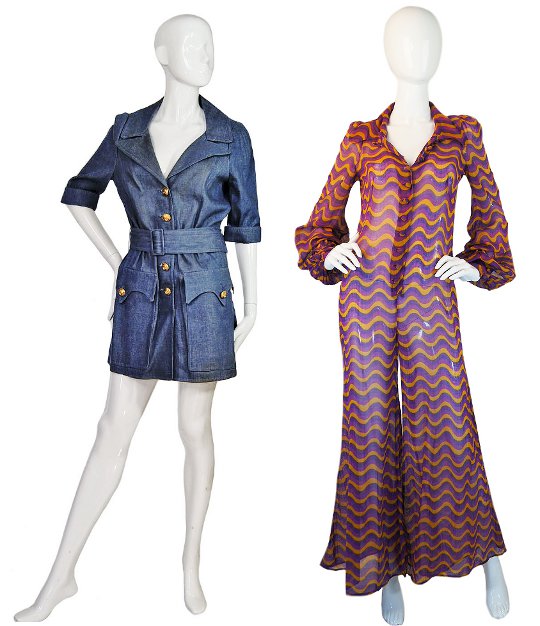 Buy it Vintage: Biba 1960s Nautical Denim Jacket & Biba 1970s Jumpsuit, Shrimpton Couture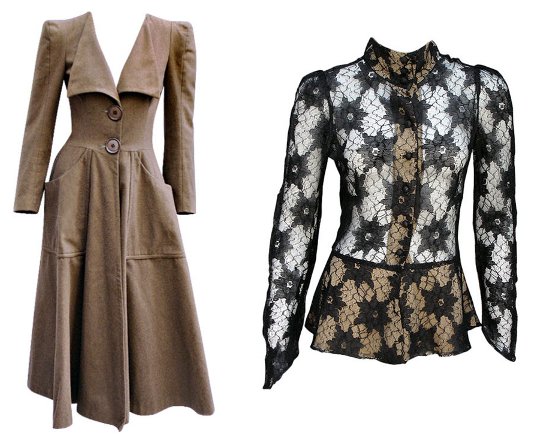 Buy it Vintage: Biba 1970s Caramel Swing Coat & Biba 1960s Victorian Style Lace Blouse, Posh Vintage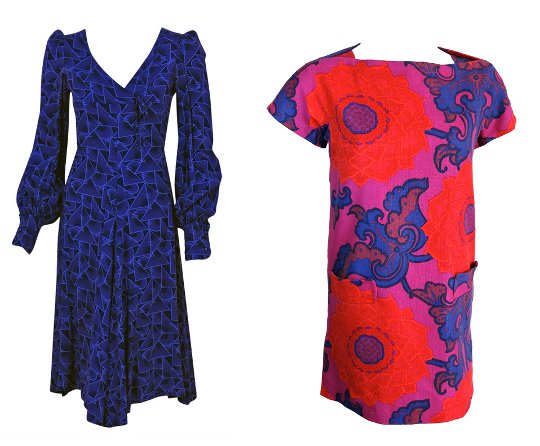 Buy it Vintage: Biba 1960s Royal Purple Billow Sleeve Dress, Timeless Vixen & Biba 1960s Floral Printed Shift Dress, Alan Hsu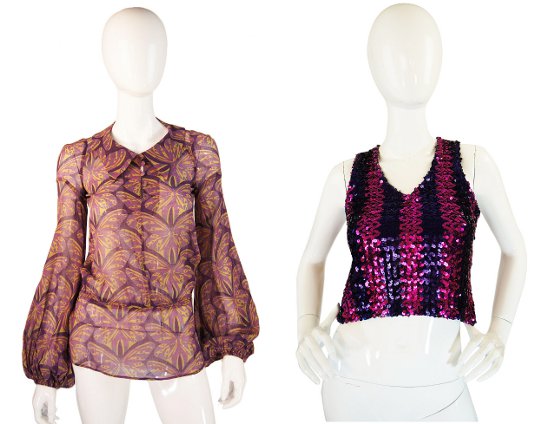 Buy it Vintage: Biba 1960s Fine Voile Butterfly Top &  Biba 1970s Multi Color Sequin Vest, Shrimpton Couture 
Vintage Designers: Ceil Chapman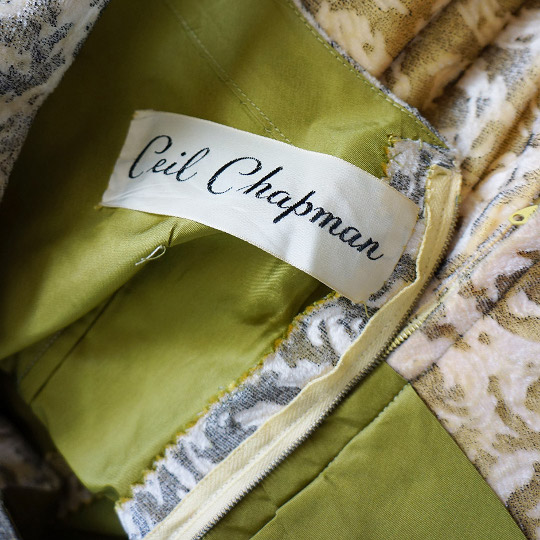 Source: Shrimpton Couture 
Chapman was born in 1912 on Staten Island, New York. Her family moved to Manhattan in her teens, where she would eventually begin working in the Garment District upon launching her brand Ceil Chapman in the 1940s with her then-husband and business partner, Samuel Chapman.
Despite having no formal training in design, Chapman successfully established herself as a go-to fashion designer for the film industry and its stars. She's credited as being "Marilyn Monroe's favorite designer," and provided gowns to the likes of Aretha Franklin, Grace Kelly and even designed Elizabeth Taylor's trousseau for her 1950 marriage to Conrad Hilton.
Design Ethos: Chapman designed sensually structured evening wear which emphasized the female form. Described as a "fashion engineer," Chapman designed dresses so that draping, layers, tucks and pleats would make every woman's body look good.
Fashion Impact: Chapman's brand shut its doors in the 1960s because of financial difficulty.
Before closing, Chapman released a perfume and even sold name rights to other companies to use her likeness and that of her models in advertising campaigns. A 1956 Western Union advertisement depicting Chapman giving a model a telegram is one of her most memorable.
Her styles drew inspiration from Christian Dior's New Look 1950s fashion silhouette, but her high-engineered garments ensured that you need not be a waif to look good in her clothes.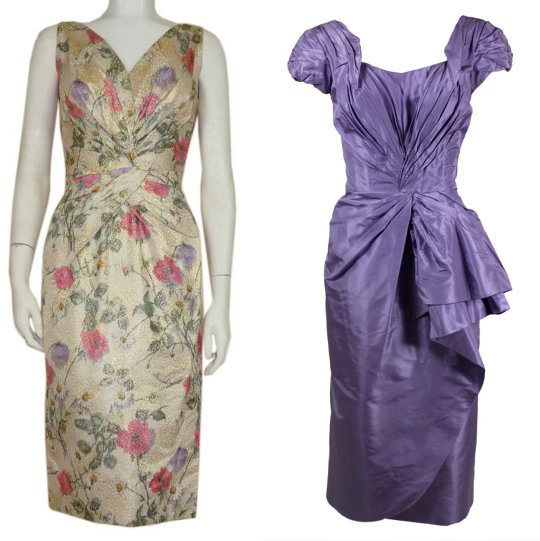 Buy it Vintage: Ceil Chapman 1950's Metallic Brocade Dress & Ceil Chapman Lilac Silk Taffeta Cocktail Dress, The Way We Wore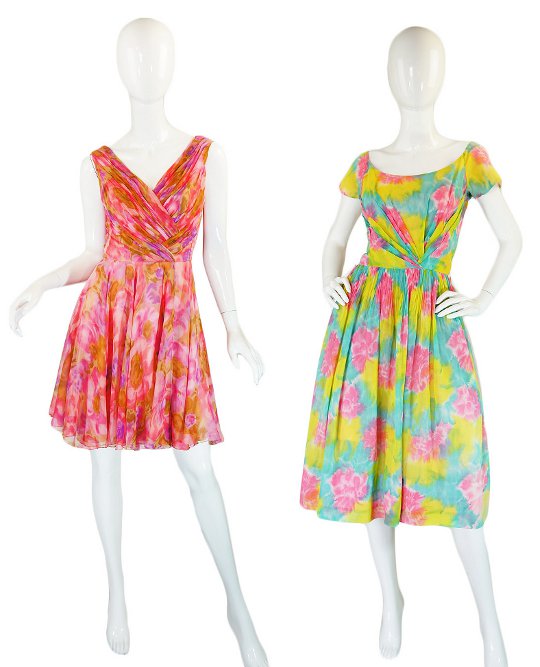 Buy it Vintage: Ceil Chapman 1950s Pink Silk Chiffon Dress & Ceil Chapman 1950s Multi Color Cotton Dress, Shrimpton Couture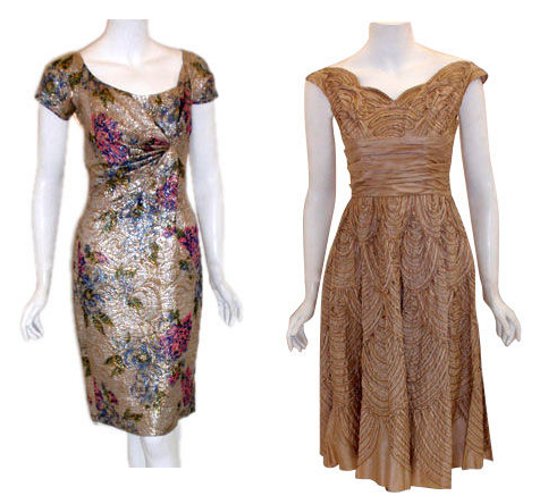 Buy it Vintage: Ceil Chapman 1950s Floral Cocktail Dress & Ceil Chapman 1960s Beige Silk Ribbon Cocktail Dress, The Paper Bag Princess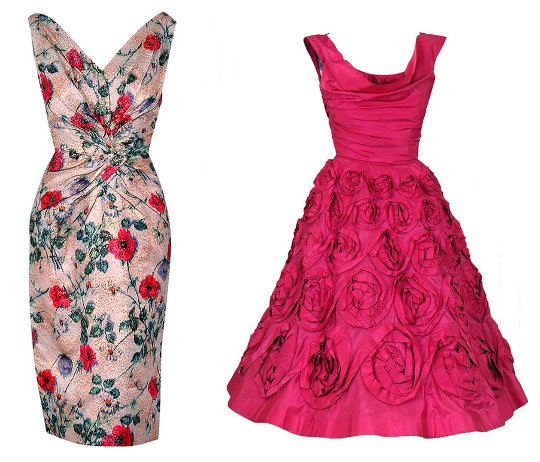 Buy it Vintage: Ceil Chapman Metallic Floral Silk Brocade Dress & Ceil Chapman Rose Swirl Taffeta Dress, The Timeless Vixen 
Vintage Designers: Malcolm Starr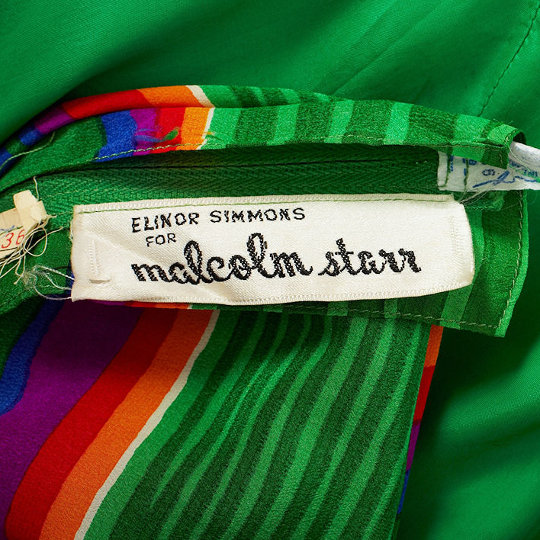 Source: Marlene Wetherell
A quick Google search of Malcolm Starr and not even a Wikipedia entry appears, illustrating just how "forgotten" this deserves-to-be-famous designer truly is.
The facts that can be found say Malcolm Starr was founded in the 1940s by Malcolm's father, Frank. Presumably, Malcolm took over the label and grew it into a popular line of evening dresses beginning in 1961, lasting until the late '70s.
Designers Youssef Rizkallah, Elinor Simmons and Carol Horn are designers associated with the Malcolm Starr brand whose labels bore the identification of "designer name" for Malcolm Starr.
Style Ethos: While the brand went on to make separates and day attire, it was best known for elaborately decorated evening wear, glitzy materials and colorful designs. The most popular Starr design was a maxi length dress or knee-high shift dress with an impossible-to-miss print, embellishment or sparkle.
Fashion Impact: While little is known about Starr's personal life, the company itself was one of the pioneers behind outsourcing production of garments abroad.
In the 1940s the brand leased factories in India and China for manufacturing and even set up shops in Hong Kong and Japan. It was said by Starr's sister Gloria Starr, "Even members of the royal family in Japan wore his fashions" according to Past Perfect Vintage.
The high-fashion styles were perfect for the country club elite and were quickly adopted by members of America's societal upper crust, making these garments for the Western world's wealthy bourgeois.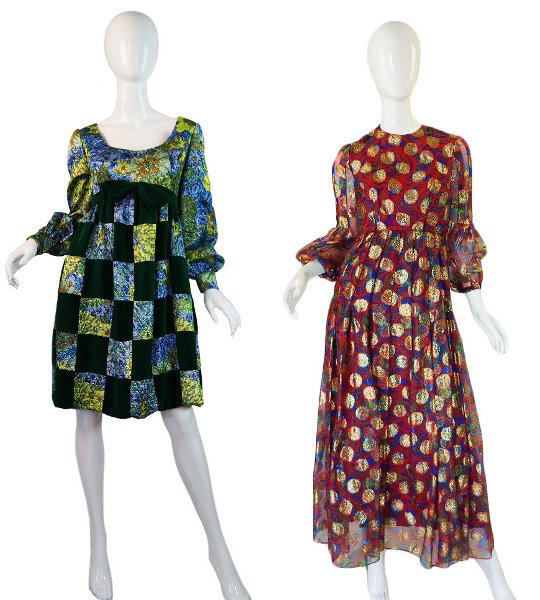 Buy it Vintage:  Malcolm Starr 1960s Metallic and Velvet Dress & 1960s Malcolm Starr Metallic Maxi Dress, Shrimpton Couture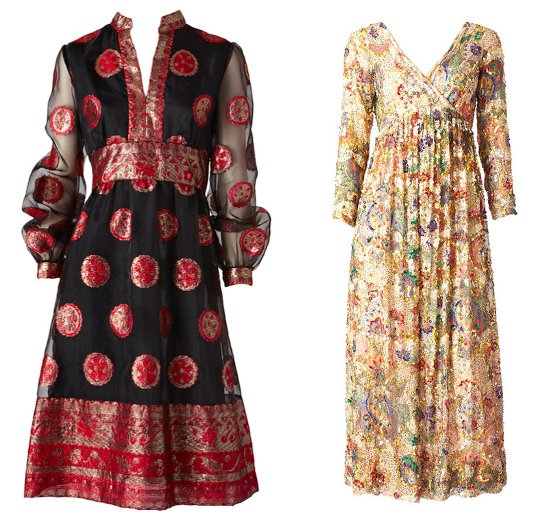 Buy it Vintage: Malcolm Starr 1960s Red and Black Medallion Dress & Malcolm Starr 1970s Jeweled Evening Dress , Marlene Wetherell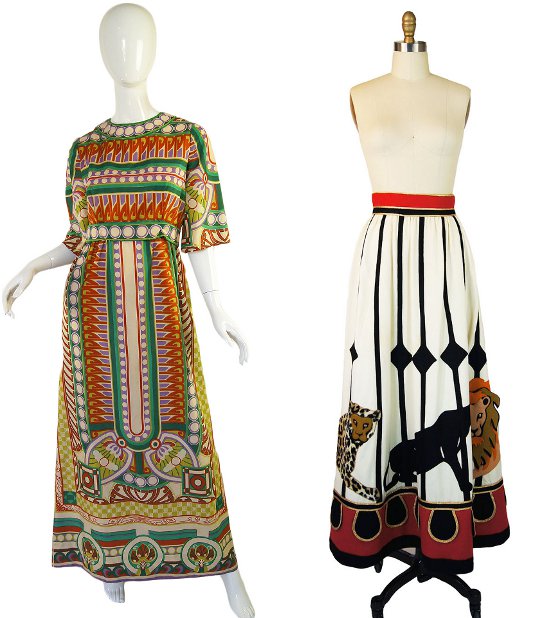 Buy it Vintage:  Malcolm Starr 1960s  Tribal Silk Maxi, Malcolm Starr 1960s Ringmaster Skirt, Shrimpton Couture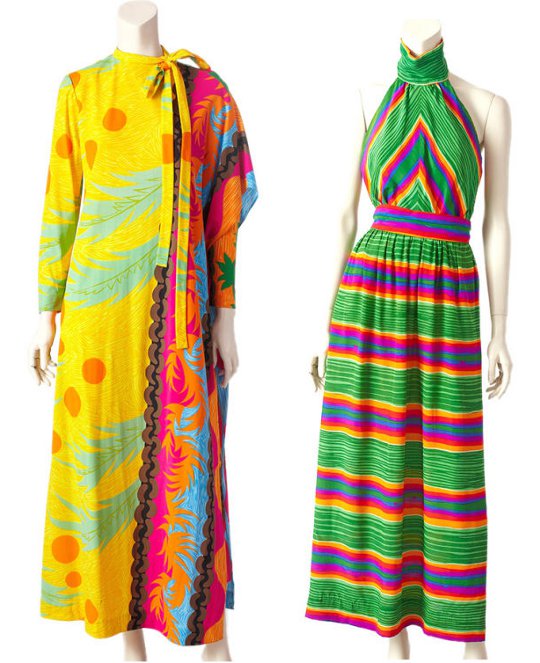 Buy it Vintage:  Malcolm Starr 1970s Multi-Colored Caftan & Malcolm Starr 1970s Striped Halter Dress, Marlene Wetherell 
Vintage Designers: Bonnie Cashin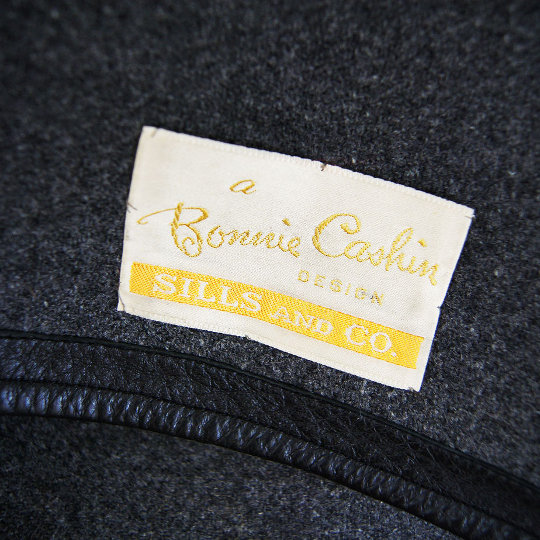 Source: Resurrection 
Bonnie Cashin is perhaps the most influential sportswear designer of American fashion in the later part of the 20th century, introducing the idea of "layering" to the Western world and founding the leather accessories company Coach (yes, that Coach!)
The California-born designer was untrained when she began making costumes for Los Angeles showgirls as a teenager. She moved to New York City soon after to design for Broadway at age 19, making her the era's youngest costume designer to create for the stage.
She continued to hone her skills as a designer working on film sets in the 1940s, the Golden Era of Hollywood. It was in the '50s that she returned to the Big Apple to cultivate Bonnie Cashin the sportswear line.
She was quickly recognized as one of the most innovative designers of the day catering to smart, active and independent women in need of practical (and not "New Look" constricting) garments.
Design Ethos: Sportswear, or ready-to-wear garments, were intended for practical, functional fashion worn by women on the go.
Cashin designed garments in neutral earth tones, staying away from loud patterns, bold colors or pretty pastels so often used by other designers of the eras.
Styles lacked adornment or details so that they could be worn for the everyday and not just a special occasion, however Cashin is attributed to introducing the use of leather as a material for clothing apparel (not just bags) in the early '50s.
Fashion Impact: Her love of leather led to the founding of Coach in 1962 and the release of the first "tote" bag, the Cashin-Carryall.  She's noted as also having first used brass metal hardware on her garments, such as the toggle of a coat or on the lock of a Coach bag.
With the concept of travel more accessible and popular to Americans than ever before (planes, cars, trains, etc.) the need for functional layering emerged for women to comfortably transition between climates, environments and transport.
Inspired by traditional Chinese dress, Cashin marketed her collections as garments to be worn as layers for globetrotting females.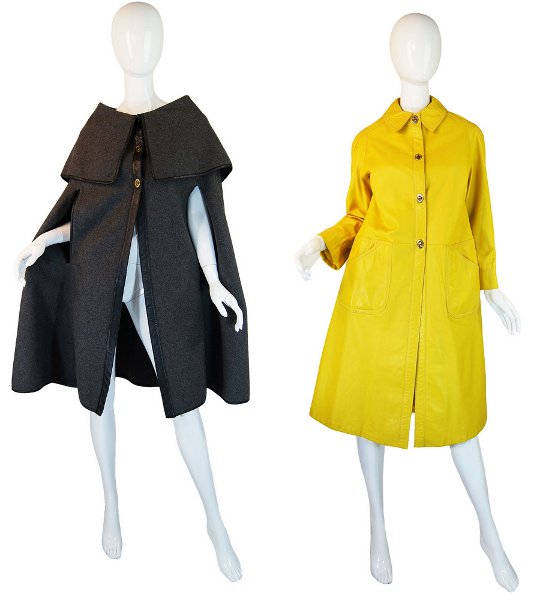 Buy it Vintage: Bonnie Cashin 1970s Wool and Angora Cape & Bonnie Cashin 1960s Yellow Coat, Shrimpton Couture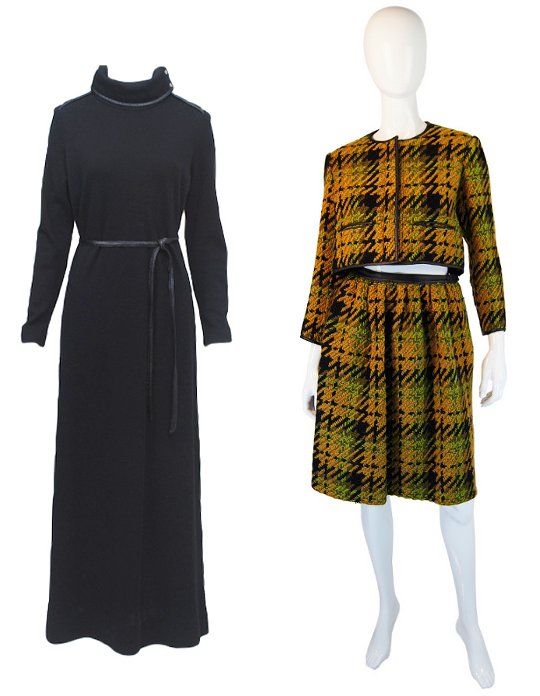 Buy it Vintage: Bonnie Cashin Black Knit and Leather Maxi Dress, Patina / Bonnie Cashin 1960s Wool Suit, Shrimpton Couture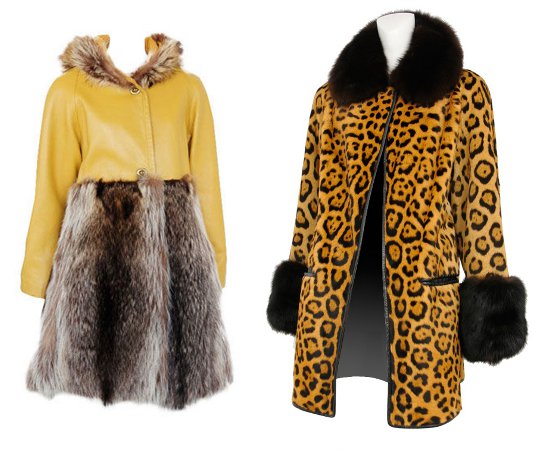 Buy it Vintage: Bonnie Cashin 1970s Fur and Leather Coat & 1960s Bonnie Cashin Leopard Coat, Resurrection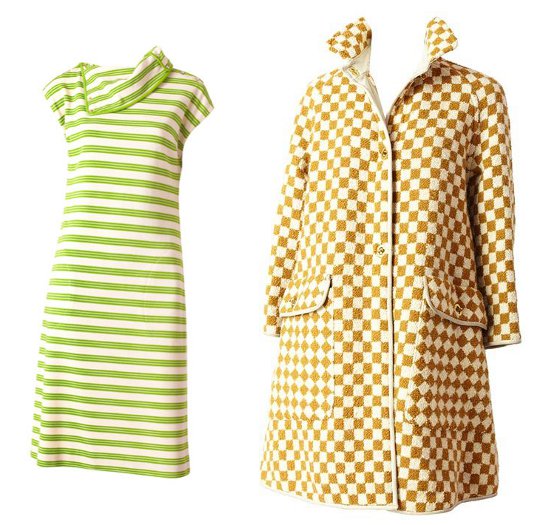 Buy it Vintage: Bonnie Cashin 1970s Striped Dress & Bonnie Cashin 1960s Checkerboard Pattern Coat, Marlene Wetherell 
More Vintage Designer History
On the Runway: Designer Fashion History Behind Bill Blass, Yves Saint Laurent and Halston
Education: 14 Books on Vintage Fashion & Designer History
Trends: The Most Popular 1950s Fashion, 1960s Fashion and 1970s Clothing Trends
From Our Partners
Buy Designer Vintage: Resurrection, Archive and Rice & Beans Vintage 
History: A Vintage Seller Shares Her Knowledge on Vintage Designers
British Vintage Designers: Next to Biba, Ossie Clark Left His Mark in '60s London