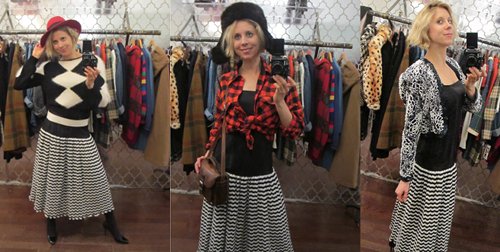 Hello and happy Monday, vintage lovers!!
Last night I did one of my all-time favorite things: I played with vintage fashion. I poured myself a glass of champagne (we keep it in the fridge at the store!) and turned the music up loud (currently loving Jimi Hendrix & The Roots) and got to styling the beauty that I'm blessed to work and style other women in all day long.
But last night? It was all about ME!
I was feeling particularly creative thanks to an awesome meeting with new friend and YouTube guru The Stranger Speaks. He moved to NYC a few weeks ago from the United Kingdom because his heart and his soul told me that he needed to be in the city that never sleeps. I'm so in awe of his courage and fearlessness to listen to the intuitive wisdom we are all pleased to have within.
Saturday night we had an inspiring meet & greet over dinner, where our conversation around why creating beauty (both outward & from within!) is so important in our lives reminded me why I'm a blogger and vlogger in the first place: To express my creativity to a greater audience. YOU!
So thanks to The Stranger, I closed shop at A Little Wicked a few minutes early to see what unique ways I could style one of my favorite drop waist dresses in the store. It's an '80s piece that's quite reminiscent of '20s fashion. I love it when a look "just screams Sammy D," which I think all of the above do because they represent my desire to stand out in a stylish way. I want to be noticed and I want to be heard — and I want to do it wearing nothing but VINTAGE!
Keep reading after the jump for awesome pics and tips on how to dress up your own vintage dresses — and do it with KILLER CONFIDENCE, to boot!
This week's holiday means I'm going to be blogging BIG TIME! I'm excited to share more of my research around dating vintage tags, the trends of handknit sweaters (Fisherman & Sea Isle, anyone?) and a NEW VIDEO! with you all this week. Excitement!!!
Also, remember to enter this week's GRATEFULNESS GIVEWAY thanks to sponsor Quarter Life Vintage!
Leave a comment sharing a "small thing" you're grateful for to honor Thanksgiving and spending Thursday with loved ones and friends!
I love you all, vintage lovers! Thanks for spreading vintage love and let me know what's awesome in your life by saying hello on Facebook, Twitter or email!
xx, SD
THE DRESS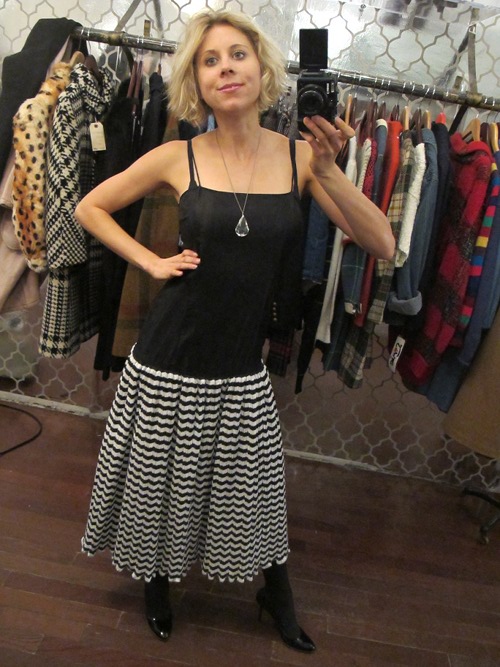 WHY I LOVE IT: When this dress first came into the store, I was like … "Umm … really?!"
Despite writing about the drop-waist trend a few weeks ago, I hadn't fully adopted the thought of wearing one myself.  I guess the resistance is thanks to years of wearing body con dresses, jumpsuits and high-waisted pants over loose and ladylike cuts a la the drop waist.
I was particularly resistant to falling in love with this dress at first sight because it looked like an exaggerated form of a slip dress. And while there is a pretty groovy graphic print on the slip dresses skirt immediately below the drop waist, I thought the the black/white mash up is just to simple for me.
At least I thought at first, that is.
It ends up that upon placing said dress on my body .. the entire LOOK transforms from blase on the hanger to BOOM on the bod! That's what I love most about vintage fashion: You simply CANNOT judge a piece on the hanger. Or on another girls' body. Even on the mannequin! You have to give each piece equal attention and have no prejudices. As soon as I let go of my resistance and tried it on (let's just say the vintage spirits were calling me to try it) I was shocked, awed and inspired to style it three ways to share with you today!
THE DEETS: Drop Waist Evening Dress with Graphic Black & White Skirt ($148)
LOOK #1: BLACK & WHITE + RED = CUTE ALL OVER!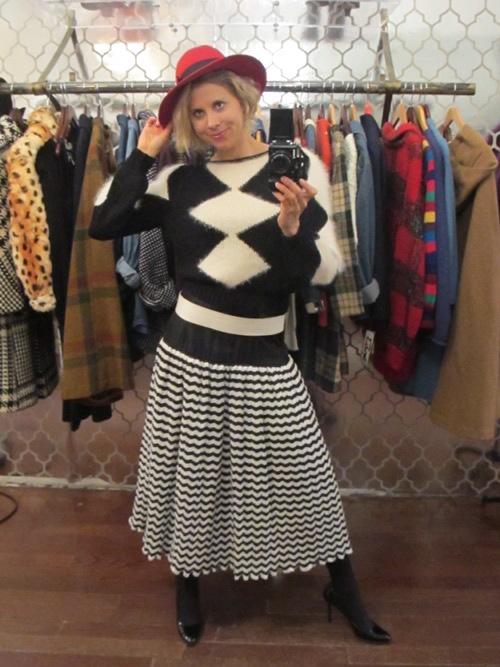 WHY I LOVE IT: This look all began with the hat. If you know ANYTHING about my personal style it's that I have a soft spot for three unique things: Jumpsuits, sequins and … HATS. Especially granny ones! I just like to see what vintage pieces I can "get away with" in a modern way.
So the look's inspiration all came from the hat, but really focused in on playing off the wonderful zig zag striped pattern of my skirt. We JUST put this angora fur sweater out on the floor today, and I was particularly drawn to it because it's use of diamonds were quite royal — I feel a bit like "The Queen" of cards of Alice in Wonderland!
Focusing on two patterns of the same color palette — here, we have two b/w patterns — is an awesome way to get wild & crazy without looking too wacky.
As you'll see in the look below, I border on "wacky" — but with a lot of fun! This look above is a practical way to make an evening piece casual by adding a soft & fluffy sweater, hat and wide white belt to separate the two pieces as if I were wearing a top and standalone skirt.
THE DEETS: Sweater ($98), Hat by Liz Claiborne ($58), Leather White Belt ($48)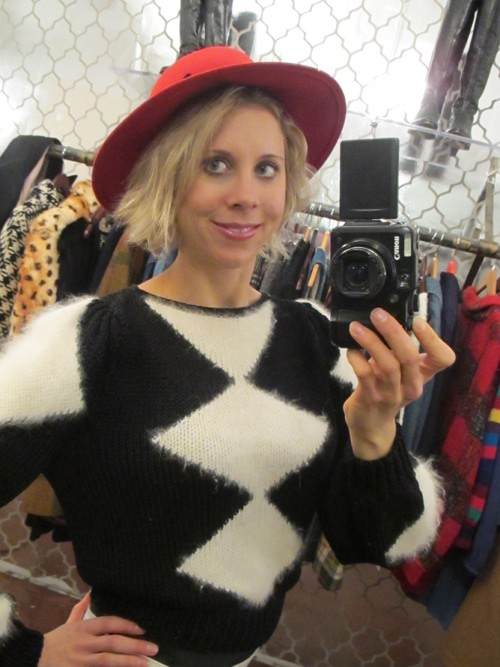 LOOK #2: MAD FOR PLAID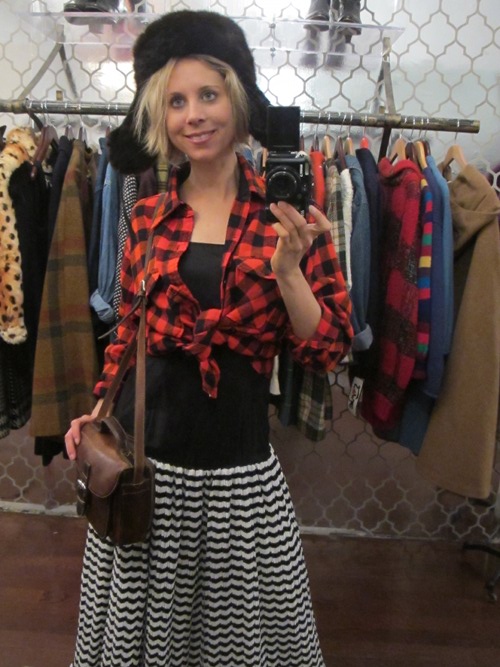 WHY I LOVE IT: Is it just me, or do I look a bit like a female version of Elmer Fudd with a touch of high fashion? Ha!
No, really, I don't mind the Elmer Fudd analogies here. He's a hilarious guy! But there's definitely something aesthetically pleasing to mixing classic red plaid with the black & white zig zag of these stripes.
I added a distressed cross over leather bag and a bonafide rabbit hair hunting hat (JK!) to really lock and load my character.
Now where's that rabbit?!?!
THE DEETS: Lumberjack Plaid by JC Penny ($68), Leather Crossbody Distressed Bag by Bass ($110), Rabbit Fur Earflap Hat ($148)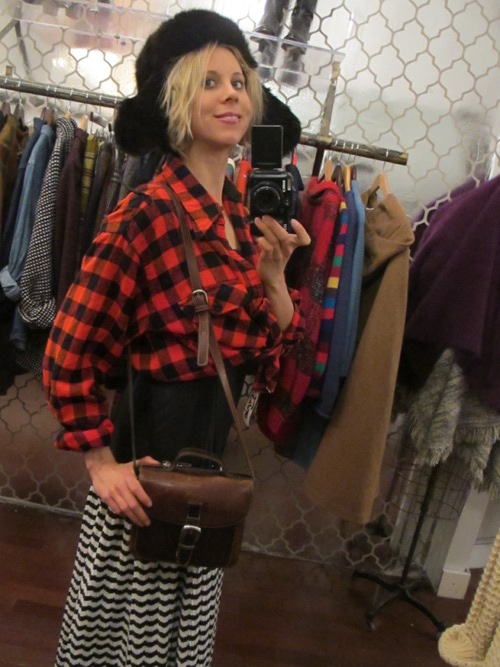 WHICH HAT DO YOU PREFER?

HAT #1: Rabbit fur earflap hat or …
HAT #2: Red lady pimp hat?
Let me know in the comments below!
LOOK #3: DYNASTY DIVA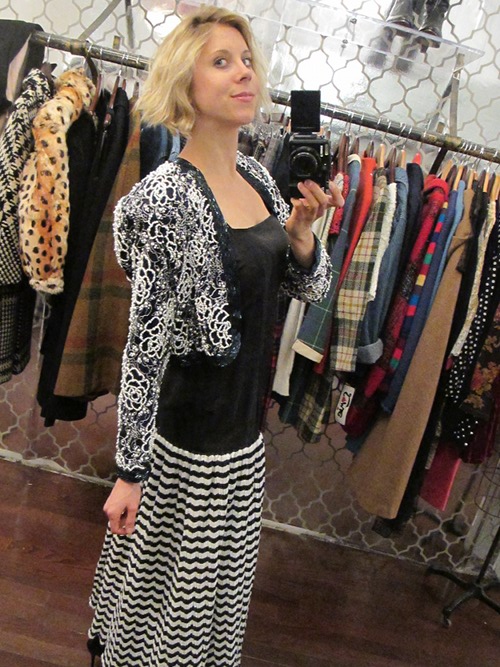 WHY I LOVE IT: It's hard to tell in these photos, but this "Dynasty" Jacket is a brilliant piece because it's cropped high and tight to the body for a modern fit, but then it turns all of that upside down with it's MASSIVE shoulders!
But the good thing about the shoulders which is probably why you can't see them so starkly here is that they are LONG, not WIDE. Instead of making me look bigger they make me look structurally sexy. Or at least, that's what I'm calling it ;-)
This is actually a piece from my personal collection that I sold to the store. The store's owner has me shop for her sometimes too — which is an activity I get to do home this weekend. My goal? To find the highest quality sequin dresses for New Year's parties!
THE DEETS: Sequin Jacket ($138)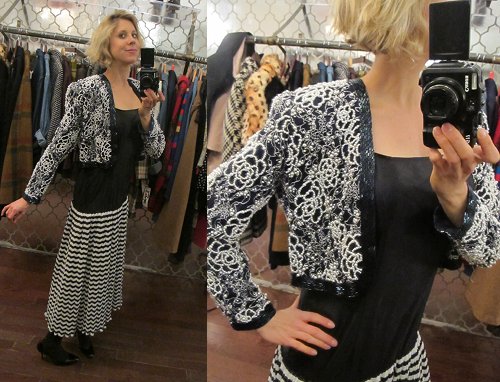 BONUS!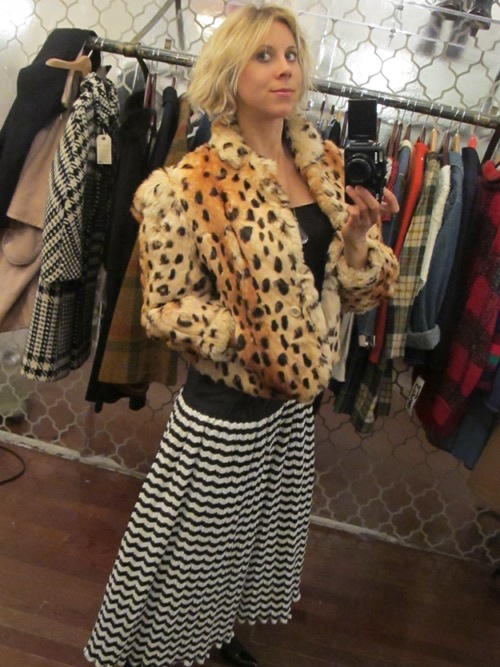 WHY I LOVE IT: Cheetah print + black & white = FIERCE!
Plus, the structure of this furry feline is a great way to offset the pleats of the skirt. I've mixed two textures and patterns for a look of runway appeal.
THE DEETS: Cheetah Rabbit Fur Jacket ($345)
WHICH JACKET DO YOU PREFER?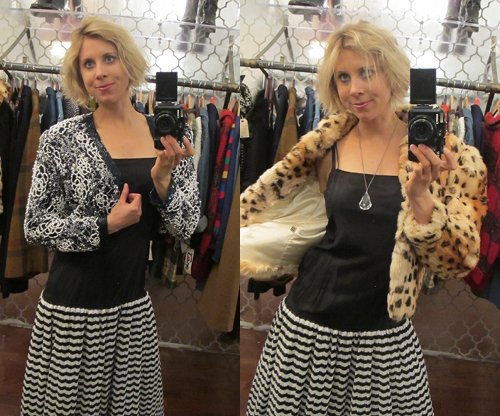 JACKET #1: Dynasty sequins or …
JACKET #2: Cheetah bombshell rabbit fur jacket?
Which do you prefer? Leave a comment below!
MORE '20s INSPIRATION
INFLUENCE: How to Wear '20s Fashion Like The Artist, Boardwalk Empire & The Great Gatsby
TREND: The '20s Drop Waist is In for Spring 2012
THE GREAT GATSBY: How the Movie Influenced this Season's '20s Styles