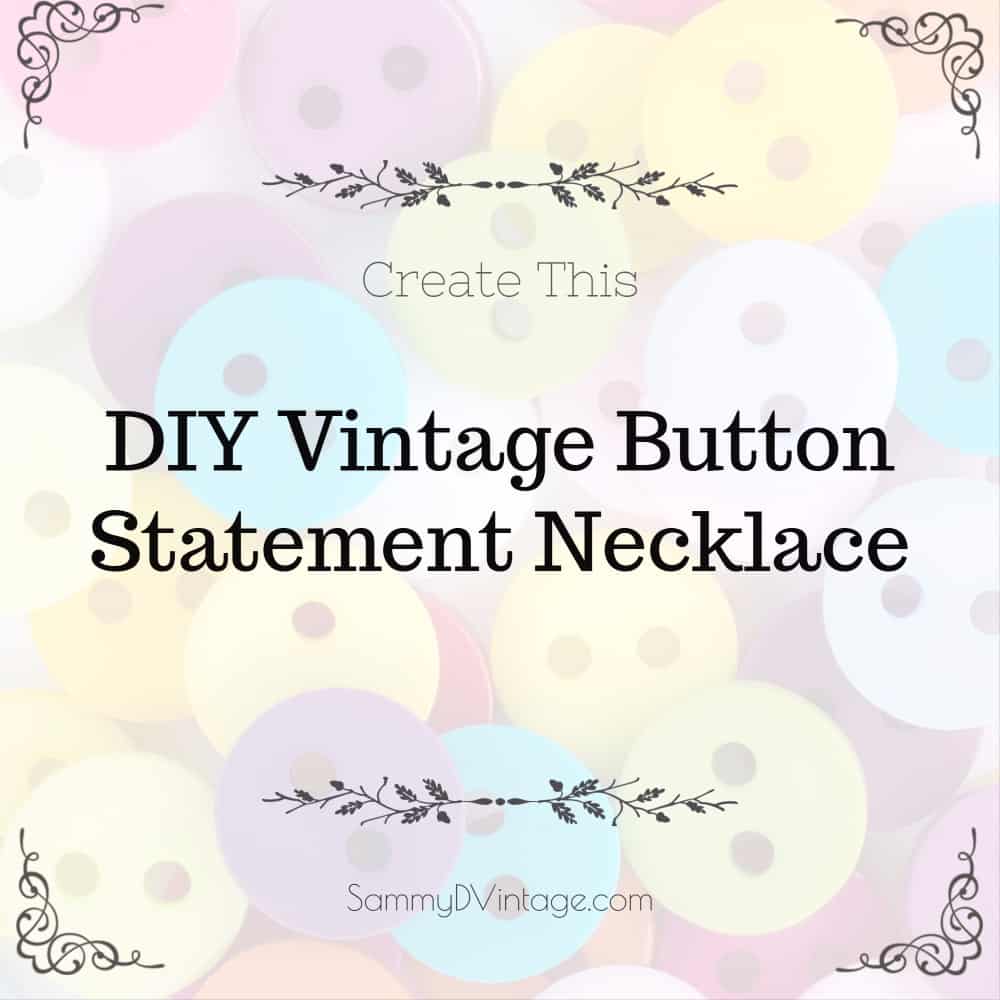 Sometimes I find a blouse or blazer that I want to buy for the buttons alone! Over the years, I have collected a box of pretty buttons which I love to use for craft projects. If you love vintage shopping, and even do some D.I.Y. thrift store upgrades, you might have a stash of fancy buttons hidden away in your closet too! This vintage button statement necklace is a cool way to use those decorative, fancy buttons that you've been hoarding. Here's how you do it!
1. Get Everything Together
You will need at least a dozen buttons of all shapes and sizes. The best bet is to use buttons that stick to a single color palette, such as aquamarine, tan, and gold. In addition you will need a piece of sturdy felt, needle nose pliers, a hot glue gun, something sharp (for poking holes through the felt), four jump rings, and a vintage chain.
The central focus of your necklace will be the artwork that you create with your buttons. First arrange the buttons on your felt. Try several formations until you feel it looks exactly right, and then glue it in place. A great shape to use is a half circle, but you could also play with widening this into a flattened U, or going with a diamond formation. Another variation of this necklace project is to sew the buttons onto the felt. I prefer gluing because it is faster! Any strings or glue messiness can be peeled away once the glue cools down.
3. Trim and Prep The Centerpiece
Next, once the glue has dried, trim any excess felt away from your buttons. There should be no felt visible. Then use your sharp object to poke a hole in either side of the centerpiece. These will be the places where your chain attaches, so make sure that it is even on either side (you don't want a lopsided necklace!
4. Attach The Chain
Cut your chain in the middle with a pair of scissors or the inner edge of your pliers. At this point, you can even decide to alter the length of the pieces of chain, depending on how low you'd like your necklace to hang. Thread the jump rings in through the felt holes that you have created. Thread the jump rings through the cut pieces of chain as well. Close the jump rings with your needle nose pliers. If your chain already has a clasp on it, you are done! If not, not would be the time to add your clasp using the jump rings and your needle nose pliers.
And that's all folks! Now that I know how to do this project, I will be on the look out for gorgeous buttons even more than before. Statement necklaces can be worn with plain outfits to add a beautiful focal point and delightful detail. Let me know how this project goes in the comments section below!