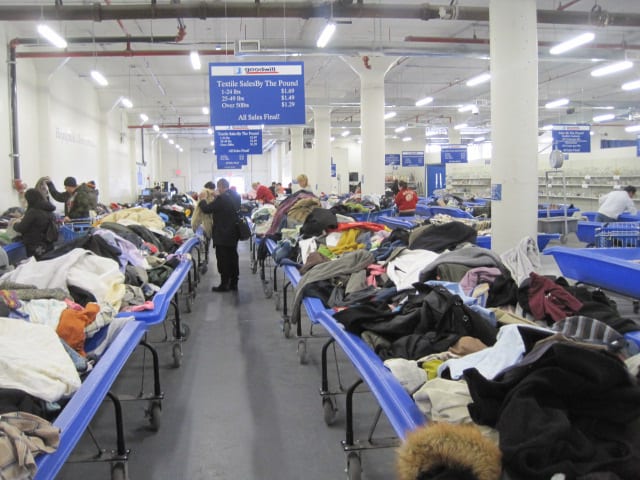 Hello and happy Wednesday everyone! ;-)
Yes, that picture above is the mecca of all thrifting meccas … the GOODWILL OUTLET in Queens, New York, where finding a fabulous piece takes some serious digging and a critical eye to separate the treasure from the trash.
Defining what true "treasure" is remains up to you — whether it's finding a one-of-a-kind dress for a fraction of the cost, revealing a rack full of never-before-worn samples from your favorite contemporary brand or my favorite, spotting priceless vintage hidden between the hangers — every thrift store experience presents boundless opportunity and discovery.
Valorie Huston, an Ebay seller and follower of Sammy Davis Vintage, recently asked the following question on the fan page.
For more information about tags and labels read my post about Vintage Clothing Labels and Tags.
I have been selling on eBay and I'm just beginning to venture into vintage clothing. Can anyone recommend some resources where I can find information on identifying vintage pieces? I make the rounds at our local Salvation Army Thrift Store, Goodwill, estate/garage sales and several locally owed thrift stores on a weekly basis. I have found some awesome pieces so far but I know I have missed tons of great buys because I don't have a lot of knowledge/experience in vintage clothing.
So if anyone can pass along any information and/or resources where I can do some research on identifying vintage pieces I would really appreciate it. I know the labels from some designers have changed over the years and you can date a piece by the label. Hopefully I can learn the "tricks of the trade" and build up a nice inventory of vintage items so I can submit some pieces in the near future.
Her question inspired today's post on 11 ways to know a thrift store piece is vintage by examining its labels and tags. Like the book of a cover, a brand's tag and label speaks volumes to the piece's style and production history. Plus, read this for advice how to date clothing as vintage.
Keep reading after the jump for 11 things to note when separating the "contemporary" from the "vintage" at a thrift store — and how this advice might help you identify vintage worth selling online, too!
Vintage identification is like anything in life: practice makes perfect. Vintage is technically a piece that is 20 years or older, however, many industry professionals refer to vintage as being "two decades or older," — i.e., technically a piece from 1991 is vintage, but since we can't always identify production year it is a safer bet to stick to the late '80s or older as vintage.
I hope that the following tips will wet your appetite for more knowledge on recognizing vintage for its value and for its worth.
If you like this post's information and find it useful, please click "like" next to the Twitter button above, and share it with friends and loved ones on Facebook & Twitter or just plain 'ole email, too! I'd love to get feedback on articles of this type so that I can continue to use this site as a platform to educate, enlighten AND entertain you!
If you love vintage fashion and want to experiment with it, you probably already know how hard it is to find the right vintage look. There are a lot of things that can go wrong while dressing up in vintage styles – from the fit of your clothes to their quality, and even how long they can be worn. We'll let you everything there is to know about finding the perfect vintage look!
Thanks for everything EVERYONE! Can't wait to check in again tomorrow! And quick tease: BIG NEWS FOR FRIDAY! Some of my grandmother's costume jewelry may finally be finding itself a happy home … with YOU!
xx, SD
1.) UNION LABELS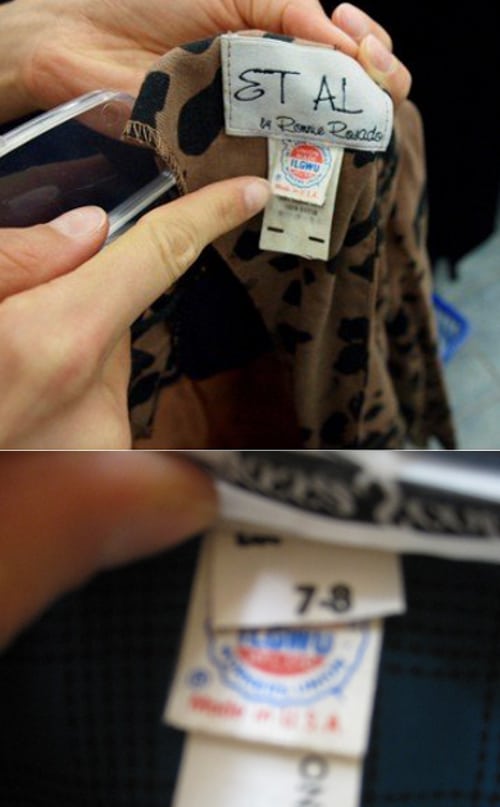 WHAT TO LOOK FOR: Below the inside brand label near the size is a "union" label that looks similar to what you see above.
They're usually square and about 1/2-inch-by-1/2-inch; red, white, and blue; and state the name of the union, like "The Ladies Garment Workers Union" which is abbreviated on the label with LGWU.
VINTAGE INSIGHT: A union label is proof that the piece was produced and supported by a clothing union, which existed in the U.S. before the overseas boom of clothing production beginning in the 1980s.
Learn more about ILGWU union labels and how to use them to date your vintage clothing!
2.) ONE SIZE FITS ALL

WHAT TO LOOK FOR: Tags that proudly state "one size fits all"
VINTAGE INSIGHT: Have you seen a tag that says this lately? Chances are, probably not. The "one size fits all" was a fad in the '80s — think oversized tees, sweatshirts, pants, dresses … you name it, and there was a "one size fits all" version of it!
The '80s were a time of abundant oversize made wearable with big, bold belts, leg warmers and big hair. Everything was big … but like the tag said, everything "fit all"!
3.) LOT or STYLE NUMBERS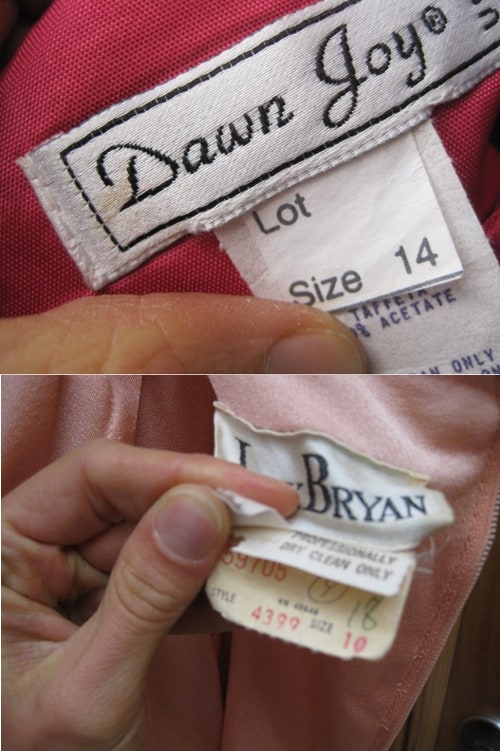 WHAT TO LOOK FOR: Below the brand label, an additional label that gives a "lot" or "style" number.
VINTAGE INSIGHT: Factories of decades ago kept track of clothing production not by computerized high technology, but by appending a numerical value to each item produced so that it was sorted and distributed properly. The "lot" number is the number attached to the group of pieces mass produced for a store.
So your vintage dress would be lot 10, which was the tenth group of that exact same dress produced in a certain factory. Lots 1-5 may have gone to department stores out west, while lots 6-10 may have stayed local.
The style number is different than lot because it's referring to that piece's exact design, i.e. style 49085 produced by that brand. It was a way for the brand to document the various styles of fashions it was producing.
4.) EXTRA LARGE TAGS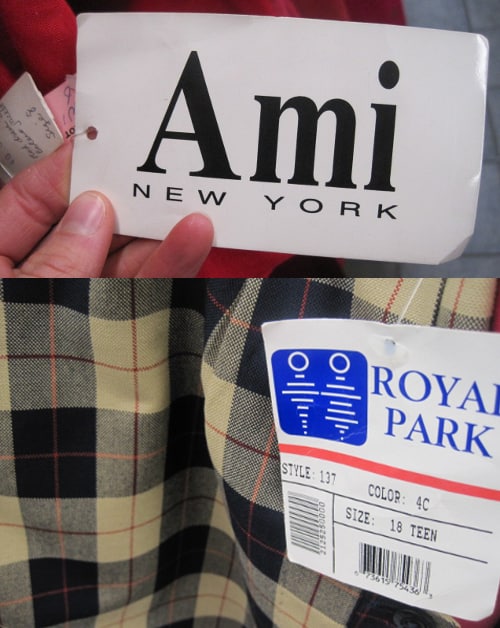 WHAT TO LOOK FOR: Extra large price tags
VINTAGE INSIGHT: I'm still researching why this was a trend of the '80s, but "extra large tags" were found on almost every single piece of clothing sold in stores. I theorize that the oversized price tag trend speaks to the decade's booming economy as well as our ignorance of sustainable efforts to limit paper waste.
Whatever the reason, tags were bigger and better 20-30 years ago. When you find a vintage piece in a thrift store with its original tags, you've most likely found a "dead stock" piece, the remainders of a department store or boutique that may have shut down and donated what remained of the store — tags and all — to a thrift store.
5.) LABELS NOTE BRAND CITIES OR ORIGIN OF MAKE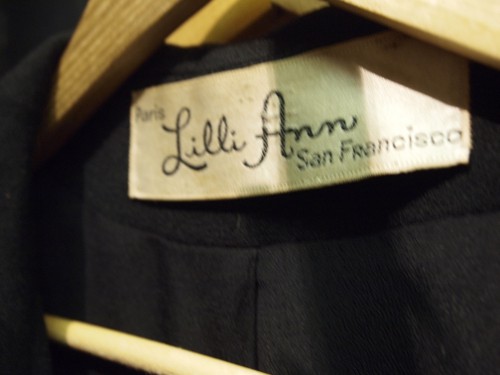 WHAT TO LOOK FOR: Brand labels with major cities cited alongside the brand name. Think "New York," "Philadelphia," "San Francisco," "Paris," "London," etc.
VINTAGE INSIGHT: The trend of appending a city to a brand's label speaks to the fact that women wanted to know that they were buying a piece originating from a major urban center. Today, our pieces are from mostly Asian countries. There is no style "panache" in seeing that your H&M dress was made in Taiwan.
In times of era's past, purchasing your season's styles from a brand that designed and made the pieces in San Franciso was something to speak of. If you lived in New York, getting those "west coast styles" may have been your fashion prerogative.
The same can be said for European designs. Woman wanted their clothing to be associated to a geographic location because the mass communications which exist today were non-existent then — we couldn't, for example, Google "Parisian fashions" and click to buy.
In other words — styles from Paris stayed in Paris; styles from New York stayed in New York, etc. They were not duplicated and mass produced for a global fashion economy, because one had yet to formulate yet.
6.) MADE IN THE USA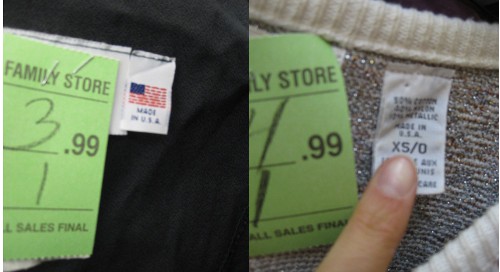 WHAT TO LOOK FOR: Any reference to being "Made in the USA" or "Made in America." Label usually includes image of colored US flag, but sometimes [see right image] only states "Made in USA."
VINTAGE INSIGHT: As unions lost production strength with the increased outsourcing of manufacturing to Asia and other countries abroad, companies opted to produce in the USA — but not with a union — which had higher production costs because of associated wages for employees. Brands would label clothing with this patriotic fact almost as compensation for not being made by a Union.
The "Made in USA" declaration became almost a fad with brands. Consumers, increasingly aware that their clothing was being made in China by the boatload, were looking for "American quality."
While the quality difference may have been minimal, purchasing American-made became a top priority for consumers, thus declaring "Made in USA" on labels helped brand image by boosting sales.
7.) INTERESTING LABEL TYPOGRAPHY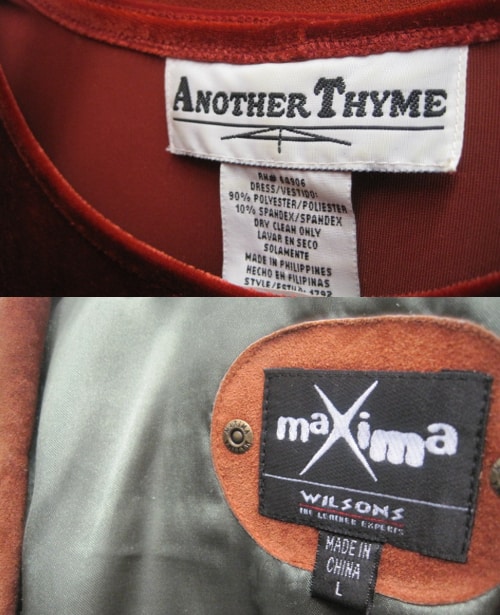 WHAT TO LOOK FOR: Interesting label typography
VINTAGE INSIGHT: This takes a more critical eye, however I argue that with a double take you can note the difference between label typography of today versus yesterday.
Note the two images above, both from labels designed with '80s aesthetics in mind.
The labels are not simple in design. There was a consciousness in design here that reflected the style of the times. The "X" in Maxima is accentuated, and "A" and "T" in "Another Thyme" are slightly larger.
Also, the font is not a simple script or simple bold. Both fonts are more in the family of fun — like using goofy Comic Sans on a cover letter instead of the professional standard Times New Roman.
With practice, you'll be able to tell the difference between brand typography of various decades. While thrifting, give every label a double-take to fine tune your vintage sixth sense!
8.) MADE IN COUNTRIES THAT NO LONGER EXIST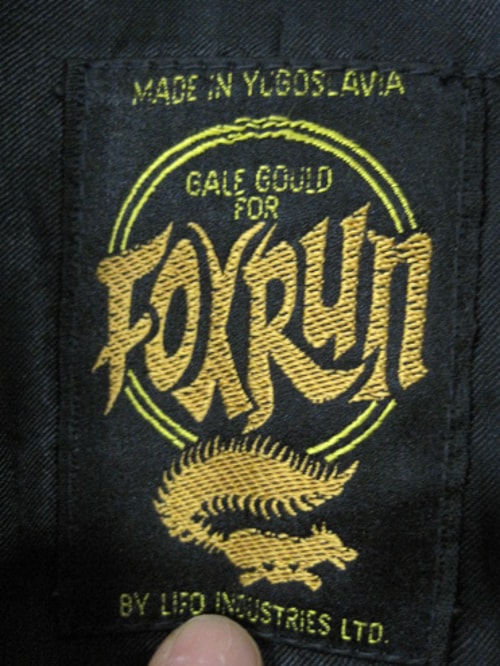 WHAT TO LOOK FOR: Labels that state item was made in a country that no longer exists, including Yugoslavia [above] or "Hong Kong British Colony," among others.
VINTAGE INSIGHT: This takes some geography and history insight, too. It helps to understand international history when identifying a vintage piece, because every now and then you will stumble upon the name of a country no longer found on a map.
Yugoslavia was a Russian country which quite literally disappeared in the early '90s when it was renamed "The Federal Republic of Yugoslavia," consisting of countries Serbia and Montenegro.
In 2003, the "Federal Republic" part was completely dropped, and Serbia and Montenegro are what rename. So when looking at a label that reads "Yugoslavia," you are looking at a piece that pre-dates at least 1992.
Another example: The British Crown Colonies of "Hong Kong" ceased to exist in 1997, when the country and its government were handed to People's Republic of China. So in noting a label that reads "The British Crown Colonies of Hong Kong," you are looking at a piece that pre-dates at least 1997.
9.) BRAND LABEL REDESIGN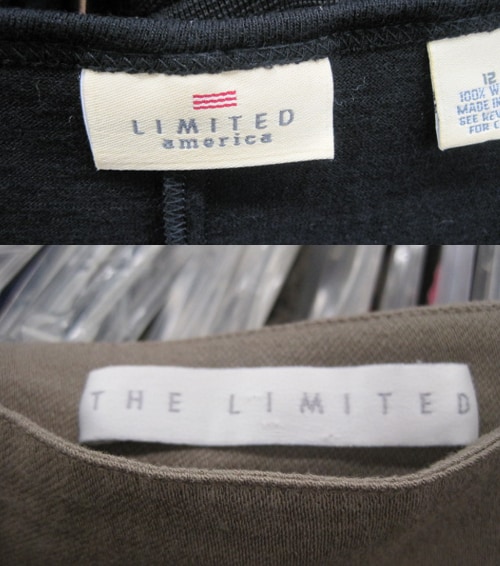 WHAT TO LOOK FOR: Brand's redesigning their labels as they re-aligned with the relevant style of the times and fashion culture.
VINTAGE INSIGHT: The above example shows the label change of The Limited, which was one of my favorite stores to visit at the mall as a teenager growing up in Pennsylvania. The labels above are not vintage, but date from late '90s to early 2000s. The tag has probably been redesigned multiple times over the past decade.
When researching a vintage piece, many online expert sources will identify the various tags used by brands over the course of history. You can, for example, know if a piece was Yves Saint Laurent '70s or '80s based on knowledge about the tag design alone.
You can see these differences evolve over the years with designers who remain contemporary today — think Betsey Johnson, Donna Karen, Ralph Lauren. The people behind these design houses were branding their name as much as their apparel, so like we would change our personal style over the decades, they would change the design of their labels, too.
10.) THE PRICE ON ORIGINAL TAGS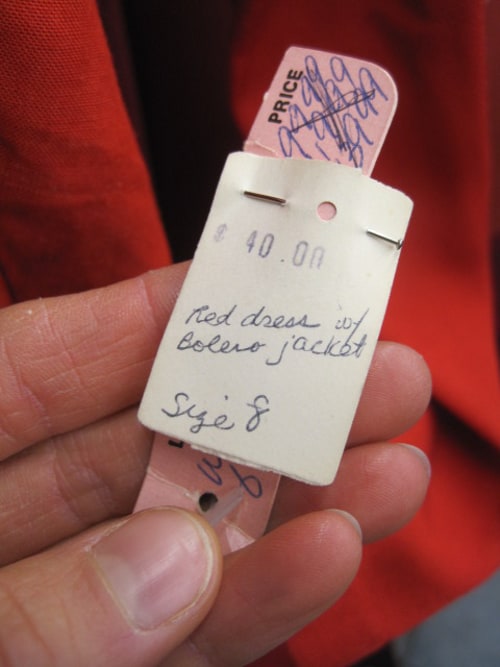 WHAT TO LOOK FOR: The original price on a tag, along with unusual construction/ink/materials.
VINTAGE INSIGHT: When you are lucky enough to stumble upon a vintage piece with the original tag, search hard for the price and for any "hole" markings that look like braille writing.
First, noting the price will give you a general understanding of when this piece might have been made, and its "quality" value during that era. The two-piece suit pictured above cost $40. This is about 1/8 the value of most department store quality suits today.
Looking at the price, I'd guess the suit dates from the early '80s and sold in a privately owned store based on the fact that someone hand wrote on the tag itself.
Note the ink and staples used on this tag too: You'll see that the machinery clearly was from another time, with stark differences in quality when compared to those clean, crisp contemporary tags we're used to seeing.
Second, if you find a tag with what appears to be holes in it — it looks a lot like braille writing for the blind — you've found a piece that pre-dates the '80s for sure. These holes were read by the equivalent of a cash register for price and documentation.
These are truly special tags and if you ever find a piece with one, you know for sure that you've got a vintage piece on your hand that is most likely from the '60s or '70s.
11.) DECORATIVE LABELS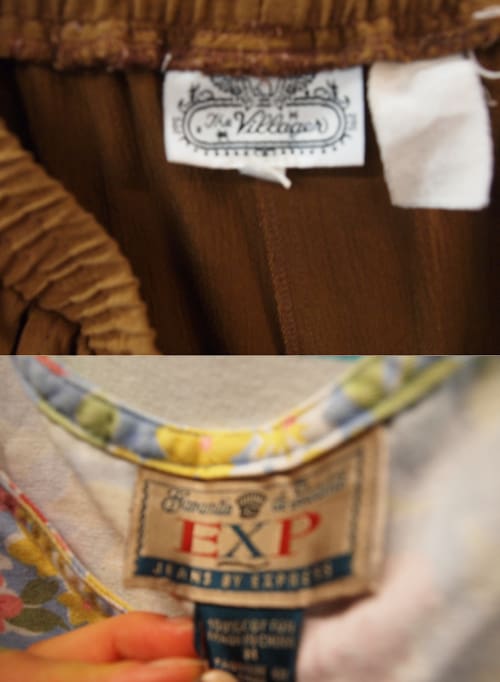 WHAT TO LOOK FOR: What seems to be exaggerated decoration & design on the brand labels. A bit cheesy & a bit unnecessary!
VINTAGE INSIGHT: Design of today and from the 2000s is simple, sleek and sexy. Using flowers or other symbols, gaudy typography or even various colors is not something we see today. What we see mostly is a stark contrast of colors on a small, simple label that sometimes is appended on the side of the shirt, versus the top of the neck.
The labels of yesterday were something special. The label design spoke to the design of the clothing itself — "The Villager" label above is from a popular '60s & '70s brand that I've found often thrifting. The clothing was for junior aged girls.
The early '90s Express brand label uses red, white and blue colors and because of this color palette, has a very patriotic feel. In the late '80s & early '90s, Express was known as "Express Campaigne Internationale" — a very subtle throwback to Parisian roots.
Later on in the '90s, the brand became a symbol of the American Girl and the "cool" American Girl's choice of jeans, hence the choice of patriotic colors in the tag above.