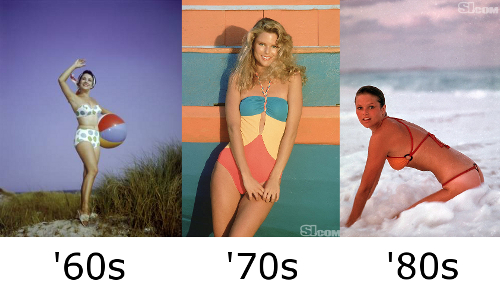 Hello and happy Thursday everyone!!!!
Is it just me or did this week FLY BY? When writing "Thursday" above I was like, "No, really .. it's THURSDAY?!" I guess that's just what happens when you have a 3-day weekend!
Thankfully we have more 3-day weekends ahead thanks to the official arrival of summer and the many warm weather activities we do this season, including … THE BEACH!
I grew up hanging out at the Jersey Shore before the Jersey Shore had it's own TV show. Flash back to 1993, and little Sammy D was rocking her (now vintage) Speedo one-pieces in beach towns like Cape May, Ocean City & Wildwood, New Jersey.
Where ever you might live in the country (or the world — I'm learning that there is quite a lot of international vintage lovers hanging out here!) you hopefully have a hot-weather reprieve that involves cold water, a cold drink and a relaxing lounge chair!
For all of your summer activities beachside, poolside and surfside, I wanted to share some awesome vintage tidbits on the design of vintage swimsuits specifically for the 1960s fashion, 1970s & 1980s eras. While there are QUITE the number of flattering pinup style swimsuits from the '50s & '40s — especially reproductions that you can buy from sites like Pin Up Girl Clothing — I wanted to shed some light on the underrated eras of vintage swimwear.
And the best part? Because every single one of your body's is beautiful, I made sure to include an inspirational vintage swimsuit option from each era for the full, balanced & svelte figures, my personal definition of three universal body types for vintage fashion sizing success. (Check out this blog post for more on vintage sizing for your body type)
Keep reading after the jump to learn more about vintage swimwear stylish for YOU and available to buy on Etsy now — and if you didn't watch yesterday's video, don't forget to check out my 5 vintage looks and to vote for your favorite!
Admittedly, I've never purchased an actual vintage bathing suit before! I tried a few on in the last video but I still owe it to the vintage style Gods to cash in on one of the many options available on Etsy now. I love that the styles are SO unique and seriously, about a quarter of the price of a similar design you'd find in the department store. Style savings cha-ching!
Hope everyone is planning for a fun summer vacation soon! Let me know at you're up to vacation or vintage-wise this summer in the comments below. I'd love to hear from you!
And as always … feel free to shout a holler on Twitter, Facebook, Tumblr, YouTube & email [email protected]!
xx, SD
SWIMSUITS OF THE '60s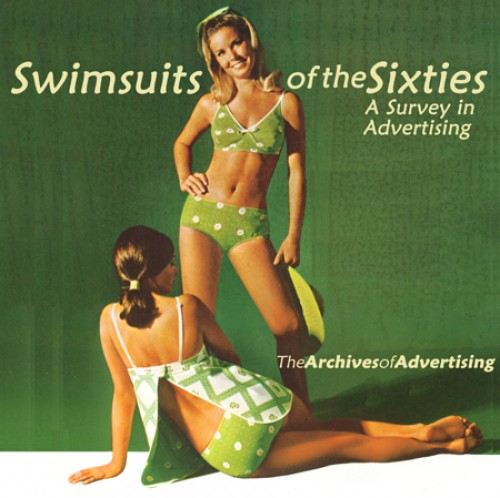 STYLE HIGHLIGHTS: In general, the '60s paid serious style homage to PRINTS. The famous "polka dot bikini" was made famous during this era — remember the song by Brian Hyland? "Itsy bitsy teeny weeny yellow polka dot bikini!"It was a smash hit during the summer of 1960, setting the tone for the rest of the decade.
Fun fresh prints and a general acceptance of "the bikini" as a mainstream swimsuit option really spoke to the era's general spirit of playfulness, both in fashion and in popular culture.
CHANGING OF THE TIMES: While the bikini was invented by French designers in 1947, it didn't begin to gain mainstream popularity until later in the '50s. And even then, we're more familiar seeing women wearing "two pieces" which were high-waisted and therefore covered the naval, only revealing a bit of skin between the chest and bottom.
BIRTH OF THE BIKINI: The two-piece suits of the '50s helped ease popular culture into the acceptance of the full blown "bikini," which was actually named after Bikini Island in the Pacific, a site for nuclear testing in the '40s. Thus, the name "bikini" became synonymous with "explosive," because the introduction of such a jaw-dropping fashion item would provoke excitement similar to the explosion of a nuclear test.
Considering the fashions of the It makes sense that the bikini became more accepted in the '60s, when the hemlines of skirts were rising and the "mod" styles of the UK (bright colors, graphic prints, art in fashion) were influencing that of American designers overseas.
HOW TO ENJOY IT: Wearing a '60s swimsuit is not like wearing a Little Black Dress. You will be bright, bold and beautiful — if you embrace it! Look for suits with a color palette that compliments your skin tone, hair & eyes. I love blues & green (essentially "cool" colors) because I'm blonde. Darker skin tones pair well beautifully with brights & lights — think orange, red, yellow & white. Brown and black always looks better on a bronze body.
Be ready to get some serious style compliments on your '60s vintage suit — and don't be afraid to say, "I know it looks good — that's because it's VINTAGE!"
SOME VINTAGE '60s SUITS I LOVE!
FOR FULL FIGURES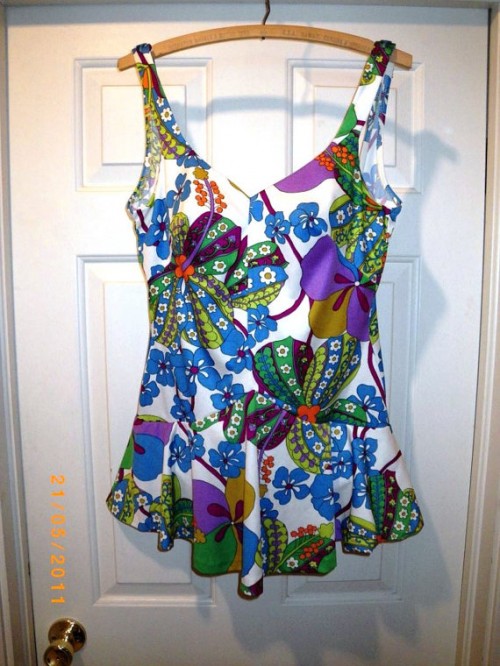 HOW TO BUY: On Etsy, $29.88
FOR BALANCED FIGURES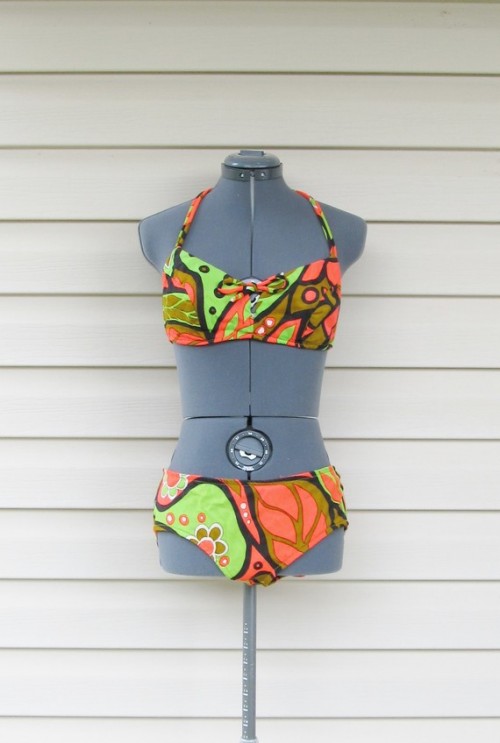 FOR SVELTE FIGURES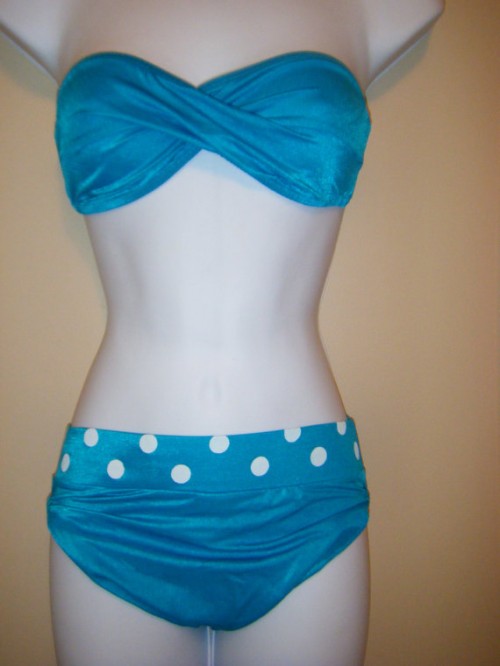 HOW TO BUY: On Etsy, $15 (SERIOUSLY!)

SWIMSUITS OF THE '70s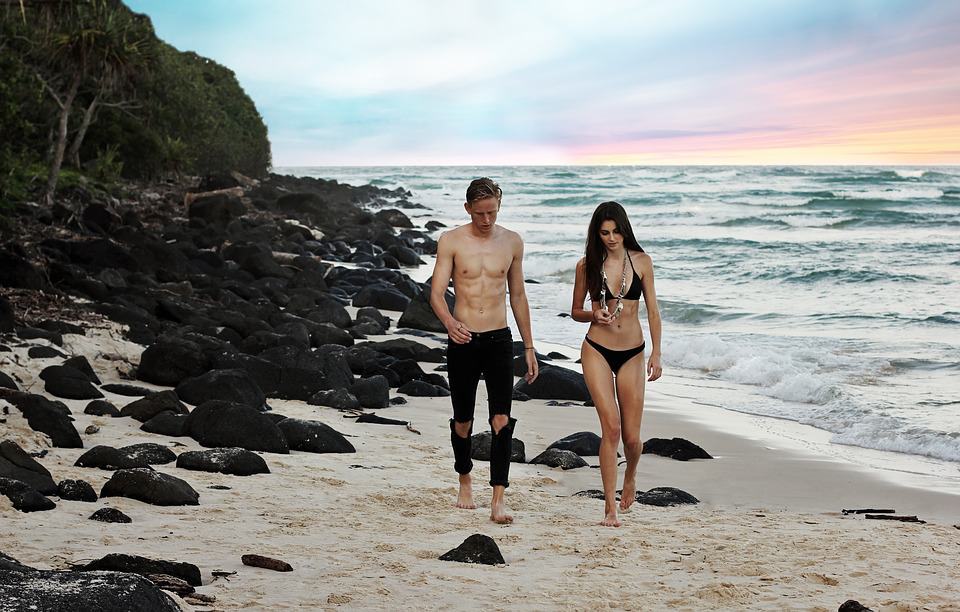 STYLE HIGHLIGHTS: Check out supermodel Cheryl Tiegs above: A bit risque with this slightly see-through mesh full piece, no?The image above epitomizes exactly what the '70s bathing suit was all about: Showing a little bit more to the naked eye.
The acceptance of bikinis in the '60s set the stage for designer experimentation with lower cut bottoms, teeny tiny tops leading up to the invention of the "string bikini." '70s suits took cues from the popular "natural" earth tones of flower-power fashion — think solid colors and smaller, more organized patterns (i.e. less dizzy graphic prints!)
Full piece suits emerged popular once again, but this time with higher cut bottoms and lower-cut v-neck tops and spaghetti string straps.
CHANGING OF THE TIMES: The "sex revolution" begun in the '60s literally exploded in the '70s thanks to the rising economic power of women coupled with growing acceptance of birth control and "alternative" sexual behavior, which spread in popular culture because of mass communication devices like television and radio.
As the free love mentality spread, the exposure of skin spread, too — revealing more and more to the naked eye without the same shock & sensation a suit of that cut would have ignited a decade earlier.
BIRTH OF THE STRING BIKINI: While the general bikini grew in popularity a la the '60s, the STRING bikini was born in the '70s. Thanks to the rise of the supermodel appearing on covers of magazines like Sports Illustrated in teeny tiny string bikinis, the women who wished (and of course, wanted to) pull off this show-all / be-all style could find the look sold in mainstream stores.
It's also important to note that unlike the '60s, "exercise" for women gained more widespread acceptance and promotion in the '70s. It wasn't just about "watching your girlish figure" anymore, ladies. It was about moving your body to "tone" and "tailor" to fit the changing styles of the day.
HOW TO ENJOY IT: I don't purport that anyone wear a string bikini just to follow the trends of the '70s. But what I do strongly suggest is to examine the cuts and colors of these suits to consider their appeal with your modern day style. I love the first option for the full-figured girl for honestly ANY girl, because you hardly see women wear such a vibrant color with a plunging neckline.
And if you got a body to rock it? Look for those teeny tiny string bikinis in great '70s stripes (a popular print of the era) that you can throw on and throw off in between your beach run and boardwalk biking.
SOME VINTAGE '70s SUITS I LOVE!
FOR FULL FIGURES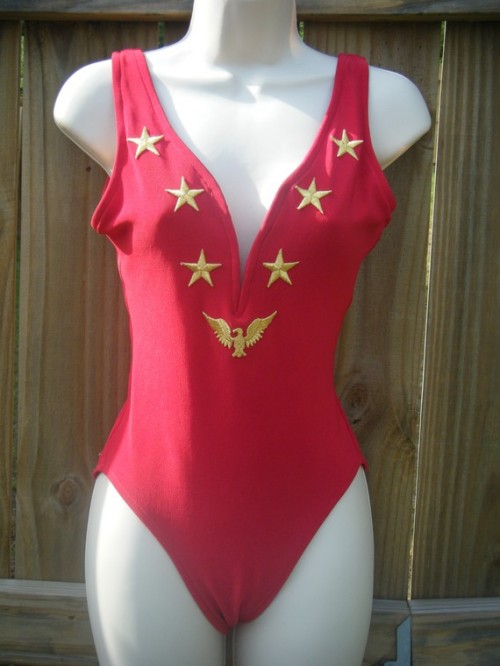 HOW TO BUY: On Etsy, $39
FOR BALANCED FIGURES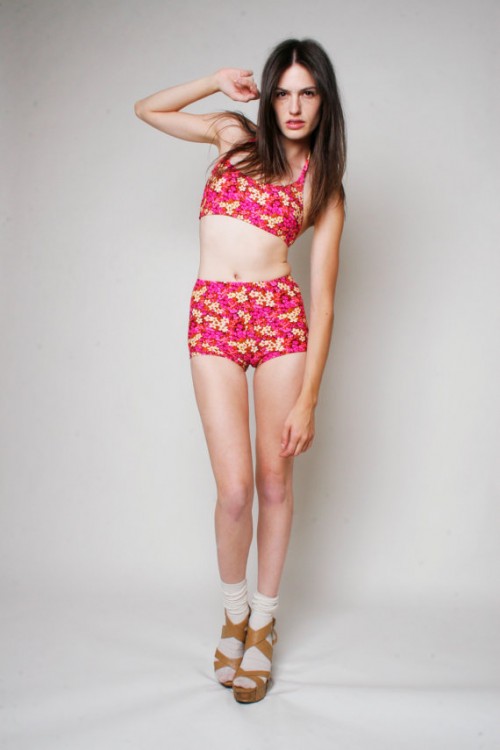 HOW TO BUY: On Etsy, $50
FOR SVELTE FIGURES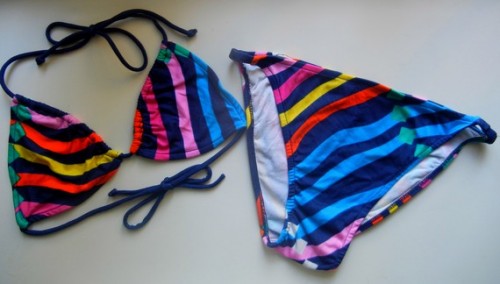 HOW TO BUY: On Etsy, $32
SWIMSUITS OF THE '80s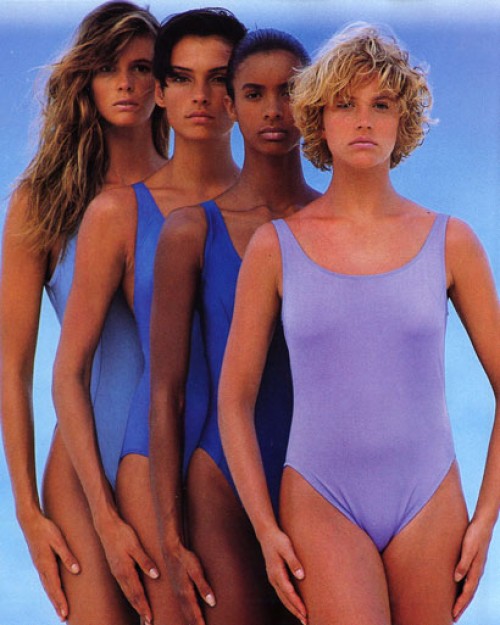 STYLE HIGHLIGHTS: Neon brights! Color blocking! Scoop neck! There was many a swimsuit trend born in the '80s, particularly relating to the color choices and cut of full piece suits.
Speedo swimsuits made from nylon/elastane (remains #1 swimsuit material today) became everyday swimwear pieces versus just worn by Olympian swimmers in decades before. Full piece suits, if not produced by Speedo were cut to look like athletic suits anyway — think high rise bikini bottoms and scoop necks with built-in bra support for water movement & speed.
CHANGING OF THE TIMES: Thanks to increased production overseas plus a national embrace of physical fitness for all in the '80s, the Speedo brand became a household name for swimwear. I remember owning a Speedo swimsuit in 1993, my first summer on the local swim team. There was no other brand like it until TYR debuted in the mainstream a few years later.
The song "Let's Get Physical" explains a lot about the "fitness fanaticism" of the times, too. '80s iconic movies like "Flashdance" show trim, fit & tirelessly athletic young ladies. So, the cultural expectations from media carried into the mainstream. Let's get physical meant let's join a gym and wear these athletically designed suits of the day!
BIRTH OF THE THONG BIKINI: Yes, Sisqo's famous "Thong Song" from the summer of 2000 which shows women scantily clad on white-sanded beaches actually came about 20 years TOO LATE!
The truth birth and popularity of the "thong bikini" came about in the '80s when fashion designers sought further inspiration from the traditional clothing of Amazonian tribal groups in Brazil. You can see how this "tribal" style was reflected in other popular styles and prints of the era, so it makes sense that it'd influence the design of the '80s suit, too.
Check out this blog post showcasing the string/thong/bikini popularity on Daytona Beach in the '80s. I love the bikers!
HOW TO ENJOY IT: The '80s swimsuit — despite being the most athletically inclined — is probably the most body flattering of all. The nylon material being increasingly used in the production of suits allowed for a flexibility and support lacking from prior designs. In other words, you could wear an '80s suit with faith that your chest was supported and your stomach/butt made a wee bit tinier.
The tricky part is falling in love with the color palette of the '80s. While the decade is technically vintage, it is also technically a wild world of wearables in bold brights & as mentioned above, tribal-influenced cuts (the thong!)
The color blocking trend for today's styles can be achieved with an '80s bathing suit, just with the tones of that decade (think neon yellow versus pale yellow, etc.) you are most comfortable rocking.
For an '80s vintage bonus suit that was a tad out of my price range, check out this animal print vintage full piece from Free People.
SOME VINTAGE '80s SUITS I LOVE!
FOR FULL FIGURES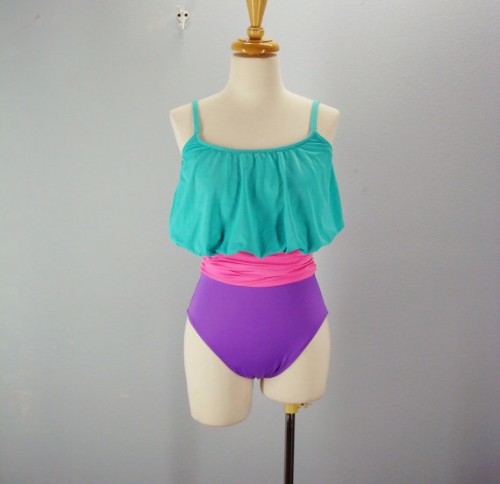 HOW TO BUY: On Etsy, $21

FOR BALANCED FIGURES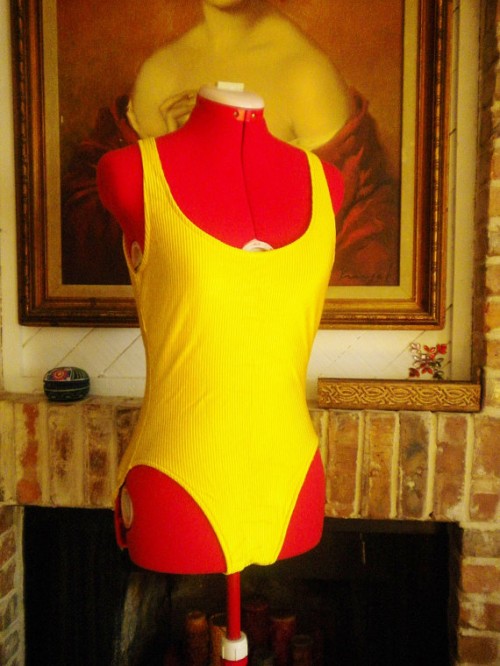 HOW TO BUY: On Etsy, $25

FOR SVELTE FIGURES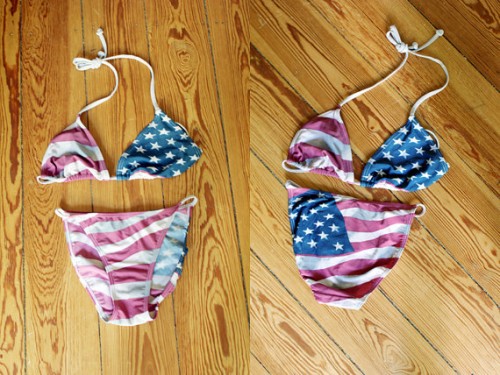 HOW TO BUY: On Etsy, $42.38
MORE VINTAGE STYLE INSPIRATION
TRENDS: Today's Fashion Thanks to 1960s Clothing Trends
PICTURES: Photos of '60s Fashion from McCall's Magazine
HOW-TO: Style a Drop Waist Dress from the 1960s
SPRING: 5 Gorgeous '70s Dresses Wearable Right Now!
CELEBS: The Influences of '70s Celebs on Fashion Part I
CELEBS: The Influences of '70s Celebs on Fashion Part II
PLUS: Everything You Wanted to Know About Swimsuit Model Cheryl Tiegs!