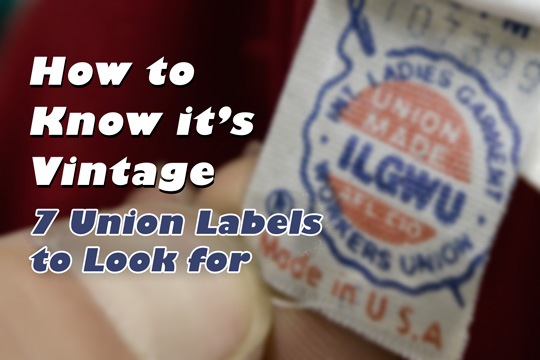 Understanding how to date vintage clothing is like putting together the pieces of a giant (but gorgeous!) puzzle. This article will help you understand how a union label's design speaks to the authentic age of your vintage garment or accessory.
Most vintage lovers would recognize the International Ladies' Garment Workers' Union (ILGWU) label, found in women's vintage clothing from as early as the 1920s. But there are more union labels to be found in vintage clothing than just that of the ILGWU.
There are labels for millinery (hat) unions, men's clothing unions and other unions which made women's clothing and suiting during the 20th century. These were the unions that helped to not only influence the history of American fashion, but the legalization of fair working conditions for the hundreds of thousands of individuals who worked these factory jobs.
Keep reading after the jump to learn more about seven American unions and how to use their label design to help date your vintage garment!
This is not a complete guide to every single union label known to clothing and textile production — but it does cover the largest unions and therefore, the labels you're most likely to see when examining the interior of your vintage garments.
Visit my article for 13 tips on dating vintage clothing labels!
Do you have a vintage union label that you need help identifying? I'd love to see it and figure out its origin and era!
Send me an email or leave a comment below the post for help dating your vintage clothing, or by saying hello on Twitter, Facebook, Instagram or by subscribing to my newsletter!
xx, SD
UNION LABELS FOR HATS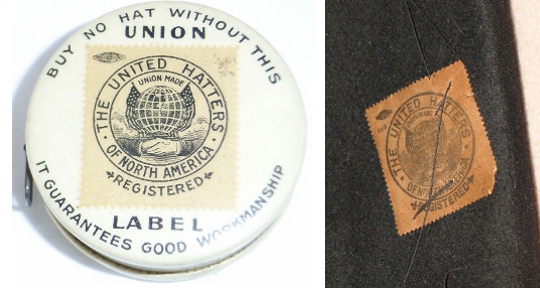 Source: (left) 4u2own21 on Ebay (right) New York Wanderer 
WHEN USED: 1885 to 1934
LOOK FOR … a union label by The United Hatters of North America (UHNA). The label was trademarked in 1915 but was first used in 1885.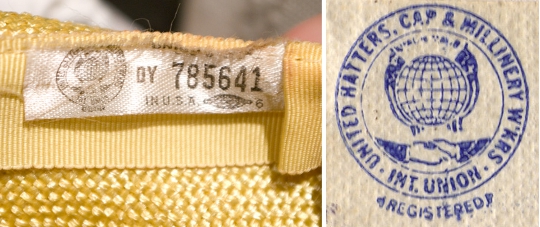 WHEN USED: 1934-1983
LOOK FOR … "United Hatters Cap & Millinery Wrks" on top of a globe and handshake design with "Int Union" below.
The key difference between this label and older versions is a production number ("785641") and IN U.S.A. with a small "6" next to what looks like a squished globe.
UNION LABELS NRA BLUE EAGLE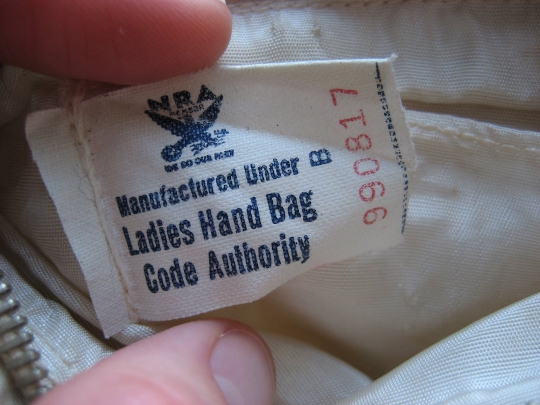 Source: Jean JeanVintage and on Etsy
WHEN USED: 1933 to 1935
LOOK FOR … The National Recovery Administration (NRA) symbol of a navy blue eagle anywhere on your union label. The label's overall design differed based on whether it was a jacket, hat, handbag (shown above) or piece of lingerie. 
BACKGROUND: A garment with a blue eagle on its union label means it was produced under the safe and fair working conditions of Franklin D. Roosevelt's National Recovery Administration, developed during the Great Depression to create more jobs by forming unions.
Here's a promotional video from 1933 about the NRA, thanks to Jean Jean Vintage.
UNION LABELS CONSUMER'S PROTECTION LABEL on HATS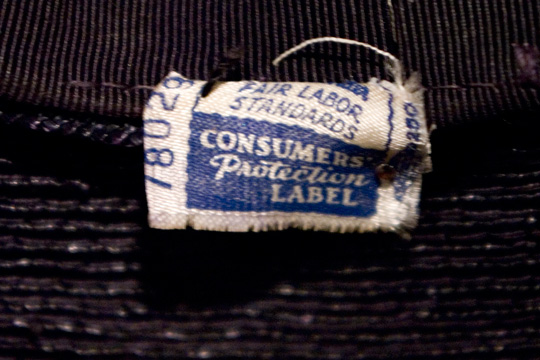 WHEN USED: 1938  to 1950s
LOOK FOR … a blue & white label with the words "Fair Labor Standards" and "Consumers' Protection Label" on a vintage hat.
BACKGROUND: After US Congress declared FDR's NRA law unconstitutional as part of his New Deal program in 1935, labeling changed to reflect rebranding after the Fair Labor Standards Act was passed in 1938.
The name changed, but the idea renamed the same: All pieces with the Consumer's Protection Label were made under fair working conditions (workers paid at least minimum wage, time and half for overtime and no employment of minors in oppressive work environments).
UNION LABELS NATIONAL RECOVERY BOARD for COATS & SUITS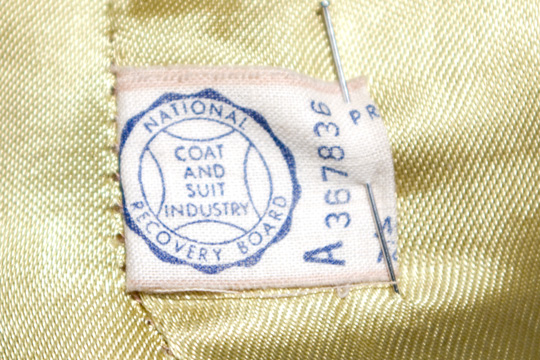 WHEN USED:  1938 to 1964
LOOK FOR … a scalloped circle which says "COAT AND SUIT INDUSTRY" with "NATIONAL RECOVERY BOARD" encircled around.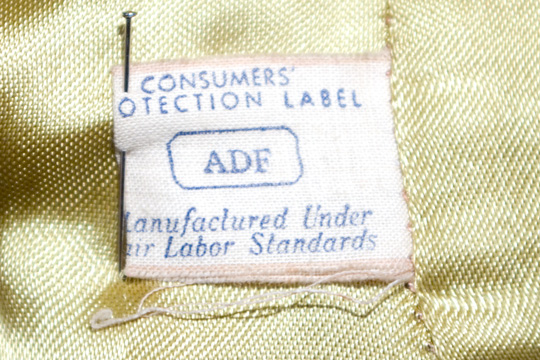 Flip the label over (shown above), and you'll find the words "Consumers' Protection Label."
Hint: I found this specific label on a 1940s coat along the bottom side seam.
BACKGROUND: The National Labor Relation's Act encouraged growth in stateside unions to create more jobs during the economic crisis of the '30s.
The Coat & Suit Industry union was born out of FDR's New Deal Coalition.
UNION LABELS NEW YORK CREATION DRESS INSTITUTE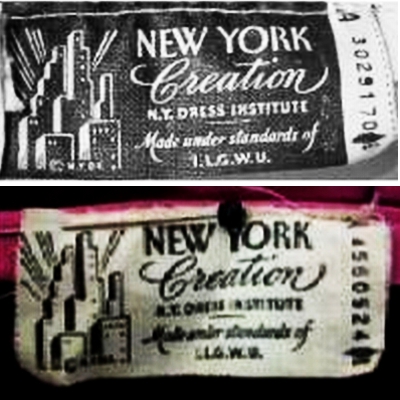 Source: nowandthenstyle on Etsy
WHEN USED: 1940 to 1955
LOOK FOR … an illustrated NYC skyline with the words "NEW YORK CREATION" and "N.Y. Dress Institute."
The union was operated under the standards of the ILGWU, but clothing with ILGWU union labels didn't have a New York Creation label as well, and vice versa. Therefore, I consider N.Y. Institute union a separate entity from the ILGWU.
BACKGROUND: The city of New York and the ILGWU developed the "N.Y. Dress Institute" as a marketing label to promote the Big Apple as a hub of fashion production.
Consumers were encouraged to buy clothing with this label because they knew it was made by the stylish eyes of garment workers in the Big City. This is the group that began Mercedes Benz Fashion Week as we know it today!
UNION LABELS AMALGAMATED WORKERS OF AMERICA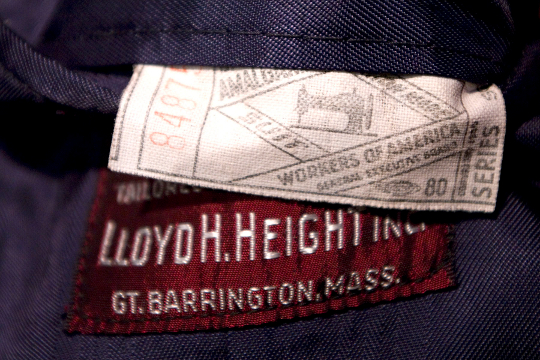 WHEN USED: 1934 to 1976 (above, from a 1949-1962 garment)
LOOK FOR … a rectangular label with a sewing machine illustration and within the label's design, the words "AMALGAMATED WORKERS OF AMERICAN" and "UNION MADE."
The garment is always identified on the label. Either "suit," "workwear" or generic "garment" will be listed.
There are five different Amalgamated Workers of America (ACWA) union labels. For a full description of how to identify them from 1934-1936, 1936 -1939, 1939-1949, 1949-1962 and 1962-1976, visit the Steel Zipper's guide.
BACKGROUND: The ACWA was founded in the early 1900s as a men's suiting and workwear union, which it remained the primary producer of through 1976 when it merged with the Textile Workers of America.
The ACWA was the largest manufacturer of men's clothing from the 1920s through the early '70s, which is why these labels are useful when identifying the era of men's vintage clothing.
 UNION LABELS ILGWU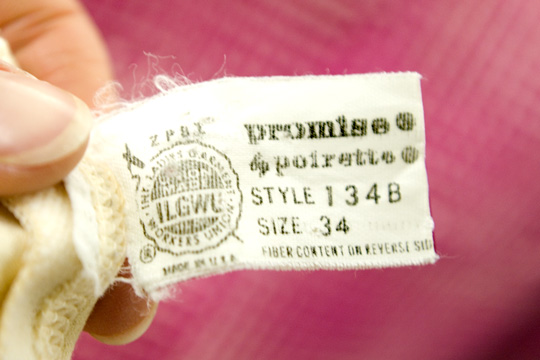 Read my guide on International Ladies' Garment Worker's union labels to learn how their identification helps when dating the era of your women's vintage clothing.
Thank you to the Family Vintage Jewels for loaning vintage clothing for creation of this article.
MORE ON UNION LABELS & DATING VINTAGE
QUICK TIPS: How to Know Your Clothing is Vintage
CLUES: How to Date Vintage Clothing by Construction
THRIFT: 3 Ways to Identify Vintage Clothing Labels 
ILGWU LABELS: A Breakdown of the ILGWU Label Designs by Era
PLUS: 11 Ways to Know It's Vintage by Labels & Tags
UPDATE: 13 Tips for Dating Vintage Clothing Labels 
VINTAGE FASHION BOOKS I RECOMMEND
Vintage Fashion: Collecting & Wearing Designer Classics
The Little Guide to Vintage Fashion Shopping
New York Fashion: The Evolution of American Style
ONLINE RESOURCES
The Vintage Fashion Guild's  NRA Union Label Guide
The Vintage Fashion Guild's N.Y. Institute Label Guide
The Vintage Fashion Guild's National Recovery Board Label Guide
The Steel Zipper ACWA Union Label Guide