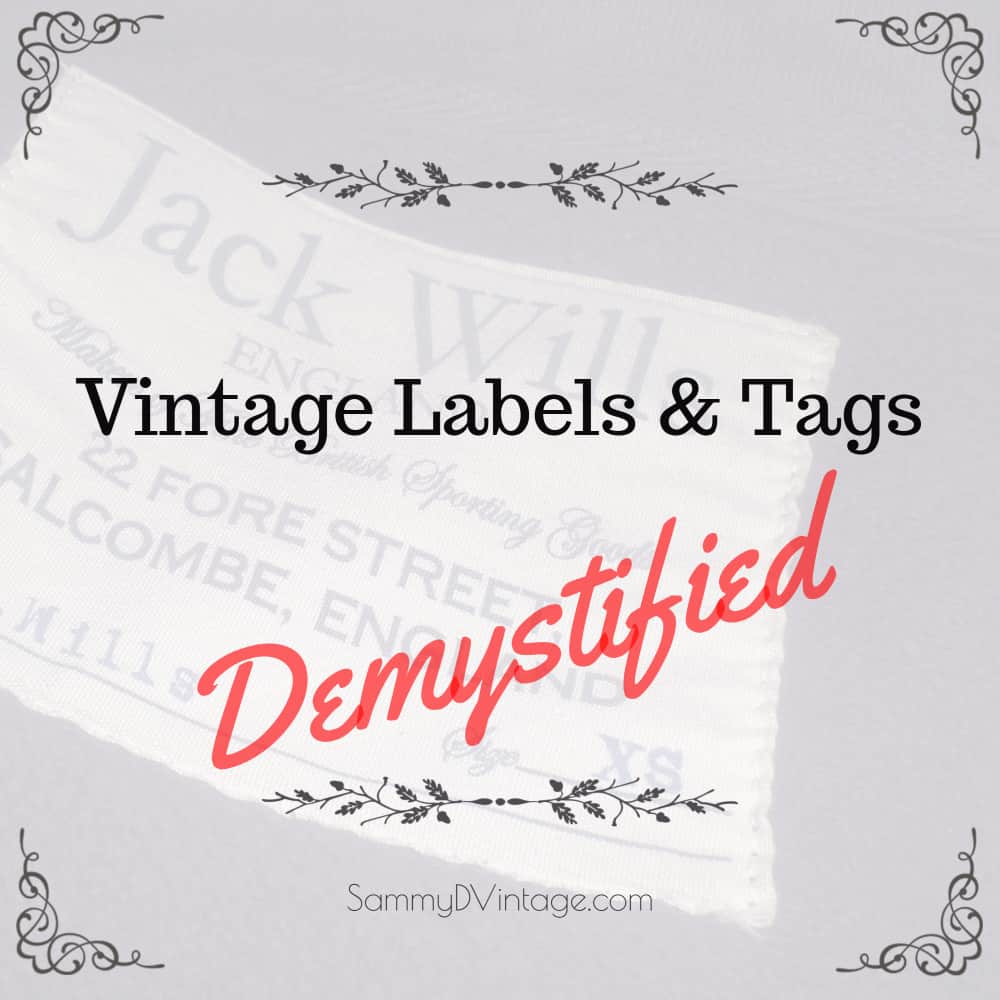 Your fingers stroke the fabric along a garment's back and neck, hoping to find a label or tag and your much-needed clue to its vintage authenticity. Your search comes up empty, so you turn the garment inside out to look along the side or bottom seam.
"A-ha!" you squeal. A label was sewn into the bottom side seam, a square of fabric that while tiny, is a huge source of information for performing the important detective work a good vintage lover knows and loves: Dating the era of one's vintage piece!
Over a year ago I shared my "11 Ways to Tell It's Vintage by Labels & Tags." The story was such a hit that it inspired me to write stories on how union labels and the construction of your vintage garment can help when determining a garment's era and fashion history.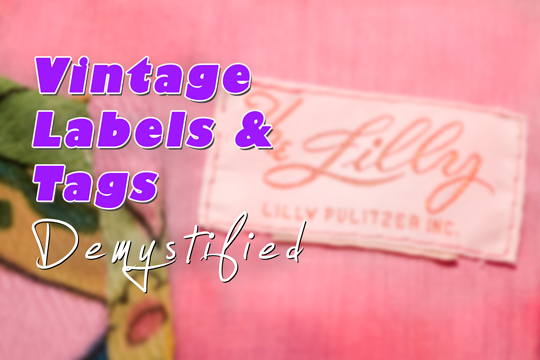 This article is your go-to reference for tips and tricks to reveal a garment's probable vintage era based on the details of its labels and tags alone!
Not all vintage pieces have a label or tag, however — especially if it was handmade, which vintage prior to the 1980s often was. Be sure to visit my How to Date Clothing as Vintage article for tips beyond the tag.
According to my tips, what is the probable age of your favorite vintage garment?
VINTAGE CLOTHING LABELS
Feel free to scroll through the post to read these 13 tips for using your garment's tag to help identify its vintage era, or click any of the links below to be taken immediately to the text within the article!
Vintage Clothing Label: COPYRIGHT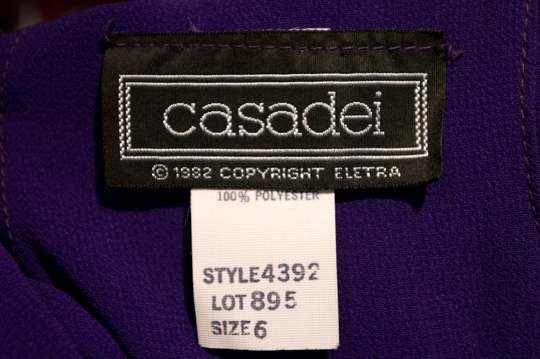 LOOK FOR … the most obvious: A copyright year.
HOW OLD? Approximately the year noted on the tag, or a few years later.
NOTE: The catch to consider is that the copyright date isn't always the production year of the garment itself, but rather the date the brand or logo was copyrighted.
WHY IT'S VINTAGE: If you've got a garment with a copyright year of 1992 or earlier, then by industry definition you've got yourself a huge piece of the puzzle dating your garment as vintage!
Vintage Clothing Label: MADE IN U.S.A.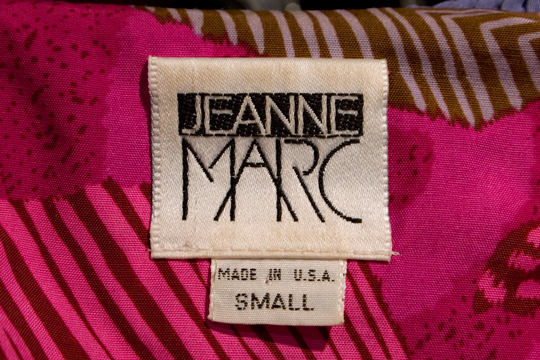 LOOK FOR … "Made in U.S.A." or the design of an American flag on or near the garment's brand tag. The verbiage should be up front and not behind the tag.
HOW OLD? Typically 1980s.
WHY IT'S VINTAGE: While statistically speaking I don't have the numbers to back it up, we can all agree that only a small percent of garments today are actually Made in U.S.A.
Secondly, the production country of a modern garment is typically found behind the tag — not frontside, as seen here on this 1980s Jeanne Marc label.
Vintage Clothing Label: NO ZIP CODES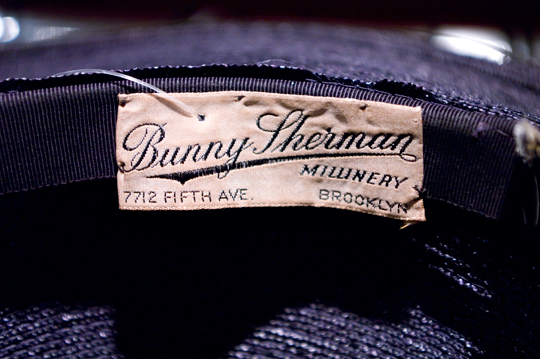 LOOK FOR … a boutique's address with the absence of a zip code.
HOW OLD? Pre-1963.
WHY IT'S VINTAGE: Zip codes weren't invented until 1963, when the growth of America made it necessary to institute zip codes for the postal service to more easily track addresses.
Today, (Manhattan) New York has more than 40 different zip codes. Clearly, "De Pinna" wasn't aware of theirs when they made this garment before 1963!
RESOURCE: The history of zip codes.
Vintage Clothing Label: WOOLMARKS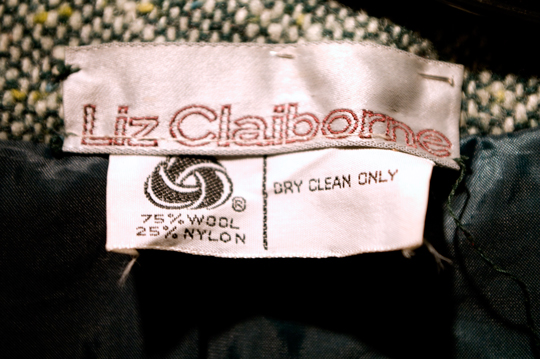 LOOK FOR … either the absence of, or the design of a "Woolmark."

HOW OLD? Pre-1939 if the made-from-wool garment has no label identifying it as wool.
The garment isn't older than 1964 if it has the first Woolmark logo (100% wool); no older than 1971 if it has the second (60% wool) and no older than 1999 if it has the third (50% wool).
WHY IT'S VINTAGE: The Woolmark logo was first placed on the tags of wool clothing in 1964 as a marketing technique to encourage consumers to buy the natural fiber of wool over synthetics polyester and acrylic.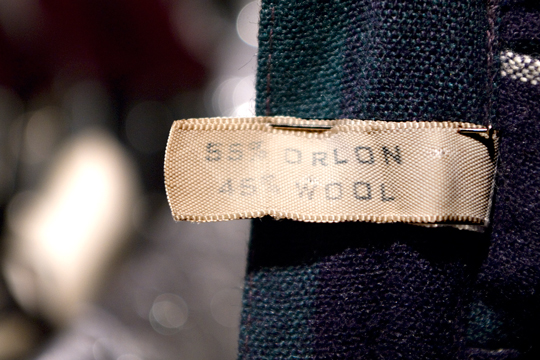 NOTE: Because the Woolmark logo is licensed and therefore costs money to use, not all garments made from wool are labeled with a Woolmark.
RESOURCE: The Vintage Fashion Guild's Woolmark guide.
Vintage Clothing Label: MATERIAL NAMES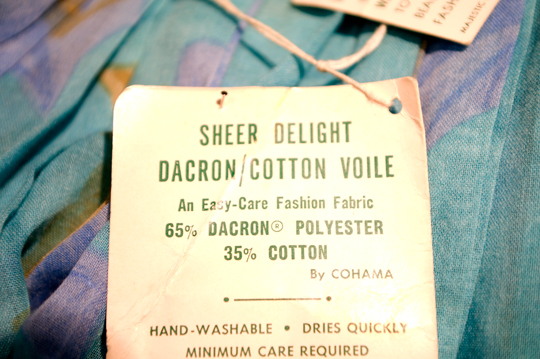 LOOK FOR … the type of material noted on a garment, particularly if it has an unusual name like "Dacron Polyester."
HOW OLD? 1958 to 1970 if labeled with Dacron Polyester (shown above).
POLYESTER: Invented 1941, first commercially used 1953 but most popular 1970s or later. Look for vintage names Celanese, Kodel and Vycron.
NYLON: First commercially used in 1939. Look for vintage name Qiana Nylon, found on garments approximately 1968 to 1970s.
LYCRA: Invented 1959, also referred to as Spandex.
ACRYLIC: First commercially used 1950. Look for vintage names Orlon, Acrilan, Zeran and Creslan.
WHY IT'S VINTAGE: The invention of synthetics during World War II was an exciting time for American fashion — and for the clothing companies themselves!
Chemical companies like DuPont released these marketing names to create incentive for consumers to buy a garment, labels included trade names like "Qiana Nylon" (versus just Nylon) or "Dacron Polyester" (versus just Polyester).
RESOURCE: Fabric Link's history of materials.
Vintage Clothing Label: COUNTRIES THAT NO LONGER EXIST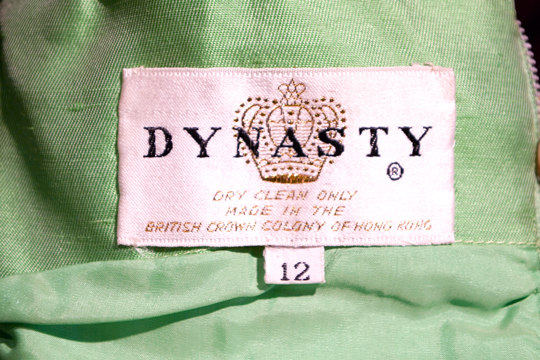 LOOK FOR … countries or colonies which no longer exist.
HOW OLD? Pre-1999, considering the British Colony of Hong Kong gained its independence before the dawn of the new millennium.
WHY IT'S VINTAGE: While dating a garment to 1999 doesn't make it vintage, you can date garments with countries like "Yugoslavia," which divided into Bosnia, Croatia, Macedonia, Serbia and Montenegro, and Slovenia in the early 1990s.
RESOURCE: Missing Countries guide of About.com.
Vintage Clothing Label: HALF SIZES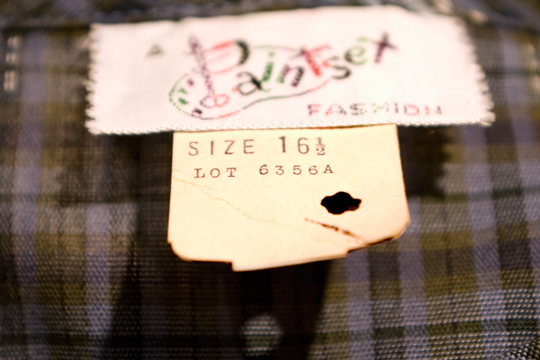 LOOK FOR … the use of "half" sizes with 1/2 after the whole number size, i.e. 16 1/2.
HOW OLD? Pre-1970s and no older than 1940s.
WHY IT'S VINTAGE: According to one of my sources, half sizes were introduced in 1940s sewing patterns for "shorter" women. The half size denoted the garment's shorter length.
The sizing was with an even whole number and "1/2" because odd numbers were denoted for junior sizing (at that time, petite women and not teenagers).
My other source references half sizes as indicators of a vintage plus-size garment beginning at size 20 1/2.
RESOURCES: Explanation of Half Sizes on Sewing Patterns by The Hem Line & Explanation of Vintage Plus Sizes by Charearl.
Vintage Clothing Label: RN NUMBERS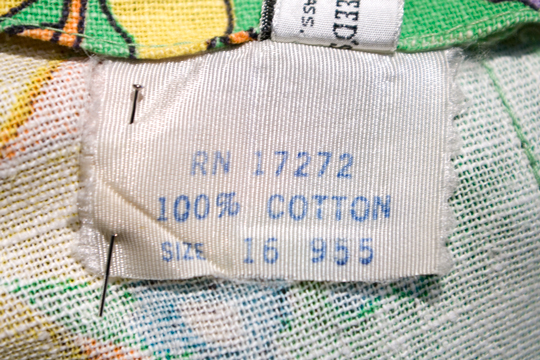 LOOK FOR … an RN number of five to six numbers, proceeded with "RN."
HOW OLD? 1959 and earlier for numbers listed 00101 to 04086 and post 1959 for numbers listed as 13670 or larger.
WHY IT'S VINTAGE: RN numbers were first used in 1952 and listed from 00101 (first number) to 04086 (last number).
In 1959 the numbering system changed and began at 13670. Thus, you can "take a guess" at how old a garment may be by comparing its RN number to 13670. Shown here is 17272, which I would guesstimate puts this garment in the mid '60s.
HOWEVER, PLEASE NOTE: RN numbers do NOT necessarily identify the year a garment was made. They rather identify when the RN number was first issued for the company to use.
Thus, a '70s dress may have a RN number closer to 13670 than another '70s dress of comparable production time.
BEST RULE OF THUMB: I've personally decided that RN numbers of 6+ digits are from the '80s or later, while RN numbers of 5 digits are of the '60s and '70s.
RESOURCES: The WPL, RN & CA Labeling Guide on Ebay.
Vintage Clothing Label: LOT NUMBERS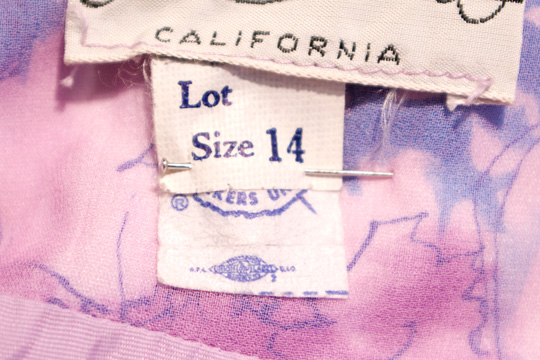 LOOK FOR … the verbiage "lot" usually followed by a number or number with a letter.
HOW OLD? Pre-1979.
WHY IT'S VINTAGE: Lot numbers were used to process and track garments as they were produced in factories.
For whatever reason, lot numbers ceased use around 1979. I assume the outsourcing of clothing to more countries abroad had something to do with it!
Vintage Clothing Label: ODD NUMBER SIZES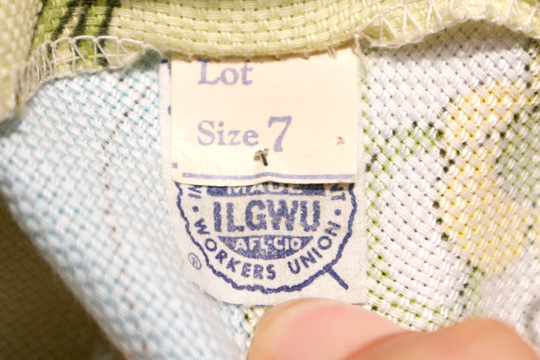 LOOK FOR … odd sizes, i.e. 3, 5, 7, 9.
HOW OLD? Pre-1980s. Vintage junior sizing was invented not as a sizing system for teenagers (traditionally seen today) but rather petite ladies!
WHY IT'S VINTAGE: Odd number sizes ceased use around the 1980s when the production of separate petite lines began.
Odd sizing became more standard for pre-teen and teenage women of modern day — remember the store 5-7-9? One of my favs growing up, because all sizes were 5, 7 or 9!
Vintage Clothing Label: MADE IN MEXICO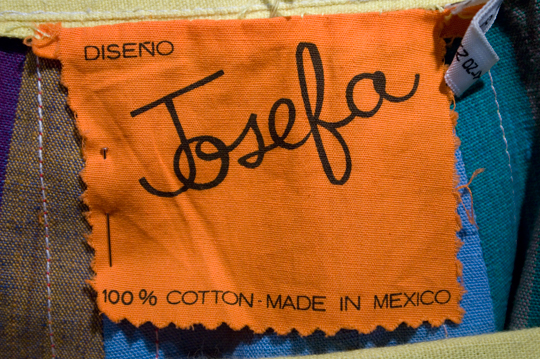 LOOK FOR … "Made in Mexico" verbiage.
HOW OLD? 1950s is the probable era of a vintage garment that was Made in Mexico.
WHY IT'S VINTAGE: Although you can certainly buy modern clothing that was made in Mexico, vintage clothing made in Mexico is most likely from the 1950s.
Reason being that travel to Mexico was quite popular during the era and Mexican styles (particularly circle skirts) caught on as a trend. If women weren't vacationing to Mexico and buying them there, they were being bought and sold in American boutiques.
NOTE: Best to use this tag tip if you already know that the garment is vintage to prevent confusion with a modern piece also made in Mexico.
Also, for more vintage geographic know-how read more about the influences of California & Hawaii in my Dating Clothing as Vintage article.
Vintage Clothing Label: CARE INSTRUCTIONS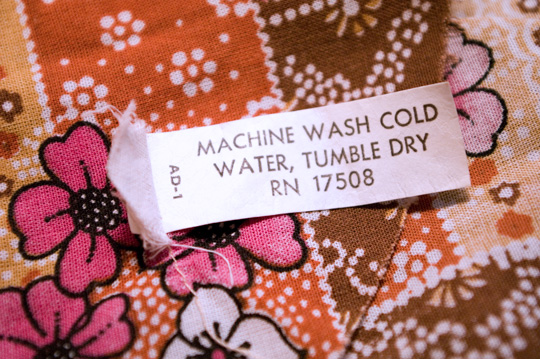 LOOK FOR … a care label or the absence of a care label.
HOW OLD? 1971 or newer if the garment has a care label with at least one suggested instruction on how to wash/"care for" the garment.
Pre-1971 if there's absolutely no care instructions to be found on a tag.
WHY IT'S VINTAGE: Read more on how to date vintage by its care label here.
Vintage Clothing Label: UNION TAGS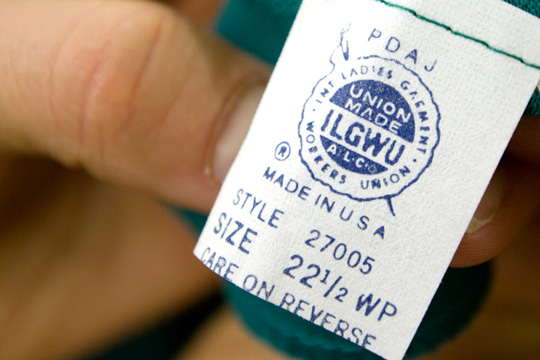 LOOK FOR … a union label, either from the International Ladies' Garment Workers' Union (ILGWU) or from one of the other 6 unions or union subgroups, including
HOW OLD? Typically 1920s to 1980s, depending on the tag design you're looking at.
WHY IT'S VINTAGE: Read more on identifying and dating the age of ILGWU union labels here, and how to date vintage clothing based on 6 other vintage union labels in addition to ILGWU here.
Vintage Clothing Label: MY NAME!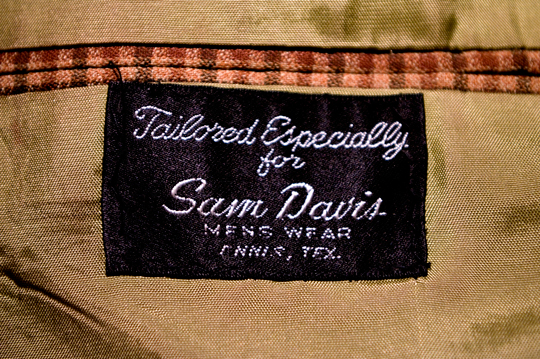 Oh … and that tag up there? Well you know it's vintage cause it has my name on it!
Although clearly for a male named Sam Davis, I just about died when I saw this tag on a men's jacket in The Family Vintage Jewels, who kindly let us shoot the tags of their vintage clothing!
Sam Davis, are you out there? Your jacket is calling your name!
Thank you to the Family Vintage Jewels for loaning vintage clothing for creation of this article.
DATING VINTAGE BY TAGS & LABELS
QUICK TIPS: How to Know Your Clothing is Vintage
CLUES: How to Date Vintage Clothing by Construction
THRIFT: 3 Ways to Identify Vintage Clothing Labels
UNIONS: Your Complete Guide to Vintage Union Labels
ILGWU LABELS: A Breakdown of the ILGWU Label Designs by Era
VINTAGE FASHION RESOURCES
Paper Past Vintage & The Vintage Traveler
The Vintage Fashion Guild's Label Guide A-Z
Vintage Fashion & Textile Online Resources from Archivia Vintage
Dating Vintage Labels & Tags by Carmen & Ginger