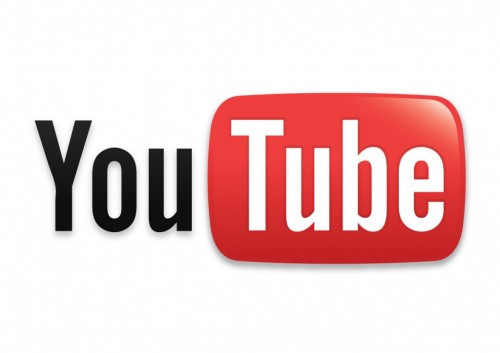 Hello lovelies and welcome to  … YOUTUBE TUESDAY!!!
I decided to switch up my greeting and add a bit more pizazz in honor of today's post on some of my favorite vintage & thrift fashion inspired YouTube vloggers!
Since launching my web series on YouTube in early October, I've had the blessing to connect with individuals I otherwise would never have had the pleasure and true honor of knowing. These are people who share my mutual interests, but also mutual passion for LIFE itself.
While we're only connected digitally and not in the flesh, I can still feel their sincere warmth radiating from within. It shows in their language, their smile, and their sense of altruistic self on the computer screen. I know, sounds crazy! But the benefits of seeing someone through video is that you do get a "sense" of who they are, more than you would with a Facebook status update or 140 character tweet.
Which brings me to my next point: This great big 'ole world wide web can be a frightening, overwhelming place if you don't use it with focus and mindfulness of what you're "there" in that web to accomplish.  I wanted to produce this post today — part 1 of 2! — so that I could give you a centered opportunity to connect with video content that means something to you, rather than get "lost" in the tangled web of YouTube.
Like a curator of vintage/thrift fashion and style tips on how to wear it, I also consider myself a curator of other media outlets for YOUR education and inspiration. In other words: I am not the only option!! I am continually learning new things and being "awakened" by the knowledge of others.
And to me, that is the true beauty of life — recognizing that whatever is in front of you is your "teacher." Keep reading after the jump for 5 YouTubers who can teach and inspire you with their video today, and check in tomorrow for a round up of another 5 fab YouTubers I want you to meet!
Do you have a blog, twitter, site, Facebook, book, whatever! suggestion for Sammy Davis Vintage and the readers here? Fill me in!
I'm always using Facebook and Twitter to gauge the opinions and valuable insight of others. You guys know your stuff too — let's use this platform to share what we know and to do it with truth, kindness, and pursuit of passions that fill us with joy.
xx, SD
WHO: Sarah & Jenn AKA "Clothesencounters" are west coast chicas who truly understand today's beating pulse of "cool." Their videos transform a simple how-to idea — like "how to wear high-waisted pants" or "how-to wear an anorak" into a smooth, choreographed presentation of style with great tunes and sound fashion advice. I never click "out" of their videos — and sometimes I watch them TWICE!
WHAT I LEARNED: In "Tips for Thrifting," go thrifting with a friend who has a different style than you, but knows you well enough to recognize your likes & dislikes, too. That way you have a shopping partner who can "find the finds" for you, too.
REAL-LIFE HANG OUT WISH: Sarah & Jenn would first implore me to take off my winter coat and enjoy the California sunshine. Our car ride to the local Goodwill or Savers would be playing a song I've never heard but absolutely love.  Whilst thrifting, they'd encourage me to step away from old school vintage and into something a bit more contemporary and indie-inspired. After a styling session with Sarah & Jenn, my thrifting tastes would never be the same!
MORE CONNECTION: Find 'em on Tumblr and on Facebook
WHO: Felicia was one of my first genuine connections on YouTube. I identified my quote/unquote "competition" in the vintage space and Miss July keep returning in search results for "vintage!" After reaching out, our "competition" was nothing more than "collaboration." I love my message exchanges with Felicia, a resident of Canada with a true passion for vintage that she maintains outside of a day job. Her following celebrates her with a slew of comments on each new video — keep vlogging, Felicia!
WHAT I LEARNED: In "Vintage or Not," Felicia identifies that many people misunderstand the true nature of "vintage." Technically 20 years or older, vintage is not just a thrift store find. Vintage can also be identified a variety of other ways, whether by design, tag, structure or label! Felicia, I welcome your wisdom and thank you on behalf of your audience for all that you do!
REAL-LIFE HANG OUT WISH: Felicia and I would grab tea and talk about life, and then we would visit a nearby vintage boutique and play dress up for the afternoon. She'd show me the best stores in her area of Canada and I'd snap a ton of pictures to share with you on this site. Felicia would enlighten me with vintage known-how related to Canada, and I would exchange the karma with vintage know-how on the United States!
MORE CONNECTION: Felicia sells her vintage thrift store finds on Etsy! Check her out at That Girl Vintage Shop
WHO: Africanexport is one of the most prominent natural hair & natural beauty vloggers on YouTube. I first discovered here because scattered throughout her videos documenting her natural hair journey, she has shared her thrift store and vintage finds to further educate her audience on how to live life empowered and confident in self and in style.
I love Africanexport's no nonsense attitude. She tells it like it is and she represents her beliefs because she knows that they are kind and true. She is a truly inspiring figure on YouTube and even if you are not interested in her content, I highly suggest you check out her channel for nothing short of pure motivation!
WHAT I LEARNED: Thrifting can be picky! In "Vintage & Thrift Haul," AE shares how she selects her vintage pieces from the thrift store … for a BARGAIN. Enlightening me that traveling this great country for some thrift shopping is a bucket list goal of mine, hopefully to be fulfilled in the near future!
REAL-LIFE HANG OUT WISH: Africanexport and I would visit an amazing San Fran based flea market known as "Rose Bowl" [she hails from Oakland, California!] and uncover buried treasure of … sequins! I made true connection with AE after recognizing she loved sequins and sending her some Sammy D shine. If a girl loves sequins, she owns my thrift & vintage heart.
MORE CONNECTION: Find Africanexport on Facebook and as the vlogger representing Natural Hair & Beauty! Oh, and she tweets, too!
LISAFREEMONTSTREET: *EARLY '60s UPDO HAIRSTYLE TUTORIAL*
WHO: Ashley AKA Lisafreemontstreet is a vintage makeup & hair vlogger based out of Tennessee! I love her southern twang but most of all, I enjoy her step-by-step instructions on how to get the "vintage look" without looking too costume-y or pin-up/suicide girl inspired. Not every girl wants to look 100 percent throwback, and Lisafreemontstreet shows that you can sweetly integrate vintage flair into your daily look without looking like the spitting image of your mother 40 years earlier.
WHAT I LEARNED: In "Early '60s Hairstyle Tutorial," I learned that Joan's hairstyle from Mad Men is QUITE the process to achieve! Hair rollers and hairspray rule all. It's a great look to channel before bedtime — hence why so many ladies wore hair rollers to bed in the past!
REAL-LIFE HANG OUT WISH: I'd road trip to Tennessee [thrifting along the way, of course!] to visit Ashley for a vintage glam makeover. I think I'd request a '20s look because my hair is on the shorter side, but since Ashley is the expert I'd let her have the final guru say. Then we'd host a vintage party and everyone would come dressed from their favorite decade — could you imagine '20s vs. '80s vs. '40s! It'd be quite a scene, like a vintage-con event.
MORE CONNECTION: Send Ashley some love on Facebook, too, and check out Vintage Life Magazine, which she is a YouTube ambassador for!
WHO: The one and only Miss Philly Diva, truly representing the 215 with sound style advice and thrifting expertise! I stumbled upon Philly Diva one night exploring YouTube for thrifting videos. I was hooked! She thrifts for style that is wearable and work friendly, truly representing how thrifting can give you style empowerment for low cost investment.
I'm a true Philadelphian at heart because I attended a local Philly school for college, so my kinship to Philly Diva is deep on a local level, too. Plus, her personality mirrors mine in a lot of ways: she has true excitement for her finds and for her life, making energetic exclamations and comments. We're sisters by another mother, that's what I say!
WHAT I LEARNED: In "Gone Vintage," Philly Diva shares how she discovers the act of buying vintage on Ebay. It was her first time! She had some advice from other YouTubers … and truly lucked out! She bought a "vintage lot" jewelry for only $.99, joking that she spent MORE on shipping than the amount she spent on the items themselves. Her advice: If you can't go shopping at a brick & mortar vintage boutique, check out vintage sold online. I recommend sites like Ebay, Etsy & Market Publique!
REAL-LIFE HANG OUT WISH: I'd meet Philly Diva on South Street in Philadelphia and take her to some of my favorite vintage brick & mortar stores. I'd style her and we'd film a video on the experience … in other words, I'd convert her to a FULL "gone vintage" lover. Then, in exchange for my vintage advice, she'd share her top secret thrifting spots in and around the city!
MORE CONNECTION: Check out her blog for more of Miss Diva's dish, plus follow her on Twitter and Facebook!