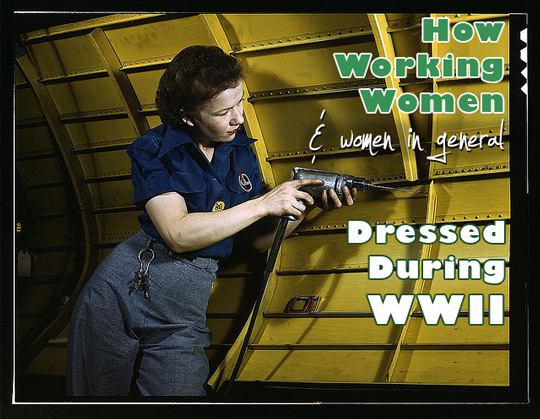 Source: US Library of Congress on Flickr
'40s fashion during World War Two wasn't about dressing like a sexy pin-up girl in a halter top and high-waisted bikini with a red lip and flower in your hair's "Victory Curls."
Sure, soldiers were admiring photos of lookers Rita Hayworth and Veronica Lake in their bunkers, but these pin-up princesses weren't representative of how the average American woman wore World War Two fashion.
To explore the reality of fashion from 1940 (when the US entered WWII) to 1946 (when President Truman pulled American troops), I gathered amazing photos from the US Library of Congress Flickr page to illustrate how women truly dressed during this patriotic American time.

<< SHOP NOW: 1940s vintage clothing
 from eBay! 
Photos illustrate how women became "hard chic" in '40s fashion, wearing traditional men's clothing as they filled the working roles of their husbands, brothers and sons while also minimizing materials and decoration on other wardrobe staples to abide by government regulations to conserve materials for wartime efforts.
Do you own a '40s vintage garment?
Let me know by leaving a comment below the post or by saying hello on Twitter, Facebook, Instagram or by subscribing to my newsletter (next newsletter: behind-the-scenes vintage photoshoot pics with Carla & Carla on Etsy!)
xx, SD
World War Two Fashion Utility Suits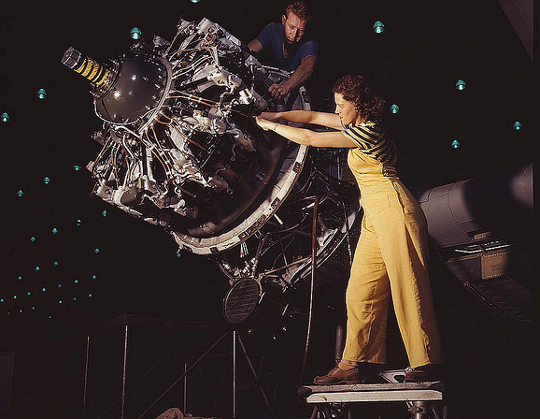 Photo: US Library of Congress on Flickr 
UTILITY SUITS … were worn by women who took the jobs of men who were deployed as soldiers during the war.
These were jobs on a factory assembly line or maneuvering machinery in high-tech facilities and manufacturing plants.
WORN BECAUSE … like the uniforms of a doctor, police officer or bus driver, the utility suit became a uniform of sorts for women working these physically challenging jobs. Wearing a utility suit, women were able to maintain modesty while still maintaining movement.
ALSO CALLED JUMPSUIT BECAUSE … women in Great Britain kept them nearby in the event air raid alarms went off and they needed to throw something functional on in the middle of the night and "jump" into a protective bomb shelter.
Hence the name jumpsuit!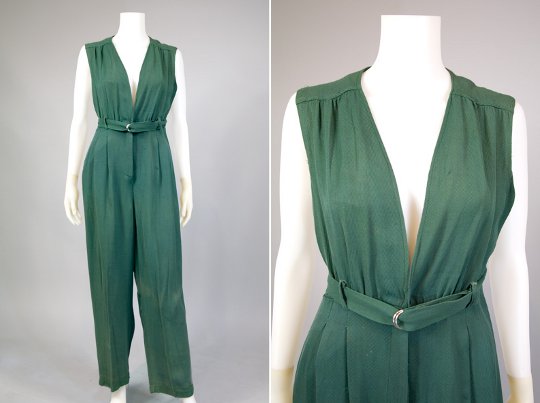 1940s Vintage Utility Suit from Hinesite Vintage 
WORN TODAY … a la the influences of the '70s, the utility / jump suit is a modern fashion phenomena that blesses tall girls everywhere who dare to wear this all-encompassing body suit.
I could see someone wearing this '40s utility suit from Hinesite Vintage today. Remove its original belt for a gold one and add some sequin heels, and you've got yourself a glamorous look hardly representative of the hard-working ethos this style represented for women in its day.
World War Two Fashion Trousers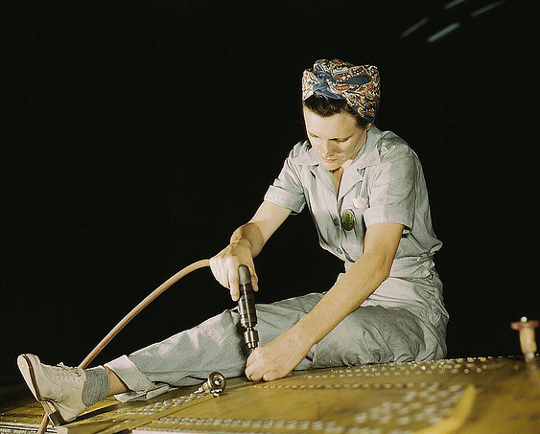 Photo: US Library of Congress on Flickr 
TROUSERS … were hardly ever worn by women prior to the '40s. Palazzo pants had a moment in the '30s as did trousers for the rebellious flapper girl of the '20s.
WORN BECAUSE …  it was in the 1940s that a woman was wearing the pants in the family, whether it was at her job to support wartime efforts (like this lovely Rosie the Riveter lookalike above!) or as everyday garments stolen from her husband's closet.
Since materials were sanctioned and money was tight, women dug into their soldier husbands' closets to take pants and jackets for their own wear, which they'd self-tailor for a more feminine fit.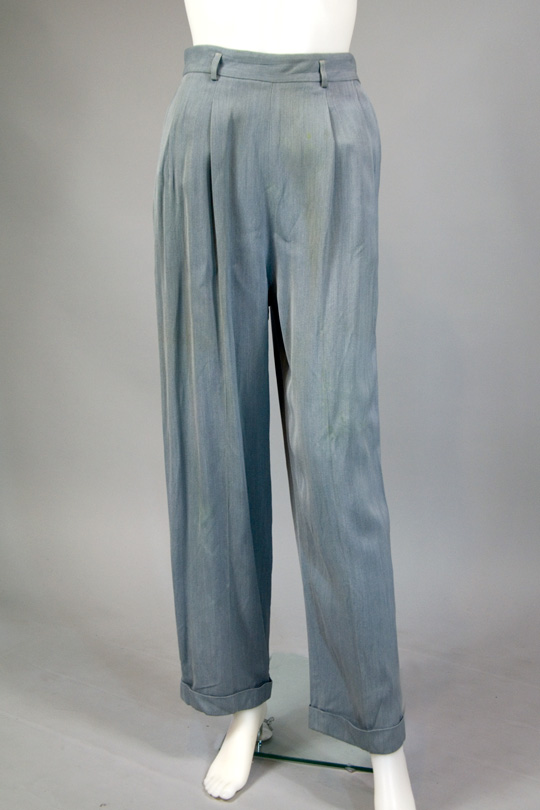 1940s Women's Trousers from Hinesite Vintage
WORN TODAY … ha! Women wear more than just trousers today. We wear the pants, the shorts, the leggings, the jeggings, the capris, the cut-offs and everything in between that involves separation of the legs with fabric.
That doesn't mean women always had it easy wearing the pants — even if they were doing it by the droves in the '40s. For example, the first appearance of pants in the US Congress was as late as 1969 — and the woman (Representative Charlotte Reid) who wore them said "she wouldn't wear them again for fear of appearing facetious." Seriously! 
World War Two Fashion Blazers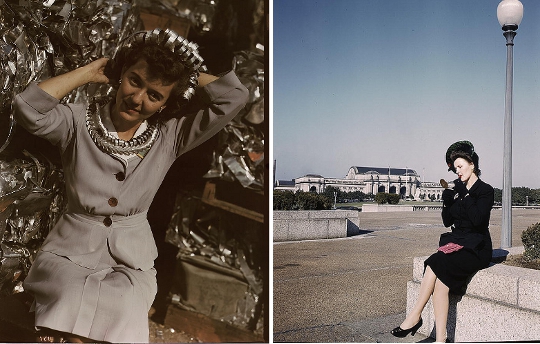 Photos: (left) US Library of Congress on Flickr (right) US Library of Congress on Flickr 
BLAZERS … were made possible for women thanks to Coco Chanel, who introduced a knit "day" suit to women in the '30s.
When men left for the war, women were free to adopt their styles at ease. The blazer and skirt combo became a popular staple outfit amongst the well-suited, well-styled '40s lady.
WORN BECAUSE … while a lady was encouraged to dress in fashionable frills during decades before, she was discouraged from spreading her peacock wings in the '40s to conserve materials and to show her patriotic focus on wartime efforts, and not her appearance in the mirror.
Thus, the wartime suit of crisp lines, little decoration and broad shoulders was considered a fashionably patriotic look.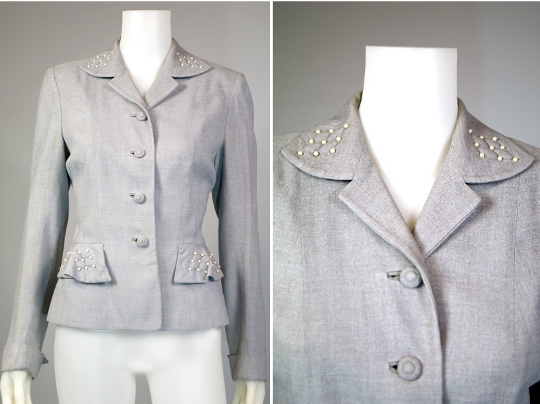 1940s Women's Pearl Trim Blazer from Hinesite Vintage 
WORN TODAY … every working girl has a blazer or two, and when worn the right way they can truly professionalize or personalize a look.
The matching blazer and skirt set is still considered a "look," whether for a wealthy heiress to wear on her lunch or a conservative banker to wear as her 9 to 5 uniform.
Since the millennium's teens are best described as the "androgynous zone" for women, girls are often seen wearing oversize blazers or vintage men's blazers with a blouse below and shorts, like Katya and Carlis do wearing vintage '80s blazers.
World War Two Fashion Pencil Skirts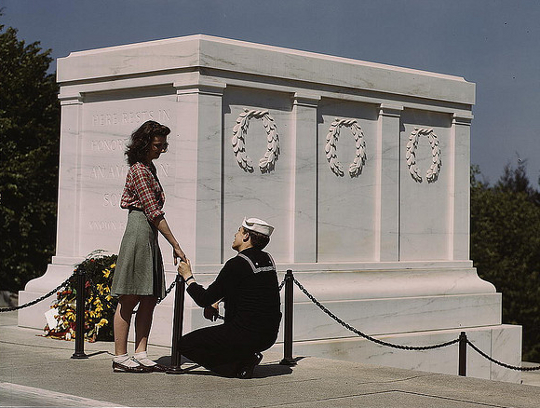 Photo: US Library of Congress on Flickr 
PENCIL SKIRTS … marked the return of the rising hemline, hitting the knee for the first time since the flapper era '20s style.
WORN BECAUSE … in 1942, the War Production Board regulated that every item of clothing be cut shorter and tighter to the body. Materials were to be preserved for war efforts, so fashionable consumers purchasing new goods were wearing outfits of less materials and adornment than ever before.
For ladies, the "narrow silhouette" became en vogue, as jackets rose to hip length and pencil skirts emerged as the new standard length of a woman's skirt style.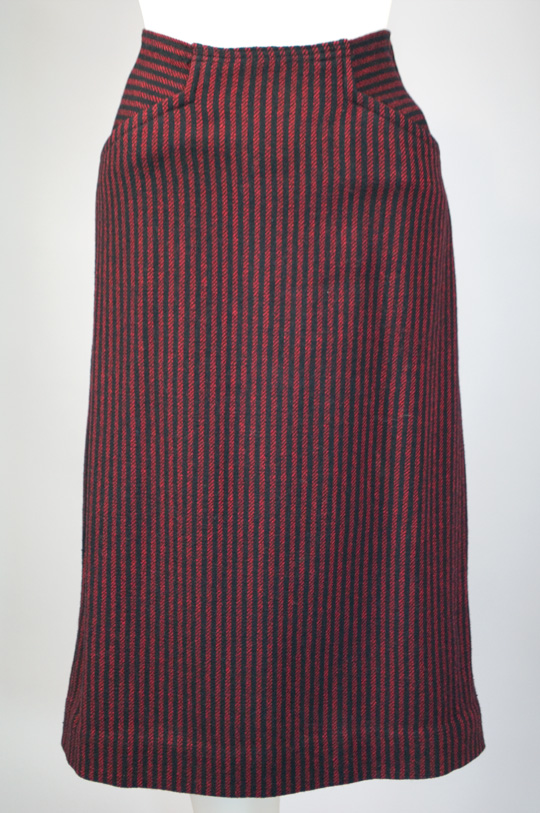 1940s Pinstripe Pencil Skirt from Hinesite Vintage
WORN TODAY … now, women all around the world rock the pencil skirt as a go-to professional clothing staple.
They weren't called "pencil skirts" in the '40s. This was a marketing term of sorts developed later in fashion's history. Who knew that just cutting a few inches from a skirt would inspire it to become such an iconic garment?
World War Two Fashion Gabardine Dresses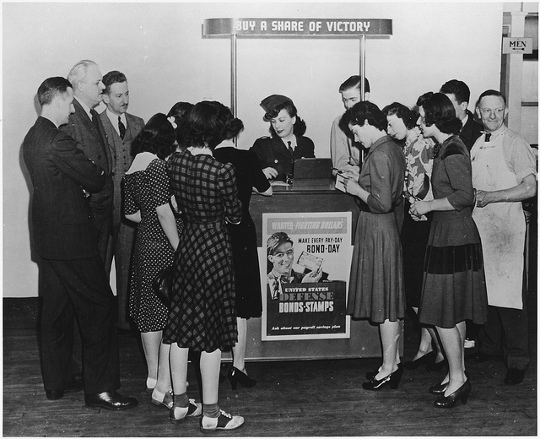 Photo: US Library of Congress on Flickr
GABARDINE DRESSES … were adopted into the patriotic woman's wardrobe to wear in place of wool dresses.
WORN BECAUSE … wool was needed for wartime materials and discouraged from purchase for clothing so gabardine (a blend of synthetic materials like rayon) became the new material du jour for ladies looking to update their closets.
DATING TIP: When you hear "gabardine" in any vintage setting, you're most likely looking at a '40s or '50s garment (particularly '50s for men's suiting, say experts).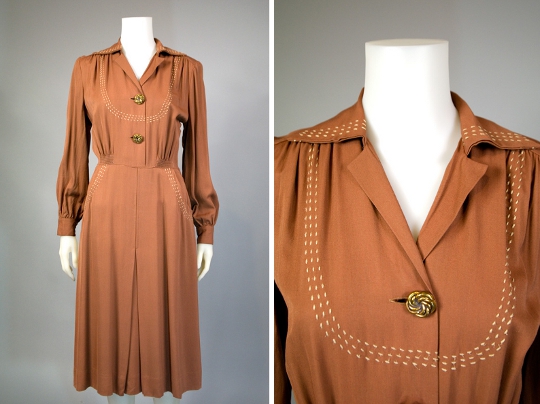 1940s Gabardine Dress from Hinesite Vintage 
WORN TODAY …  while gabardine of the '40s was a blend of rayon and other synthetic materials, gabardine today is a trade name for fabric made from "worsted wool," which means the wool is more tightly woven and has a matte finish (slightly shiny).
Thank you to Hinesite Vintage for loaning vintage clothing for the creation of this article.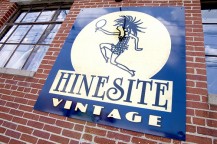 MORE 1940s FASHION
CLOTHING: 21 Reasons why your should wear '40s clothing
DRESSES: 5 Amazing Dresses that Represent '40s Style
HISTORY: Why '40s Fashion Is Still Relevant Today
STOP STARING: '40s Style Dresses That Fit Any Body Type (and Look Great)
TIMELINE: Everything You Wanted to Know About 1940s Fashion Trends
PLUS: Vintage '40s Fashion Clothing on Etsy.com