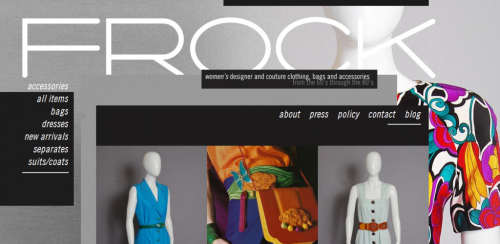 Hello and happy TUESDAY vintage lovers!!!
Last week I had the seriously stylish pleasure of featuring New York City designer vintage & secondhand couture boutique Frock in the latest styling vintage with modern video on my YouTube channel.
I stumbled upon Frock exploring the neighborhood of NoLita / Little Italy last spring. The boutique is a hidden gem on a quiet, tree-lined block of Elizabeth Street. I was captivated by the gorgeous window display and the amazing colors and materials of vintage dresses I saw inside.
Later that day, I signed up for Frock's newsletter — and a little less than 24 hours after that, the store's manager and social media guru Cristina personally emailed me to say HELLO!
You might think that a designer vintage boutique wouldn't care about a little 'ole thrifty vintage lover like me. But this clearly was NOT the case! Cristina was interested in everything my brand stood for [spreading vintage love!] and invited me to feature the store however I wished.
I'm so happy to share that I was able to collaborate with all-things-FAB at Frock, showing off the most beautiful, one-of-a-kind designer vintage accessories that I've personally EVER touched. They were so amazing to style that I felt it was only right to give you all a better glimpse of them in a follow-up post to the vid.
Keep reading after the jump to see some amazing designer vintage accessories up-close-and-personal, and to learn a bit more about the vintage and designer history behind each!
When I was a teenager, I used to buy the cheapest jewelry at the mall. Remember Claire's, vintage lovers? If you were a teen in the '90s [or the mother of one!] you remember this jewelry chain well.
Well, I've moved on from the junk jewelry stage of my life and as I approach my late '20s, feel a pull to invest in accessories of real materials, real style and thanks to real quality, real strength that lasts.
Which is why some of the designer vintage accessories you're about to see are worth every pretty penny they may cost. Because as I'm learning myself, it's not about quantity: It's about quality. I'd much rather own one vintage Chanel bag than 10 generic ones!
HUGE thanks to Cristina and Frock's fabulous owner Evan for their support of Sammy Davis Vintage!
And vintage lovers, I wanna know: What piece of vintage jewelry was a "splurge" for you? Let me know in the comments, or send me a Tweet, Facebook post or email me a pic!
xx, SD
TASSEL EARRINGS: YVES SAINT LAURENT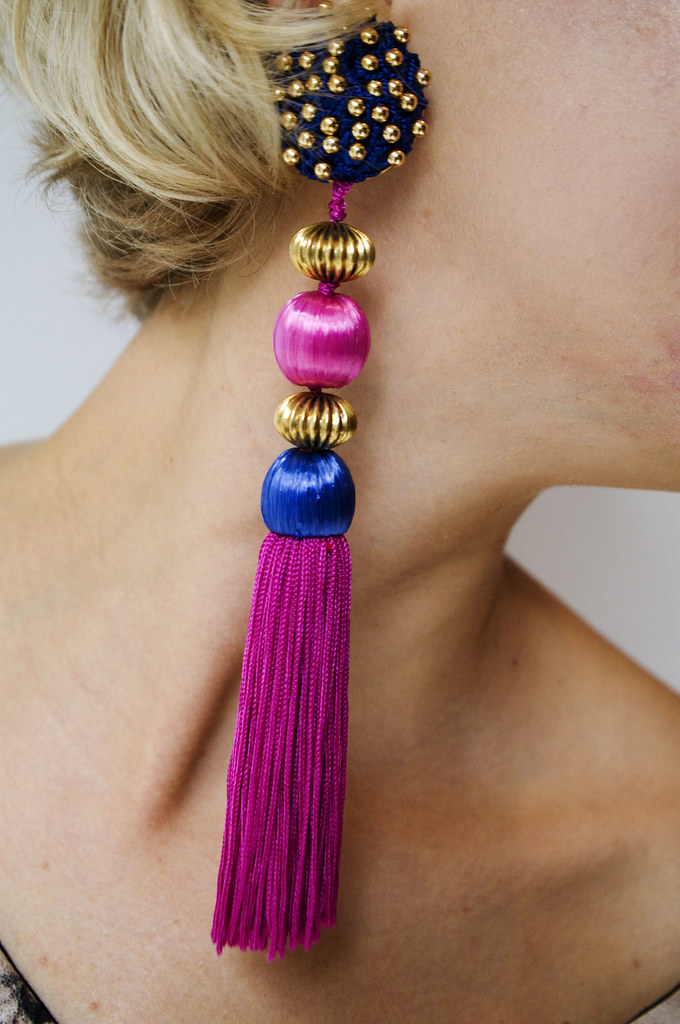 THE DESIGNER: We all know the famous acronym "YSL" of Yves Saint Laurent. YSL represents high fashion at it's peak, because the brand is coveted by the highly-promoted celebrities of the world who give such us temporary access to these luxurious pieces when seen wearing on the red carpet.
Laurent began his career as the assistant to Christian Dior. After Dior died, Laurent became head of the house of Dior, launching his life into a successful fashion career and inspiration of runway-to-real-women style looks. This became known as "ready to wear" collections or in French, prêt-à-porter.
Women love YSL because he created high-fashion that while not affordable to all, was wearable by all. Styles he can be credited with popularizing were tuxedo jackets for women as well as drawing inspiration from diverse cultures and igniting the "ethnic" print trend, especially as inspired by his time living at his vacation home in Morocco.
THE EARRINGS: These fuchsia & teal tassel earrings from the 1991 spring / summer YSL collection were deliberately designed to be two colors. As seen in the picture showing a model wearing them, they were also intended to be worn with lots of OTHER color and print. Arguably, this is is "too much" look — but give it a second or even third glance, and you might begin to see how too much can be "just enough."
HOW I'D WEAR THEM: I've got a pocket full of loud style, but I don't like to "weigh down" the upper portion of my body. For the video, I wore just one earring for a touch of '80s nostalgia. I matched the earring to my YSL belt [shown farther below this post] so that a line of "color continuity" was created along my look. And like YSL styled the model below, I rocked that one earring with a printed, and not a solid color dress. I think he'd be proud to see the re-invention of his '91 trend 20 years later!
HOW TO BUY: On the Frock site, $895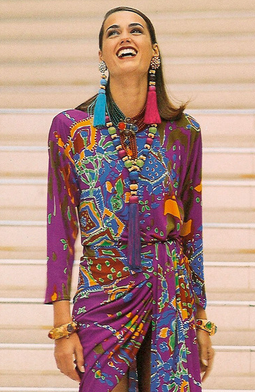 CHARM BRACELET: CHRISTIAN LACROIX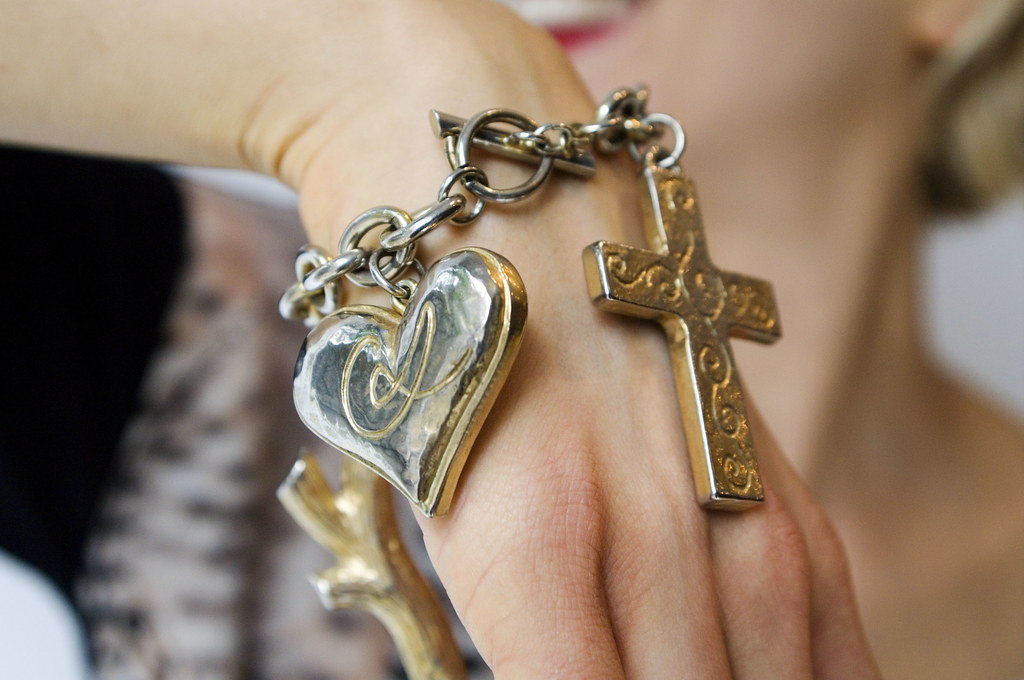 THE DESIGNER: French designer Christian Lacroix found his way into fashion by accident. He was recruited to work for luxury brand Hermes in 1978 after meeting Jean-Jacques Picart, a press rep for several haute couture houses.
It was in 1987 that Christian opened his own couture house, taking inspiration from all-things-vintage to create his "fantasy collections" that critics said were unpractical to wear by the average woman.
His educational background in fashion & art history inspired his opulent designs, which took style cues from folklore fashion as told by storytellers from around the world. In other worlds: Christian was inspired by the styles that were not immediately around him, but rather had gone unrecognized in the unrepresented regions of the world.
While credited as a fashion genius, Christian's brand never took off profit-wise, and lost nearly $10 million in 2008, forcing its closure which continues to this day.
HOW I'D WEAR IT: This is absolutely the perfect piece to wear when you want that good-girl-gone-bad vibe. Call it the "Rihana" look — but I'd love to rock this bracelet with a tulip skirt of chiffon material (almost like a ballerina skirt), some killer pumps and a tight bodysuit with a cashmere cardigan on top. Oh … and maybe a big fat bow on top of my head, of course!
HOW TO BUY: On the Frock site, $575
STRETCH BELT: YVES SAINT LAURENT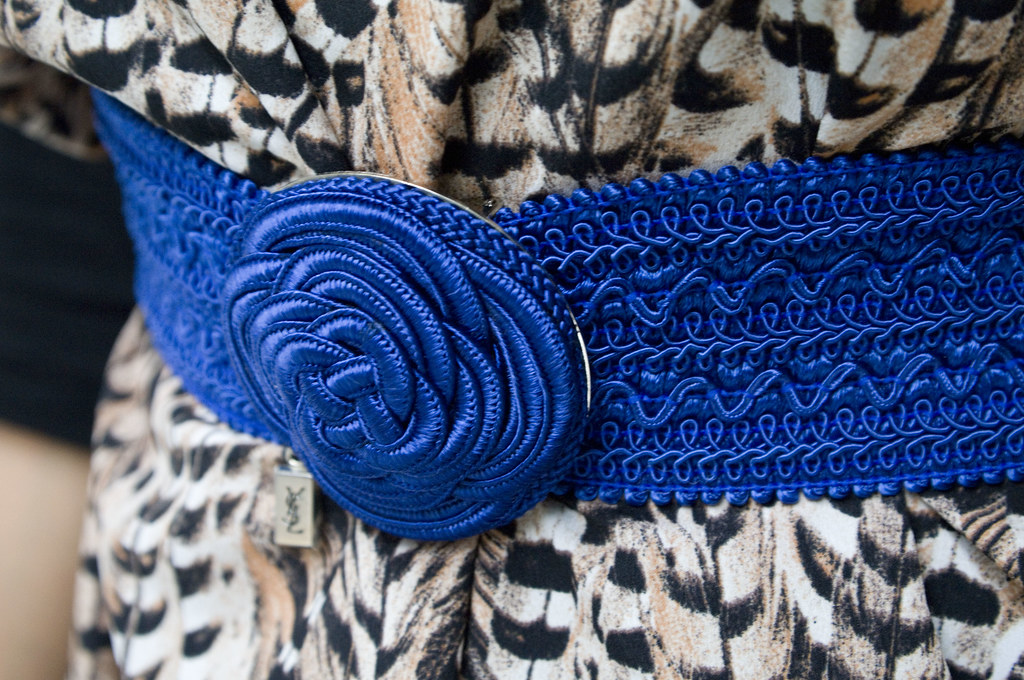 THE DESIGNER: Yves Saint Laurent
THE BELT: I had a great conversation with Frock owner Evan about this woven stretch belt in a brilliant cobalt blue. We decided that the "ribbon" of the belt is more of an applique, and the buckle itself designed to look like a rosette. Since Laurent vacationed in Morocco and drew inspiration from ethnic fashion, Evan and I mused that this belt was probably as inspired by the Marrakesh style.
HOW I'D WEAR IT: I love this bright cobalt blue over the pattern of the Zara dress, but I can also see it working to create a color block effect over a bright hue of a solid color, too. Imagine those tassel earrings above in clothing: The belt is like the tassel, and the dress would be a fuchsia pink like the ball of the earring.
One of my favorite style tricks is to draw attention to the tiniest part of the body — that sexy 'lil waist! — with an eye-catching belt.
HOW TO BUY: Send Frock an email inquiry [email protected]
PEARL EARRINGS: CHANEL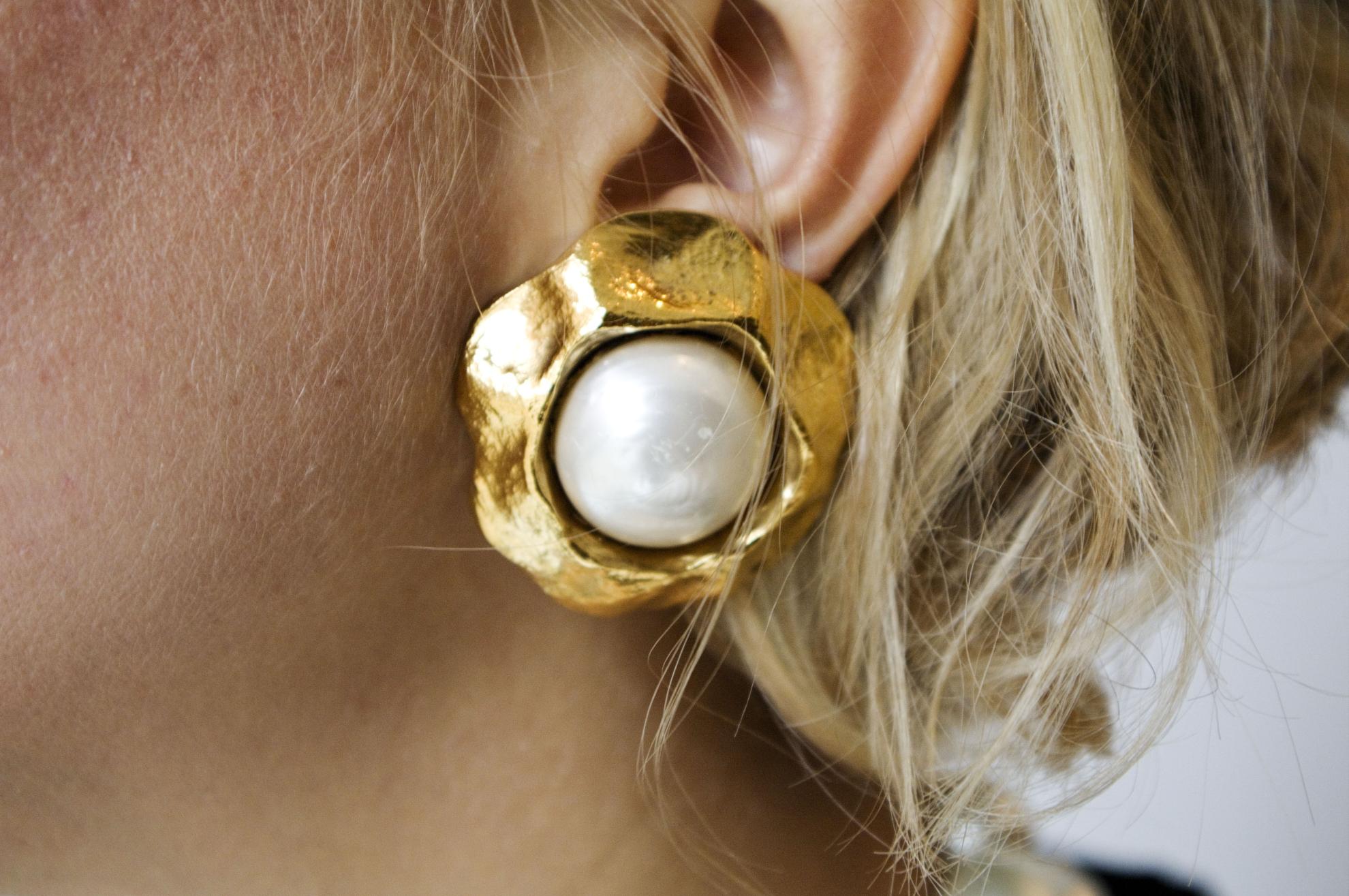 THE DESIGNER: The one, the only, the can-never-get-enough-of-her CHANEL!
One of my favorite fashion movies is Coco Before Chanel, the biopic of Coco Chanel and her rise from just a poor girl with a pretty face to cool, calm and totally-in-control stylishly savvy French designer.
Chanel is one of the most quoted designers, and for good reasons: Her styles were chosen to grace the bodies of women who wanted to look classically fabulous always thanks to simple lines and the modern functionality of menswear inspired tailoring.
Her accessories — most notably the quilted bags and faux pearl high quality costume jewelry — are staple pieces that at some point in their lives, I do believe every woman should look to for a style investment.
Miss Chanel was living, breathing proof of her customer, becoming a style icon herself both in life and posthumously today.
HOW I'D WEAR THEM: Clearly faux pearls [or I'd literally be wearing millions on my ears!] these clip-ons are simple enough to be chic, but big enough to be bold. I wore them in the video for a work look, but I argue these are more suited to a great evening out.
A floor length dress, these earrings and a matching Chanel clutch? Tres chic!
HOW TO BUY: Send Frock an email inquiry [email protected]
CHAIN BELT: PALOMA PICASSO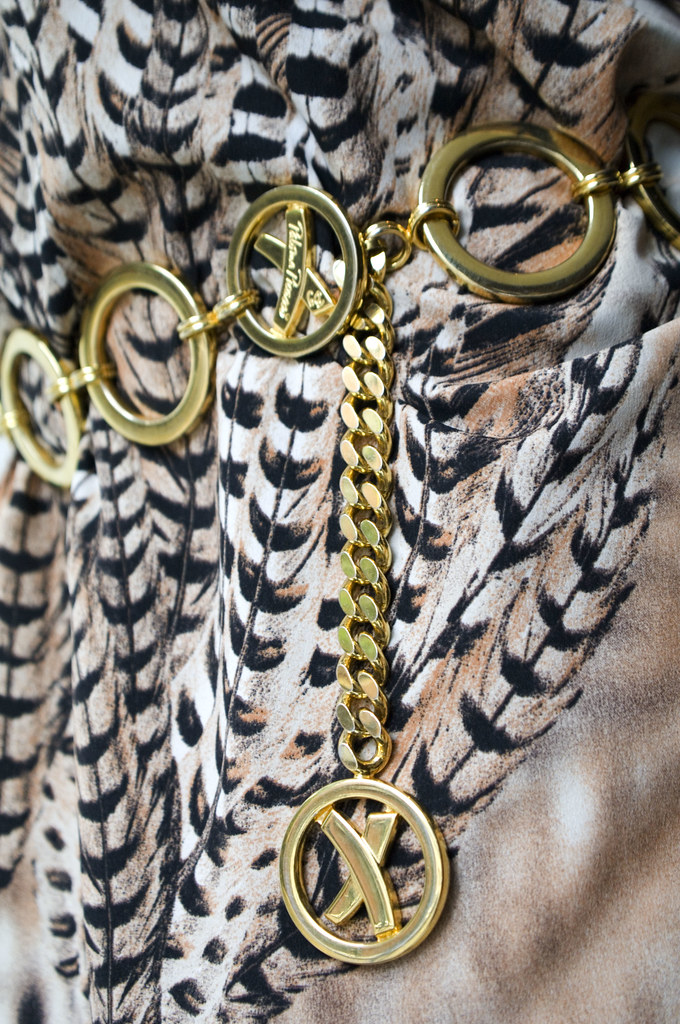 THE DESIGNER: If you're musing on whether Paloma Picasso is at all related to Pablo Picasso … your musings on straight on! Paloma is the youngest daughter of famed artist Pablo, best known for her jewelry designs and perfumes.
Before featuring Frock, I had never even heard of Paloma. She's a much underpromoted designer, who actually worked for not only YSL in the '60s and as a designer for Tiffany & Co in the '80s.
She was known for using a dove as a symbol of her brand, which is what her first name translates to in Spanish.
HOW I'D WEAR IT: You can't beat a bright gold chain belt over a black/brown shift dress. The shift dress is known as just that because you can literally "shift it" to fit however you please with a belt, and because it is more loose on the body it "shifts" with you as your body moves.
This chain belt can shift style too — it's not too large to even wear as a necklace. I'd rock it around my neck with a fitted leather bomber jacket and dark denim jeans with boots for fall.
What I wouldn't recommend with a belt like this is to wear with a BOLD print. The feather print design of my Zara shift dress from the vid wasn't bold in the sense of color. If you wear a bright gold like this with a bold array of pattern, you don't look classy — only cheesy.
HOW TO BUY: Send Frock an email inquiry [email protected]
HEART BAG: CHRISTIAN LACROIX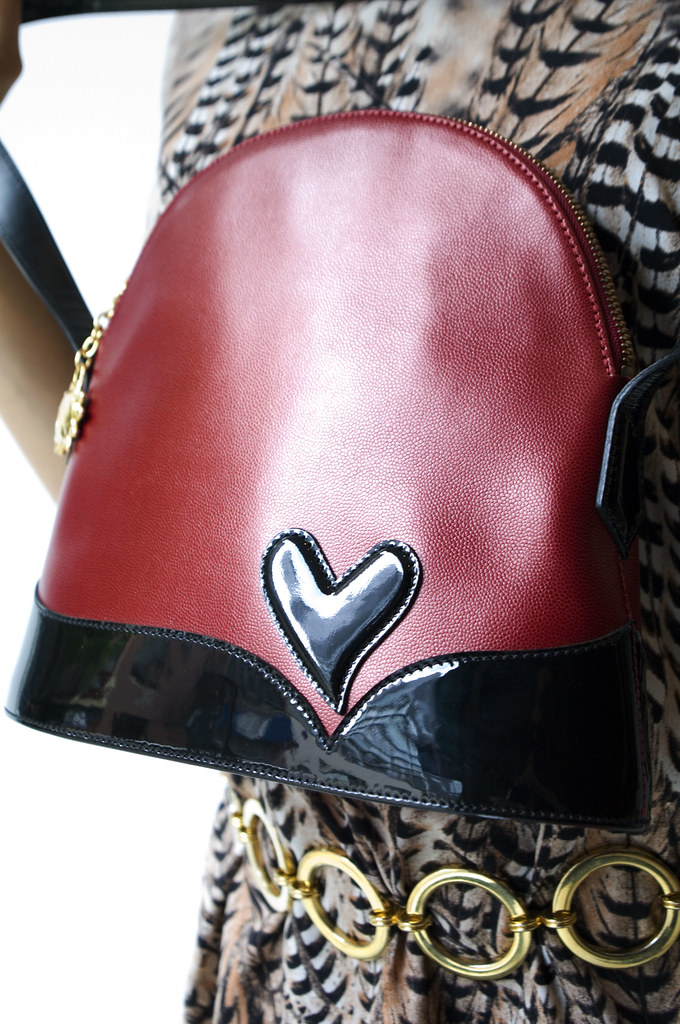 THE DESIGNER: Christian Lacroix
HOW I'D WEAR IT: This bag is so FUN! It reminds me of being a teenager in love. I can imagine this on the arm of a 14-year-old as much as I can worn by a 44-year-old.
Like YSL, one of Lacroix's signature touches were hearts. Remember the charm bracelet shown earlier? It had a few hearts, too!
This bag was found in MINT condition — what the folks in the vintage industry call deadstock vintage. With designer vintage jewelry, I argue you have a better chance of buying something practically new. Because these pieces were so valuable to begin with, their former owners took beautiful care of them while in their possession.
And sometimes — like seen with this specific bag — they never even used the pieces at all, because they were either a.) so wealthy that they just bought whatever they wanted without regard to when or how to wear it or b.) they purchased designer pieces not to wear, but to collect and appreciate in personal archives.
HOW TO BUY: Send Frock an email inquiry [email protected]