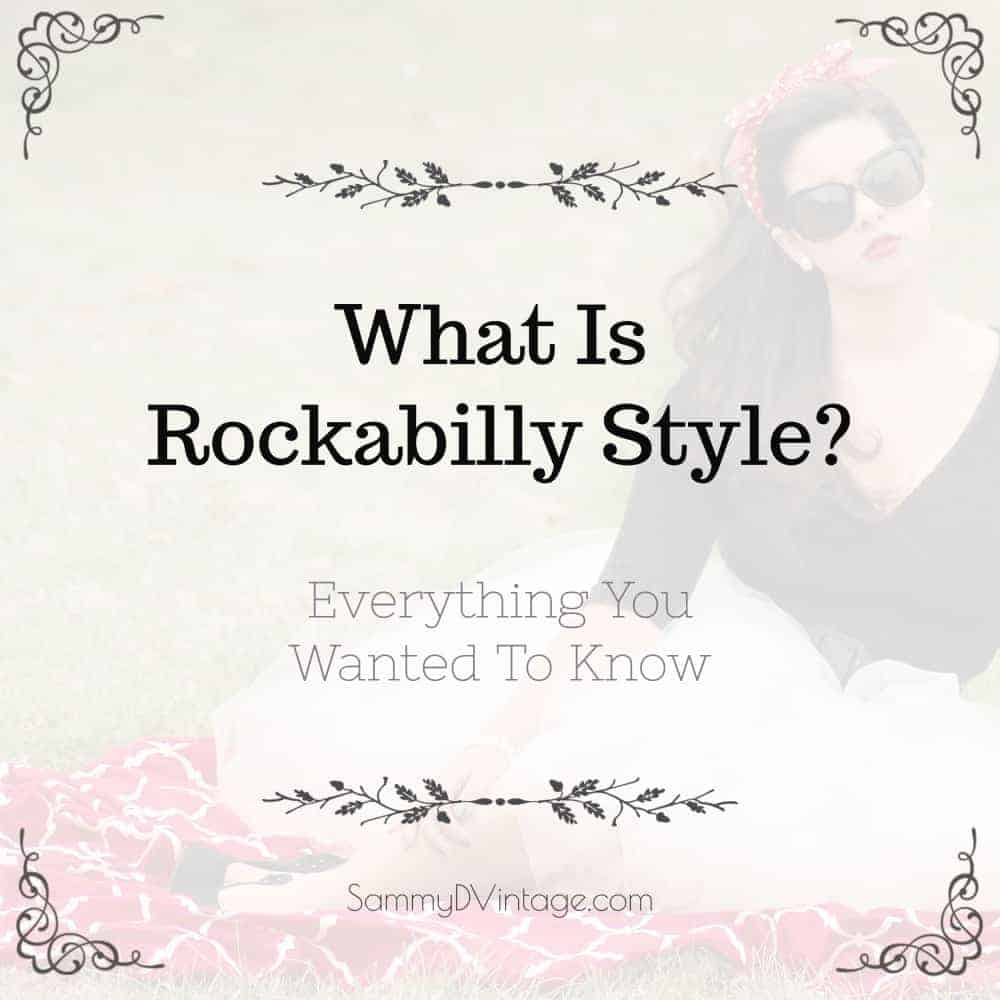 Have you heard of Rockabilly style, but don't know what, exactly, it is? This is the low-down on Rockabilly style, so that you can wear it or at least impress your friends during your next vintage-inspired conversation. We'll cover the origins, the essential wardrobe items, and some cool, little known facts about the style. Ready?
The Origins Of Rockabilly
The term Rockabilly was originally used to label a type of music that emerged in the fifties. The word combines "rock n roll" with "hill billy," which was how people used to describe country western music. Think of artists like Johnny Cash, Buddy Holly and Elvis Presley when you think of this music genre.
In time, the word Rockabilly started to describe a style of clothing, and a way of life! It is sweet yet sexy. There's nothing luxurious or sophisticated about this look — it is all about blue-collar, grass-roots Americana.
The Look: Essential Wardrobe Pieces
Here are some clothing items that are key for creating this look.
For Women
Women will need a few foundational Rockabilly items to mix and match. Top outfits off with accessories like a hair bandana (worn in a band around the head and tied front and center), chunky bangle bracelets, and a pair of Mary Jane shoes.
Halter-tops with thick straps
Undergarments to create hourglass shape
Wide Belts
Full swing skirts or high waisted pencil skirts
Sweetheart Dress
For Men
Men can create this look easily with a few key items. Here they are:
Western styled shirts
Work shirts with sleeves rolled up
Greaser jean jacket
Long, slim fitting black jeans
Boots
Twists on Rockabilly Style
The working class edginess of rockabilly style lends itself to cool, modern twists on the look. Today you might see rockabilly style with punk undertones; tattoos, piercings, and skull printed fabrics all add to the look. You could also see rockabilly style that emphasizes the "hill billy", western side of the origins. Cowboy boots and denim would be a part of every outfit if that's the subculture you feel drawn to.
Little Known Facts
Though it originated in the '50s, Rockabilly style came back in a big way in the '70s and '80s.
The Beatles were influenced by Rockabilly music and culture: The band's name is inspired by a song from Buddy Holly
Once it was established in the US, Rockabilly style hit the UK. People who followed the style were called Teddy Boys
Rockabilly style is budget friendly. After all, a pair of black Dickies and a pack of white tee shirts could get you started. It is also flattering and expressive. Women can show off a curvy figure by creating an hourglass shape with a wide belt.
Rev up Your Rockabilly Look with the Perfect Fragrance
From pompadours to polka dots, something about this vintage look screams "cool." And what better way to complete your Rockabilly aesthetic than with the right perfume or cologne?
When it comes to fragrances for Rockabilly, you want something bold, confident, and just a little bit rebellious. You want to go shopping for a scent that says, "I'm not afraid to stand out and make a statement." Enter Versace Eros cologne, a fragrance that's as daring as it is luxurious. With its bold mint, green apple, and tonka bean mix, Versace Eros is the perfect fragrance for the Rockabilly rebel. It's like a greaser in a bottle – all attitude and swagger. And let's be real; nothing says "badass" quite like wearing a fragrance named after the Greek god of love and desire.
Of course, if you're feeling extra daring, you could always go for something a little more unconventional. How about a scent with notes of leather and gasoline? That's right; I'm talking about Blackbird Moto Oud cologne. It's like wearing the essence of a motorcycle ride through the desert. Just be careful; you might attract a few bikers along the way.
But regardless of your chosen fragrance, the most important thing is to wear it confidently. After all, Rockabilly style is all about owning your individuality and embracing your inner rebel. So spray on that cologne, and let your Rockabilly spirit shine!
Fun patterns and colors like bright red roses and cherries, black and white skulls, or bold floral prints add excitement to the look. Do you like the sound of sweet, classic Rockabilly style, or are you drawn to the edgy, punk-rock side of this look? Or is western your thing? Leave a comment below!