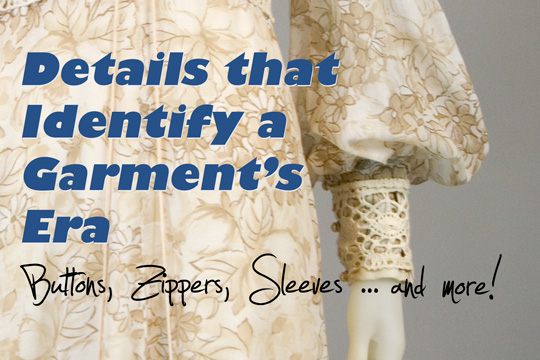 Accurately dating vintage clothing is like one giant puzzle because you need to gather as many of the pieces as possible before you can confidently draw a conclusion as to what that puzzle really looks like.
I wrote about eight easy ways to identify your garment as vintage, which helped you to recognize whether that great maxi dress you thrifted was actually from the '70s or was just a 2012 lookalike.
Speaking of thrifting, I've also shared clues on how to identify vintage clothing labels in a thrift store and I've explained 11 ways to know a piece is vintage by its labels and tags and how the ILGWU union label can help you to date a garment's era, too.
Today's post is different than the rest because it teaches you five easy ways to identify a garment's most probable era based on construction details like buttons, zippers, seams, sleeves and lining.
It's amazing how history has evolved the most simplest of garment details — and how when you compare pieces of the past, you can begin to see how this "puzzle" of dating vintage clothing isn't as complicated as you once thought!
Did you learn something today or have a vintage garment you need help dating? Let me know in the comments below the post, or by saying hello on Twitter, Facebook, Instagram or by subscribing to my newsletter!
xx, SD
DATING VINTAGE CLOTHING BY BUTTONS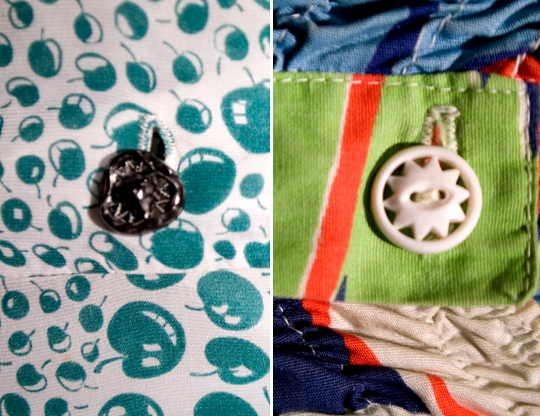 LEFT: 1940s Bakelite Plastic Button / RIGHT: 1960s Plastic Button
DATING TIP: Identify whether the buttons are bakelite plastic, lucite plastic or modern plastic.
1930s-1940s: Bakelite buttons are plastic buttons found on 1930s and 1940s garments. Bakelite was invented in 1909 as the first ever synthetic plastic.
You know a button is bakelite plastic versus a more modern synthetic plastic because it's almost always colored. Test a button's bakelite authenticity by spraying a Q-tip with 409 cleaner and rubbing it against the button. If the swap has yellow stains, then it's bakelite.
1950s: If the button is clear, you're most likely looking at lucite, a transparent type of plastic invented in 1931. Lucite buttons were most popular on garments of the '50s.
1960s: Buttons begin to take on a more "cheap" look, and aren't the same quality of plastic as bakelite or lucite. Case in point: bakelite buttons won't burn! That's why they're also called "hard plastic."
DATING VINTAGE CLOTHING BY ZIPPERS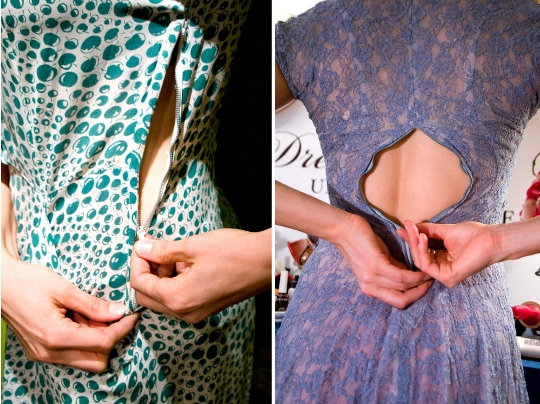 LEFT: 1940s Dress with Side Seam Zipper / RIGHT: 1950s Dress with Centered Back Zipper
DATING TIP: Identify whether the garment has a zipper and if so, where the zipper is placed and if it's metal or plastic.
1920s: Zippers were invented in the late 1800s but weren't used in clothing until the 1920s, and only in men's trousers and children's clothing because they were considered vulgar for women to wear!
Reason being that a zipper made it too easy to take one's clothes off, thus only "easy" women would ever want to wear a garment with one!
1930s: The infamous zipper is rarely seen on garments. When included,  a flap of fabric conceals this "vulgar" detail. A zipper in the '30s would most likely be found along the side seam and is always metal.
1940s: The zipper is accepted in women's clothing, horray! Zippers (always metal) are most often found along the side seam.
1950s: Metal zippers are more accepted than ever in lady's garments, and their predominant placement shifts from side seam to back and center middle seam (some dresses still zip along the side seam, however).
1960s: The zipper is now almost always a center back placement. Metal zippers begin to be replaced after 1963 with the invention of nylon, which introduces the plastic zipper.
1970s – TODAY: Plastic zippers found along the center back of a garment officially reign supreme — and are what we're left with today!
DATING VINTAGE CLOTHING BY SEAMS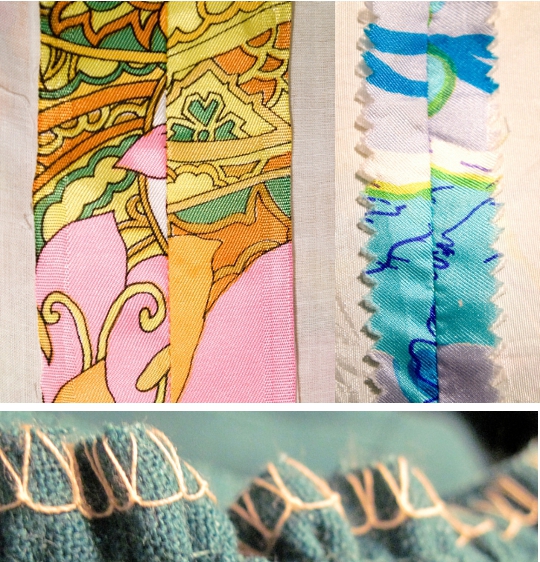 TOP LEFT: Frenched Seam (1900-1940s)/ TOP RIGHT: 1950s Pinked Seam / BOTTOM: Post '50s Serged Seam (Source: Flickr Commons)
DATING TIP: Identify whether the garment has frenched, pinked or serged seams.
PRE-1940s: French seams were used on turn of the century clothing through the 1940s. French  seams are the neatest finish of seams, as the raw edges of the fabric are fully enclosed for clean lines.
1950s: Pinked seams — which look like scalloped teeth — are most common on garments from the '50s because it was the easiest way to cut a seam without leaving fraying behind.
While "pinking cutters" were patented in 1893, it was the invention of the pinking "shears" (essentially scissors) by Benjamin Luscalzo in 1952 that popularized this seam style.
1960s: Serged seams replace the pinked seam in the 1960s. Serged seams are an overlock stitch that strongly secures the fabric and leaves a zig-zag like pattern behind.
While the serged seam had been around since the early 1900s, the serger machine became more affordable for at-home dressmakers in the '60s, thus women adopted the serged seam to leave behind a clean, crisp finish to their work.
UNFINISHED SEAMS: If the piece has unfinished, frayed seams there's a good chance it was made before the '50s since both pinking shears and serger machines weren't available to at-home seamstresses.
DATING VINTAGE CLOTHING BY SLEEVES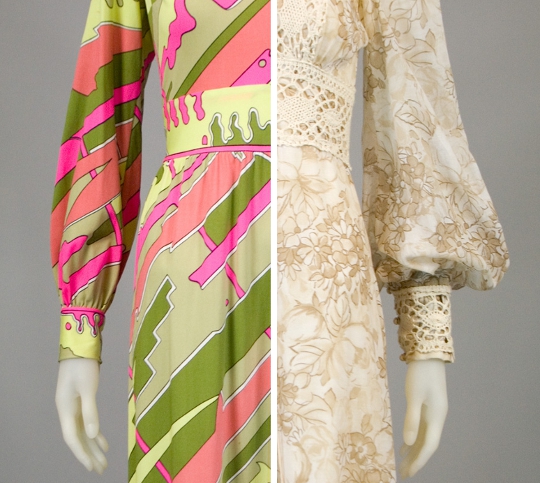 LEFT: 1960s Tailored Sleeve / RIGHT: 1970s Bishop Sleeve
DATING TIP: Identify whether a garment has tailored sleeves or large, billowy sleeves.
1960s & EARLIER: Before the '70s, sleeves were tailored to the wearer's arm. The spacing between the fabric and arm was equidistant along all points of the sleeve.
1970s & EARLIER: Armholes of the '70s and earlier were small openings,  unlike the oversize "muscle man" armholes you might notice in a lot of '80s garments.
1970s ONWARD: Once the '70s hit, styles shifted to embracing the space between a woman's skin and her sleeve. Bishop sleeves (shown above) were a popular style of the quintessential '70s Edwardian style maxi dress.
1980s: Batwing, dolman and puff shoulder sleeves were all the rage in the '80s. No more was a lady just to wear a simple sleeve!
DATING VINTAGE CLOTHING BY LINING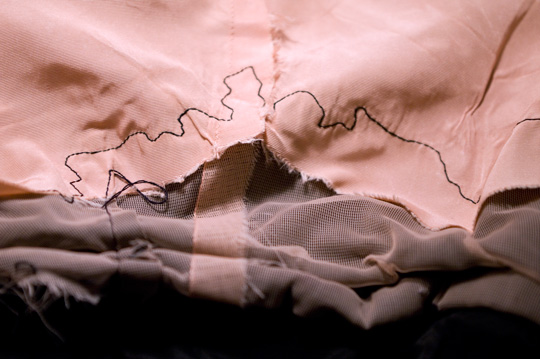 DATING TIP: Identify whether a garment has lining or not.
NO LINING: Garments prior to the '70s were often made without lining because a woman's slip would operate as the lining instead.
Because a woman was expected to wear a slip, her dress didn't need to be finished with lining to prevent the raw seams and stitching from brushing against her skin.
LINING: A dress with lining is possibly from the 1970s or later, however there is an important exception to note.
Women in the '70s often didn't wear a slip because the styles of the era were less body conscious and made from cotton or polyester material (no Mad Men wiggle dresses here!) and therefore didn't require a slip to conceal and smooth lines.
Manufacturing dresses with lining became more popular beginning in the 1980s, when styles reverted back to the form-fitting and body conscious.
'60s VERSUS '70s: To differentiate between non-lined dresses of the '70s and '60s, note the material first. If the dress is polyester, you're most likely looking at a '70s piece.
MORE DATING CLOTHING AS VINTAGE
TAGS: How Union Labels Help to Date Vintage Clothing
QUICK TIPS: How to Know Your Clothing is Vintage
THRIFT: 3 Ways to Identify Vintage Clothing Labels 
TAGS: 11 Ways to Know It's Vintage by Labels & Tags
PLUS: A Visual Guide of How to Date Vintage Clothing