The easiest way to date a piece of women's clothing as vintage is to identify whether it has a union label.
The most popular union label found in vintage clothing is from the International Ladies' Garment Workers' Union (ILGWU).
Vintage clothing pickers and sellers often use ILGWU union labels to help identify the general era a piece of clothing was made because the union tag's design (which has changed 8 times since 1900) can help narrow the garment's age within a window of approximately 10 to 20 years.
To conclude a garment's exact era, it's recommended that you use my Dating Vintage as Clothing and 5 Ways to Date the Age of Vintage Clothing for more help, and subscribe to my newsletter for dating vintage tips only available to subscribers.
Because the top ranked search result for "union labels" is an Ebay guide sadly missing most of its original images, I decided to produce this post to give you updated materials for identifying ILGWU union labels in vintage women's clothing.
This guide is on ILGWU union labels found in women's clothing only — guides to union labels in women's hats, lingerie and men's clothing will be produced in the near future!
Visit my article for 13 tips on dating vintage clothing labels!
DISCLOSURE
I decided to tackle this article to create a compilation of union labels in one place on the Internet. Unfortunately, I lack original photography for ILGWU labels from its inception in 1900 to 1936 (thumbnail available from Anjou Clothing), 1936 to 1940 and 1940 to 1955.
I plan on updating this article as soon as I gather these historical materials but for your immediate benefit, I'll begin exploration of the ILGWU union labels at 1955.
Below is a brief timeline breaking down the different designs by period so that you can at least compare any of your older garments against this information to verify its age. Further description (without images) available thanks to Ebay's union label guide by ikwewe.
ILGWU UNION LABEL TIMELINE
1900 – 1936 ILGWU AFL
1936 – 1940 ILGWU CIO
1940 – 1955 ILGWU AFL
1955 – 1995 ILGWU AFL-CIO
1975-1992 RED, WHITE, BLUE ILGWU AFL-CIO
1995 – 2004 UNITE!
2004 – UNITE HERE
UNION LABELS ILGWU AFL-CIO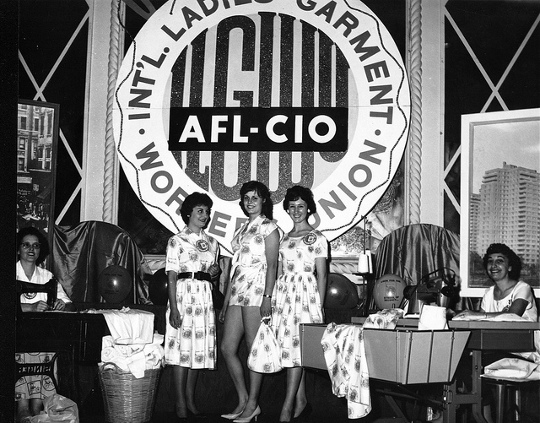 Source: Kheel Center at Cornell University, Flickr Creative Commons
ERA: 1955 to 1963
LOOK FOR: The words "UNION LABEL" above a scalloped crest in front of a needle and thread.
The scalloped circle has "INT'L LADIES GARMENT UNION WORKERS" written around a backdrop of ILGWU with AFL-CIO printed in white lettering in front.
There is no "R" for rights on the label (you see the R emerge in 1964).
HISTORY: The scalloped crest in front of a needle and thread was adopted in the '50s. If you see an ILGWU union label without one, you can conclude the garment was made pre-1950s.
The design with AFL-CIO was introduced to the label after the AFL (American Federation of Labor) and CIO (Congress of Industrial Organizations) unions merged on December 5th, 1955 under the ILGWU.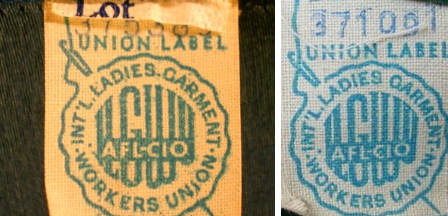 Source: Quirk Vintage Clothing (left) & Fuzzy Lizzie from the Vintage Fashion Guild
UNION LABELS ILGWU AFL-CIO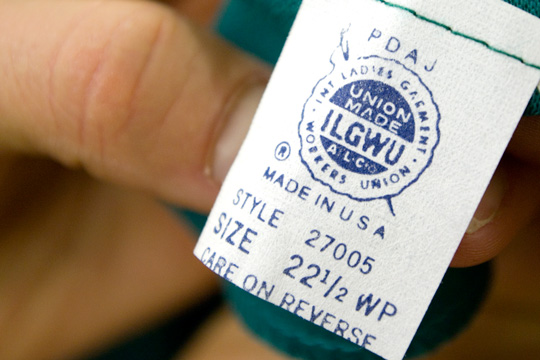 ERA: 1964 to 1973
LOOK FOR: Scalloped circle in front of a needle and thread, but placement of words has changed.
The scalloped circle now surrounds a darkened circle. UNION MADE has moved into the circle. ILGWU is now in the foreground, and AFL-CIO is smaller and written immediately below.
The "R" sign noting the trademark of this logo makes its first appearance.
HISTORY: This label design was first used June 28, 1963 and was officially trademarked on April 21, 1964.
The "R" symbol is therefore indicative of this garment having been produced after April 21, 1964.
If this style of union label has no R, then the garment was made between June 28, 1963 and April 21, 1964.
UNION LABELS ILGWU RED, WHITE & BLUE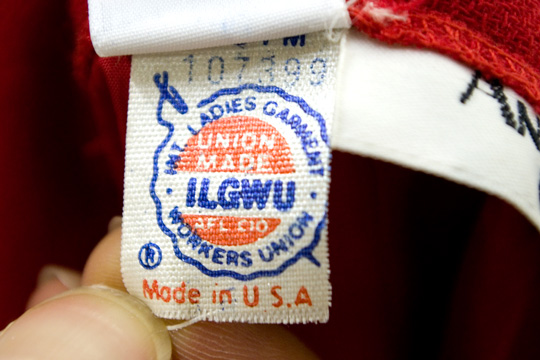 ERA: 1974 to 1995
LOOK FOR: The same design as 1964 to 1973, only in red, white and blue colors. Made in U.S.A. is colored in red and more prominent below the ILGWU logo.
HISTORY: As the outsourcing of garment production abroad became more common, a campaign to encourage American clothing consumers "To Look for the Union Tag" was born in 1975.
The union tags therefore adopted a style makeover to the patriotic color scheme of red, white and blue.
This positive propaganda even released a jingle to support its cause, which you can listen to thanks to the Labor Arts site here.
UNION LABELS UNITE!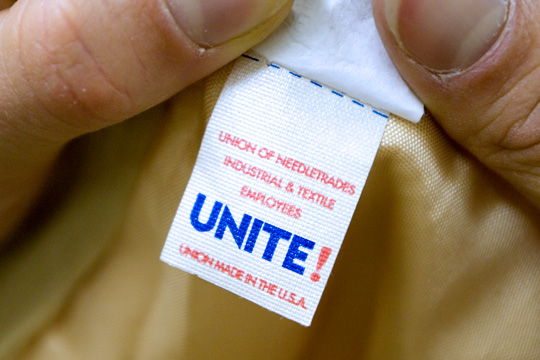 ERA: 1995 to 2005
LOOK FOR: The scalloped circle over a needle and thread is gone, replaced with a more minimalist style approach.
The word UNITE! is most prominent and found below "Union of Needletrades Industrial & Textile Employees."
"Union Made in the USA" follows.
HISTORY: The quintessential design of a scalloped circle with needle and thread disappears because the ILGWU merges with the Amalgamated Clothing and Textile Workers of America (ACTWU, men's clothing union) to form UNITE!
By 1995, Americans were buying more clothing than ever produced in countries abroad. The merger of women's and men's clothing unions is testament to the depleting industry of "American made."
UNION LABELS UNITE HERE!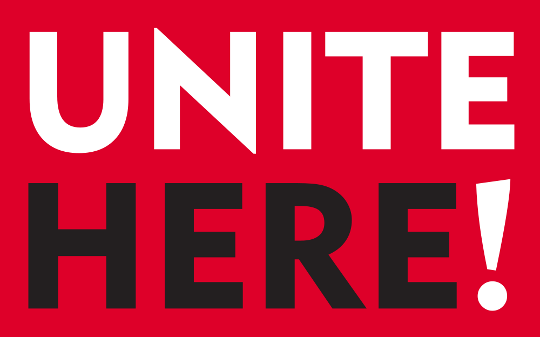 Source: UNITE HERE! on Wikipedia
ERA: 2005 to Present
LOOK FOR: Tags with black and red writing of UNITE HERE! under "Union Made in the U.S.A."
The union also represents some clothing production in Canada. Look for CANADA written at a vertical along the tag's edge.
HISTORY: In 2005, UNITE! merged with the Hotel Employees and Restaurant Employees International Union (HERE) to form UNITE HERE.
Today the union represents only a handful of clothing companies — and no brands worth writing home about. The union predominantly oversees the restaurant, hotel and casino/gambling industries.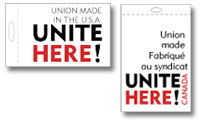 Thank you to the Family Vintage Jewels for loaning vintage clothing for creation of this article.
MORE ON UNION LABELS & VINTAGE TAGS
QUICK TIPS: How to Know Your Clothing is Vintage
CLUES: How to Date Vintage Clothing by Construction
THRIFT: 3 Ways to Identify Vintage Clothing Labels
TAGS: 11 Ways to Know It's Vintage by Labels & Tags
PLUS: A Visual Guide of How to Date Vintage Clothing
UPDATE: 13 Tips for Dating Vintage Clothing Labels
RESOURCES
The Vintage Fashion Guild Union Label Guide
The Union Label Ebay Guide
History of the ILGWU from Labor Arts
Union Labels by Anjou Vintage Clothing