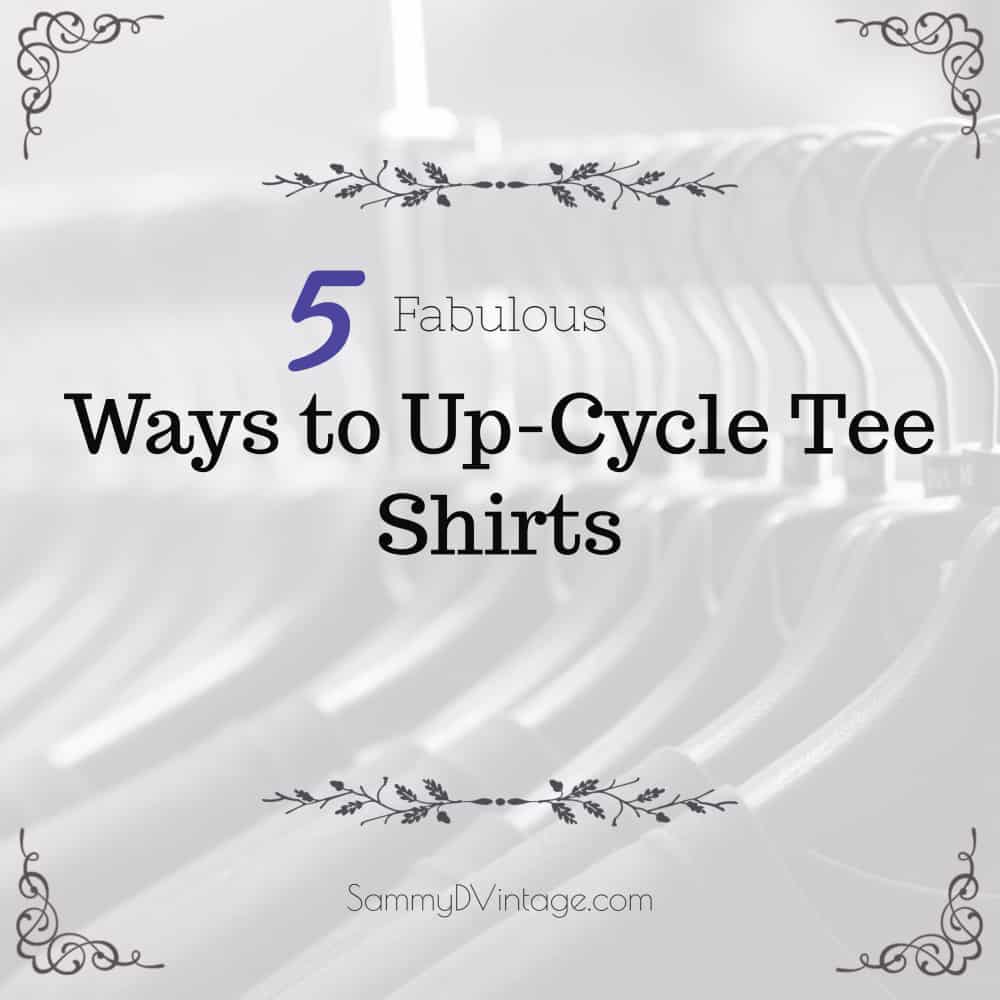 I've never been a big tee-shirt fan. I love the fun colors, fabrics, and graphic design elements, but I just don't wear them all that often. I used to buy vintage tee's anyways, because I always found them and couldn't pass them up. Sometimes I turned them into tank tops, or cut the shoulders off. Recently, however, I have that there is a whole world of DIY ways to up-cycle old tee shirts. I've put together five of my new favorites here!
1. Infinity Scarf
 This unique scarf is so simple to create. When you are digging through racks of tee-shirts at your favorite thrift shop, keep an eye out for your favorite colors. You can look for tee's of all sizes; any size will do! Scoop up some soft pastels, vibrant hues, or keep it neutral. Take your haul home and start cutting! You will need long strips of fabric for this project. Sew the strips together to form pieces together that are about eight feet in length. Next create a loop, made up of about ten strands of fabric. Voila! An infinity scarf. I like to braid a few strands together for added detail.
2. Tote bag
I thought this idea was pretty brilliant. An added bonus is that you don't even have to bust out your needle and thread! This tote bag can be created quickly, without sewing a stitch. Lots of tee's that I find in my foraging contain awesome vintage logos and prints. I love to re-purpose those tee shirts into tote bags to use for library books, beach outings, and groceries. They are so much more fun and expressive than the totes that I see in stores. Be sure to design your tote with the image you love displayed somewhere on the front. You could also try making this tote out of an all white tee, and applying a patch or two, fabric paint, or another tee shirt design stitched on with a cool, offbeat placement, like the bottom corner of your bag, or wrapping around the side. 
3. Headband
If you've ever bought headbands from a box store or chain, you've got to know this trick. You can use it to create as many headbands as you like, in seconds. Friends will be asking you what's up with all of your cute new hair accessories! Take thin strands of tee shirt material and tie, stitch, or glue them at one end. Create a braid, with each piece of the braid made up of several strands. Make a few stitches with thread, to hold the braid ending together. Then close the loop! To measure your head, you can use a favorite headband that you already own, a measuring tape, or a piece of string. Remember that most tee's have a bit of stretch in them, so make it a little bit small so that it holds its shape perfectly.
4. Canvas Wall Art
Wall art is so easy to make! And colorful thrift shop tee shirts can supply endless delightful prints. One thing that I have noticed about these DIY wall hangings is that they don't have to be ginormous. Sometimes I get trapped into thinking that for artwork, the bigger the better. My actual experience is that this is absolutely not true! My favorite creations made with this technique are three small square pieces that I have up in my bathroom. I used tee shirt fabrics that were solid colors in blue tones ranging from dark to light. Then I put them up vertically above my towel rack. Each square is only about five inches by five inches, and they look amazing!
5. Throw Pillows
You can never have too many throw pillows, right? Whenever I get bored with my bedroom set-up, I just ditch the old throw pillows, and go with a new theme. My current theme? Elephants! I love looking through my local thrift shop for fabrics that could be used for a playful accent to a room in my home. Men's tee shirts have been a surprisingly great resource. I love the deep, dark colors and often simple designs that they are made with.
I hope that you liked these ideas! What have you used old tee shirts for? I would love to hear about your crafty adventures! Just leave a comment below!