No one wants to look "their age." Yeah — we all get that!
But the real question is: Do you want to look like a 45-year-old channeling her 21-year-old self from 1986? Or a 21-year-old girl dressing like she's 45?
Your answer, whatever your age: Probably not, either way.
Based on personal experiences, I've found that there exist two major sects of vintage-loving ladies: Those who are adventurous, bold, lively and fun and who wear vintage no matter the trend, color, cut or brand. But then there's that catch no one wants to admit but everyone is thinking to themselves right now… this is the vintage-loving sect whom are also young.
The other sect? They're sophisticated women with mature style and a structured day [read: real job! real family! real priorities!] who also enjoy vintage, but from a much different … and less wild … point of view. They appreciate the quality, they appreciate the history and they appreciate the one-of-a-kind features that add a personal touch to their wardrobes.
I've had many women over 30 approach me with the question: "How can an older women wear vintage?" And without having to explain themselves, I totally get it — they want to wear vintage because it's one-of-a-kind and feel-good fashion, but they don't want to look like a done-up pin up girl or a piece of ancient costume. In other words, they don't want to look or feel foolish, and they also don't want to look like a younger version of themselves.
To answer the question of "how to wear vintage for your age," I decided to break "age" into two demographics: the under 30 set and the over 30 set. The beauty of vintage is that an entire family of women — from the teen girl to the grandmother; aunt, mother, sister, cousin, whomever! — could technically wear "vintage." It's a style category that has no boundaries. But the style characteristics of vintage? Those do in fact have boundaries — and you're going to want to know whether you're buying "vintage" that fits your style palette, since you aren't shopping from a retail store you're familiar and comfortable with. You're shopping "vintage," not shopping "The Gap" or "Macy's."
Look at it this way: The under 30 set is going to be shopping at Urban Outfitters, Forever 21, H&M and other youth-driven stores with hipster, alternative branding. The over 30 set? You're more likely to ring up [and spend more money for your style] at Anthropoligie, The Limited or J.Crew.
This is a post about finding the vintage that you'd buy if you were shopping at the "store" for both your age and style demographic. Read on for advice on what vintage styles are currently available on Etsy and in trend, and how to channel the right "look" from that style so that you both look chic and feel comfortable for your age.
Like this post? Have a suggestion or an idea? Leave a comment or shoot me an email, [email protected]!
xx, SD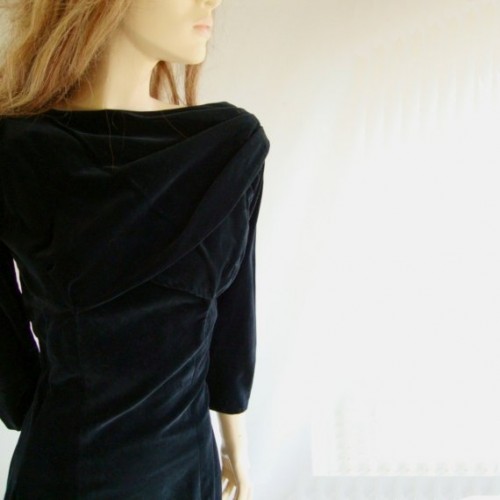 Over 30: Vintage Formal Wear
Stick to a womanly shape — seen in this classic and 100% versatile 1950s "wiggle" dress — and to solid colors for your vintage evening wear. This dress is classic enough to pass for a new piece. Shhh … it's our little secret!
Buy this Black Wiggle Dress ($88) on Etsy NOW!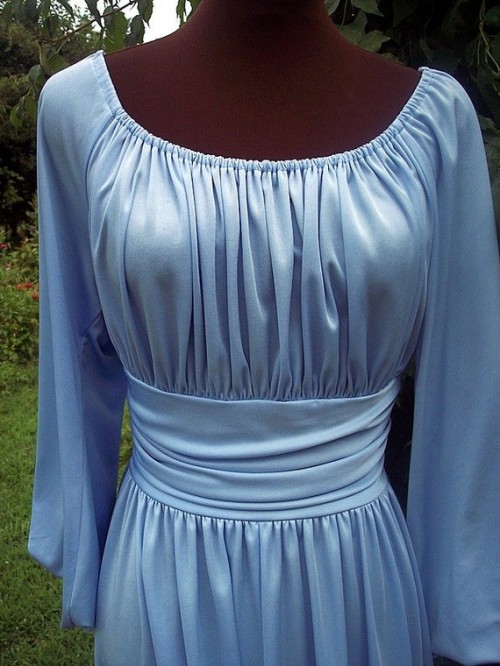 Under 30: Vintage Formal Wear

If you were born before 1980, you weren't technically born in the 70s. Therefore, you can wear anything — even a dress reminiscent of Studio 54 — with complete confidence that you aren't trying to rejuvenate life into your teenage wardrobe. I'd recommend hemming a dress like this so that it sits above the knee, short, sassy and slightly sweet.
Buy This 70s Ruched Disco Dress ($50) on Etsy NOW!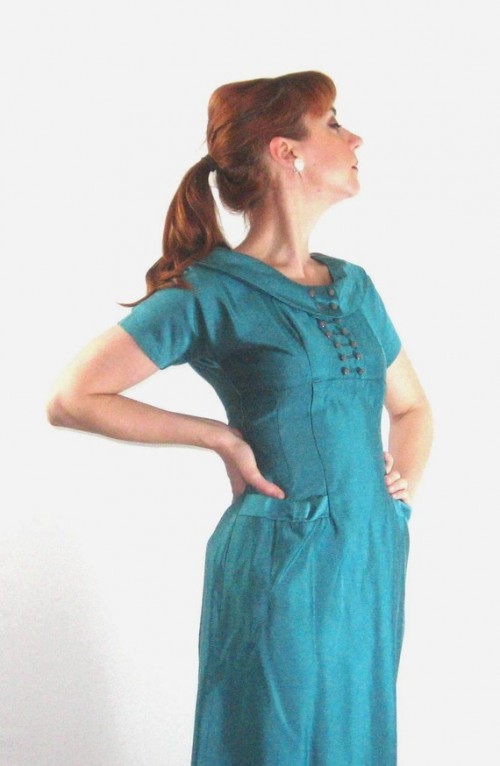 Over 30: Vintage Party Wear
Whether you're headed to a bar for a casual nightcap or swing dancing the night away at your friend's birthday party, you're more than likely a lady who wants to look she's having a good, stylish vintage time out-and-about town. But without the luxury of fake maturity [read: under age girls at the bar drinking Long Islands], you actually have to look … mature, while still sexy and definitely not matronly. The answer lies in a fitted vintage dress in a bright color, like this perfect example from Etsy above. Look for a dress with a slightly open collar [gotta show some skin!] in a solid bright that the cute bartender [or jealous under-age drunk girls] won't help but admire you for.
Buy This 1950s Wiggle Dress ($85) from Etsy NOW!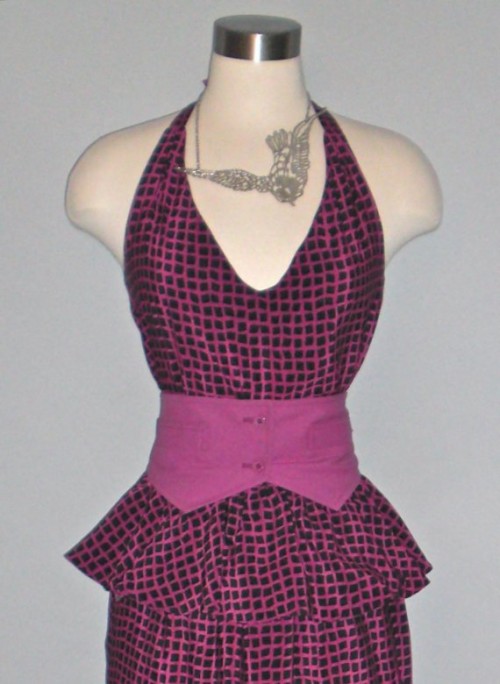 Under 30: Vintage Party Wear
There's nothing about this dress that doesn't scream good times, good fun and good style. Compared to the over 30 equivalency, this 80s standout piece exposes more skin and has a bolder print. Plus, it has that pin-up appeal that looks more contemporary on a dew-faced girl.
We all love the Marilyn's of the world, but when wearing vintage, older women want to avoid looking "sultry" in styles that are better suited to younger generations.
Buy This 80s Halter Wiggle Dress ($45) from Etsy NOW!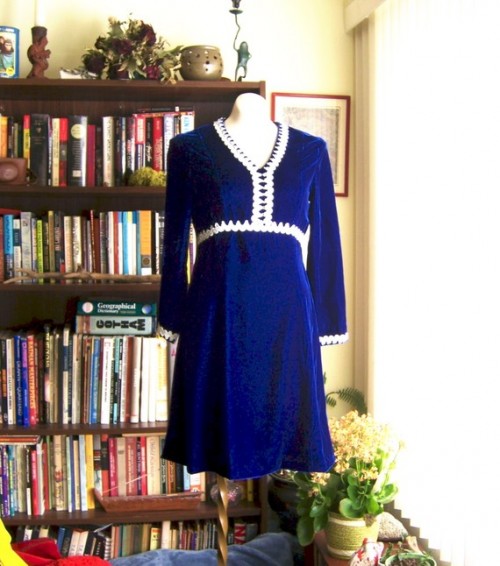 Over 30: Vintage Work Wear
Wearing vintage to work is a blog post in and of itself. But to give you a glimpse into the top tips for the over 30 professional women, the number one tip is to accessorize your vintage dress or work wear with contemporary accessories. The dress above is a great example of work-appropriate garb. But if accessorized at fault, you'll look more like you're taking a trip to the Renaissance Faire when you step into the boardroom for your 9AM meeting.
Pair vintage dresses with muted tights [think black, brown, grey] and plain pumps. Add small studs [crystals, pearls] and if you have long hair, where your hair down so that it covers some of the dress top. A lot of times women will wear a bun, or a retro "do" that just accentuates the vintage look. That's a wonderful idea if you are going to a party or a bar [see vintage party wear, above] but not when you need to be speaking with clients or making sales pitches. The idea of wearing vintage to work is to feel good and look good, but not use your "style" to distract from the professional that is you.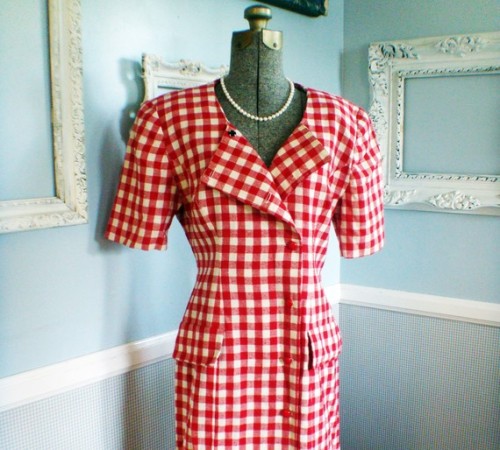 Under 30: Vintage Work Wear
Chances are, if you're under 30, you probably aren't making presentations to boardrooms or pitches to people with lots of money to buy whatever product or service your company provides. But then again, I live in New York City and there are in fact some high-pressure jobs held by the under 30 set. So for the sake of transparency, wearing vintage work wear with a little sassy personality [see the gingham print dress above] is only advised for the creatively driven working set.
The general rule of thumb: If you feel comfortable wearing the dress to brunch with your grandmother, wear it to work! I love the dress above because you can add a black sweater and black tights with pumps to really sophisticate it up, without looking the dreaded "10 years your senior." It's a throwback to the pin-up age without actually showing any skin. The only thing you're showing? A whole lotta style sense!
Buy This Rockin' Betty Dress ($52) on Etsy NOW!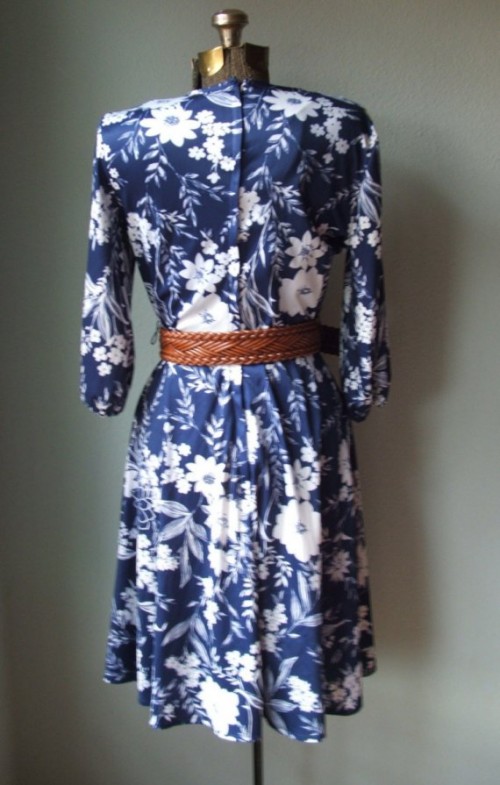 Over 30: Vintage Floral Wear
Did you know that no two florals are the same? Especially when discussing vintage florals: each design is totally one-of-a-kind and unique, and most likely has or will be mass produced by a contemporary store because of that fact.
So go for the authentic, original florals instead of the fake ones [they won't "smell" better, but I promise they'll look better!] with vintage. The catch for your age? Older women are advised to invest in monochromatic florals [read: the same color family used within the pattern] and in flower designs that are larger and look like a watercolor painting. Smaller flowers are "cutesy" and speak to a younger age. Watercolor florals are more artistic and therefore more sophisticated. You don't want to look like you're wearing a child's flower drawing — but a 17-year-old girl, who is nothing short of a child, anyway — can get away with that.
Buy This Vintage Blue Floral Dress ($22) on Etsy NOW!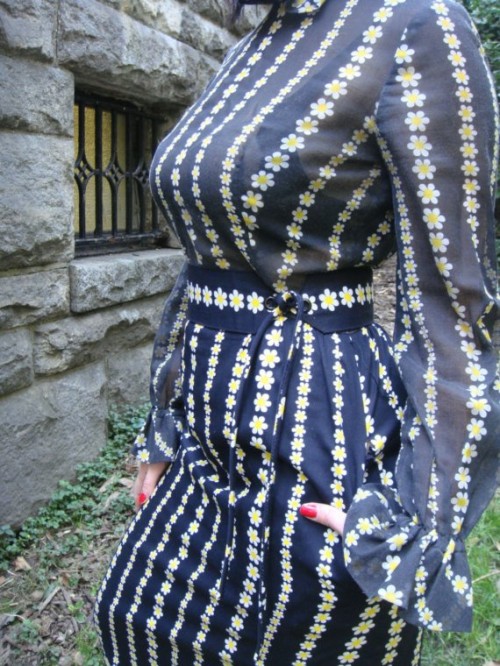 Under 30: Vintage Floral Wear
I can't help but smile at the sight of daisy flowers — but because I'm under 30, it's OK for me to both smile and wear daisy flowers on my vintage dress.
Why the issue with daisys? Again, they are "cutesy" flowers best seen on younger women who don't mind being called "darling" and "cute." If you're over 30, chances are a person who calls you an affectionate term of endearment [think "doll" "babe" or "sweetie"] should be sued for sexual harassment. So don't bring on the uncomfortable tension with a dress that has you looking like you shopped your teen cousin's Miley Cyrus collection.
Young ladies, wear whatever cutesy, Woodstock/hippie inspired florals your heart desires and embrace the smiles and resulting "aw, precious!" you receive. Now is the age to capitalize on your cuteness — carry it with you toward a sophisticated future!
Buy This Daisy Maxi Dress ($20) on Etsy Now!
Over 30: Vintage Character Blazer
I love wearing vintage blazers because they are the easiest contemporary pieces — next to jewelry — to pair with just about any outfit you have pre-existing in your wardrobe. The only problem? Some vintage blazers can get seriously sassy, and you have to make sure you aren't buying into a piece of a costume that will have you looking like a throwback to a movie character or a vintage icon.
The blazer above is nautical inspired without throwing you into a scene of Gilligan's Island. It's a great blazer for a spring outfit — think paired with whites or yellows for a muted base below — or with black pants for everyday corporate wear all seasons-long. The takeaway advice: Look for blazers with personality that shines, not screams.
Buy This Vintage Nautical Navy Knit Blazer ($18) on Etsy NOW!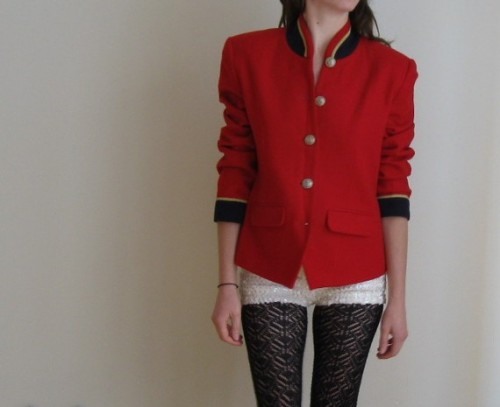 Under 30: Vintage Character Blazer
Here comes circus! Now here's a blazer you can associate with a vintage icon or characteristic event — like a Barnum & Bailey Circus or visiting an amusement park for it's cheap thrills and cotton candy. This blazer is a costume piece that's best worn by alternative-dressing boys and girls who'd rather work in a coffee shop and live in an urban setting than all options otherwise.
Girls under 30 can pair a bright costume blazer with fishnets and jean shorts and look like a vintage version of Kate Moss. For some vintage pieces, it's all in how you "wear it," and this vintage character blazer represents that motto to the max.
Buy This Circus Ringleader Jacket ($33) on Etsy NOW!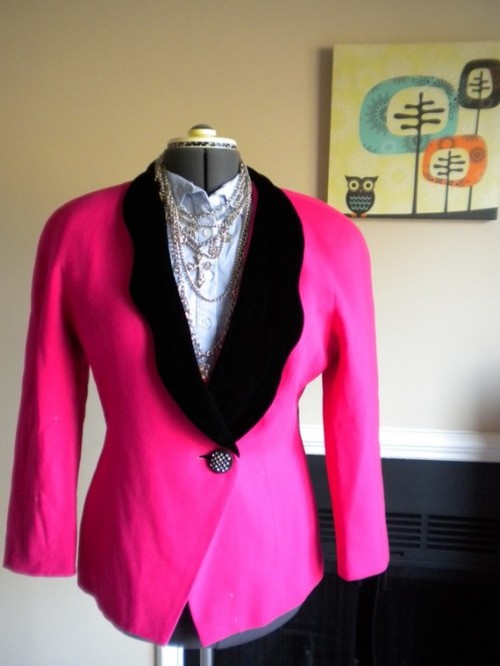 Over 30: Vintage Brights
Here is where I can make an exception to the "no brights over 30 rule." When channeling your inner-bright, look for a sophisticated cut and simple design, as seen on this electric pink bright blazer, above. It doesn't matter what the style is — keep the rest of the look simple, but go 100 percent all out on the pop-pop-pop of the color. And most importantly? Pair that pop with black. Black is synonymous with "cool, calm and collected." So balance out the crazy! with a little bit of CCC.
Buy This Hot Pink Blazer ($34) on Etsy NOW!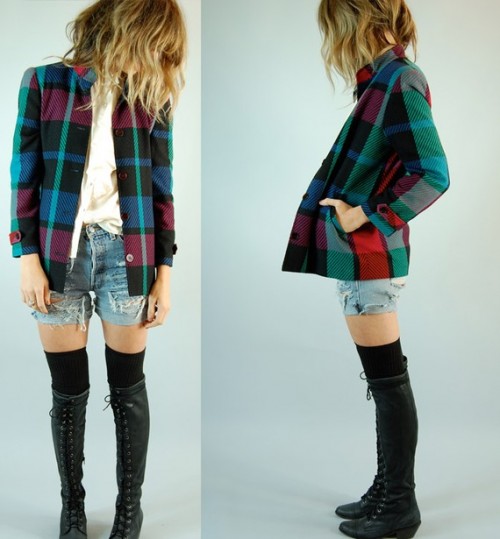 Under 30: Vintage Brights
Bright plaid is making a return from the 80s — and with good reason. The "grunge" style of Kurt Cobain's and Courtney Love's 90s era is returning to the forefront of fashion, thanks to an overflow in 90s pieces freshly donated to the world of vintage. In the above shot, note the lace up boots and cut off denim paired with this menswear-inspired bright plaid blazer.
Calling all young, hip girls: Wear your bright blazers as an out-of-the-ordinary pattern with embellished details, long lengths and full bodies. Go for menswear inspired or "costume" pieces matched with contemporary cool. You can wear it as you will because of your age — embrace it now or forever hold your style peace!
Buy This 80s Bright Plaid Blazer on Etsy NOW!
Over 30: Vintage Accessories
The easy thing about vintage jewelry? I'd argue that all jewelry you can buy new today has drawn some sort of inspiration from the jewelry and decorative accouterments of the past. Take this vintage pendant above. I wouldn't be surprised if I found an exact replica at my local Macy's jewelry counter. It's a gorgeously versatile piece that can be worn to accessorize a blazer, or to pin a neck scarf or as a fun piece of bling to a shoulder bag.
Most women under 30 don't source out pins and pendents for their jewelry collections, since most women under 30 don't wear blazers on a regular basis to work when this jewelry piece is necessary to add at least some sparkle to the ho-hum or yet another suit jacket. I recommend the vintage pendent as a foundation piece to any vintage loving girls' wardrobe — no matter her age! It just depends on how you wear it and what you wear it with that determines its age appropriateness.
Buy This Vintage Poinsettia Pin ($5.50) on Etsy NOW!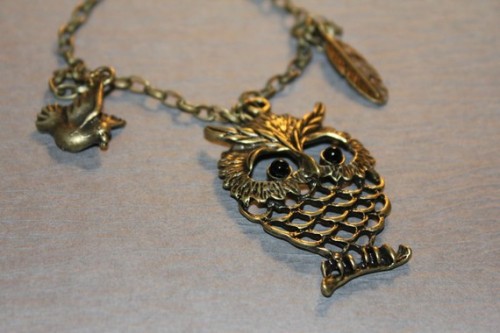 Under 30: Vintage Accessories
The under 30 set has liberty to wear whatever they want, hanging wherever they want and in any which way that they want! Oh, the freedom of being young!
But in all seriousness, this sweet little owl necklace is better suited to the under 30 set because again, it screams "cute." It's a nod of the hat to the owl trend of the 1930s, but these owls look more like the owl from the Tootsie Pop commercials [remember those?] than a true woods creature. Young ladies can pair multiple animal creatures around their necks without a passerby blinking so much as an eye.
Still want to rock an owl, but you're over 30? Aim to wear an animal broach instead. Long necklaces — no matter the adornment — are too casual looking for your age. Keep jewelry short and close to the body to keep in line with your age style demo.
Buy This Bronze Owl Necklace ($32) on Etsy NOW!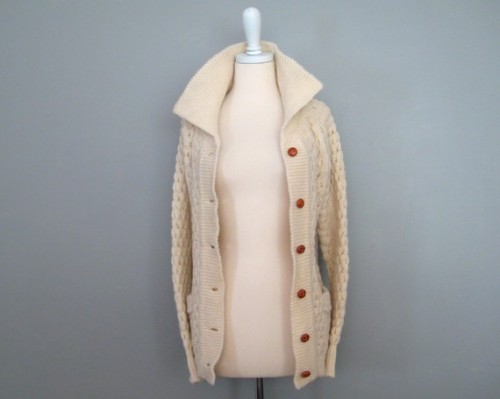 Over 30: Vintage Sweaters
Vintage sweaters for the sophisticated set can get tricky. On one hand, you want to stay warm [practical] but don't want to look like you're drowning in it [style conscious]. A lot of vintage sweaters sway toward elaborate or "conversational" patterning. What does conversational mean? It means that whenever someone sees what you're wearing, they're inevitably going to comment on it, thereby igniting a conversation with you.
Conversation sweaters [see below] can look very inappropriate and almost startling on an older women. Younger girls can get away with them because well, they're young and can talk to just about anyone without having to completely mind their ps and qs. But you ladies with some money in the bank, a career and a hubby-to-be [or at least a cat at home?] — you don't want to have every neighbor, police officer and bus driver asking you "what's that on your sweater?" Queue: awkward!
Go for muted knits like this long vintage sweater above. An vintage embellishment I love [and that you will, too] are toggles and hoods. You can still channel sweater pizazz so that it's not frumpy and boring. Just avoid the conversation, and keep your vintage wools to a low roar.
Buy This Hand Knit Wool Cardigan ($62) on Etsy NOW!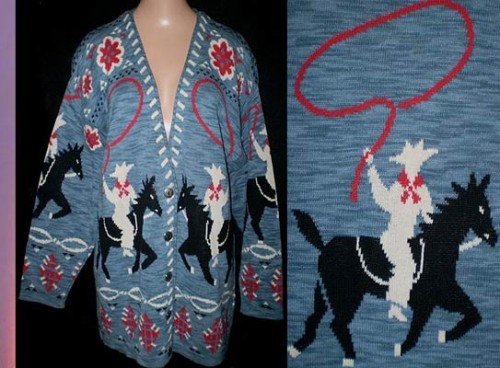 Under 30: Vintage Sweaters
You wanted to know what a conversation starter was? Well … I give you a CONVERSATION starter, above! I may be a vintage expert, but I'm not an expert at explaining exactly what these conversation pieces exactly mean. It looks like we have a cowboy swinging a lasso … on a horse … riding off into the sunset?
Seriously, beats me. But at least I can have a light-hearted conversation about it — the beauty of my age! For anyone who doesn't have the time of day to address every little "WTF?" question about this sweater, well, that person isn't going to end up wearing this out of the house that much.
For all you ladies with a penchant for chatter and attention? Grab your conversation starter vintage sweater TODAY!
Buy This 80s Vintage Conversation Starter Western Sweater ($30) on Etsy NOW!