Hello and happy beginning of the holiday season vintage lovers!!!
Some of you undoubtedly participated in Black Friday and Small Business Saturday shopping. Whether you shopped to give yourself some pre-holiday-season-sanity or shopped to be a part of the day's sensationalized spectacle, you hopefully sought out the deals that you NEEDED rather than what you just WANTED.
As a vintage lover suffering from thrift addiction, I'm constantly reminding myself to neutralize my desires and stilt my seeking of what I don't have when it comes to material goods.
I inspire contentedness with what I already own by refusing to shop altogether, or practicing "safe shopping" where I simply browse and play in vintage boutiques so that I can capture great content for your delight right here on this site.
But like so many of you probably feel, the addiction to shopping isn't always about the material good itself. It's about the experiential act of securing something new and special. It's waking up at 3AM to grab coffee and pow wow with your shopping sisters, strategizing a day of Black Friday shopping that begins standing in line outside Target as the sun rises and the anticipation builds.
Spectacle shopping is a blend of pain and pleasure that gives us stories to tell when we're unwrapping those "discount presents" underneath the Christmas tree weeks later. Oh, and what stories we have to tell!
So while I encourage you to practice smart shopping regularly, sometimes you do just have to let go and allow yourself to just shop for the sake of shopping. And whatever the experience means to you, embrace it in the moment for the joy, the rush and for the soft smile that you'll wear for hours later in the aftermath of it all.
Today's post is about shopping for the vintage pieces that you may not have in your closets already, and which I implore you to consider purchasing next time you support small business — no matter their sales! — and shop your local vintage boutique or one of the sellers I highlight in my Shop Finds page.
Keep reading after the jump for PART I of my personal picks for a top 12 vintage lovers' must-own list! These are the pieces worth investing in for timeless vintage style that's unique, but conveniently chic and versatile for the busy & blessed modern girl.
Smart shopping doesn't have to be an absolute NO to shopping altogether. We can plan and prioritize the additions to our personal (vintage or non!) belongings.
So as we embark on the whirlwind shopping  joyride that is the holidays this approaching December, let us invest in that which gives us joy and which will suit our personal style for years to come.
Today's post is part I of a 3-part series, featuring some awesome insights into the (brief) history of each piece I propose every vintage lover own. Check back soon for parts II & III! (because honestly, today is ENOUGH reading for your vintage history pleasure!)
I had fun asking fans on Facebook what vintage pieces are must-haves for them. I'd love to hear what YOUR suggestions are! A top 12 list is in no way complete nor comprehensive.
Let me know what I should add by tweeting, Facebooking or writing me a note a la my email address. I've had so much conversing on a personal level with vintage lovers from ALL AROUND THE WORLD!
Never be shy to reach out and say "hi." You inspire ME!
Happy vintage "investing," vintage lovers!
xx, SD
1.) A VINTAGE SLIP DRESS (SUGGESTION: BASIC BLACK OR WHITE)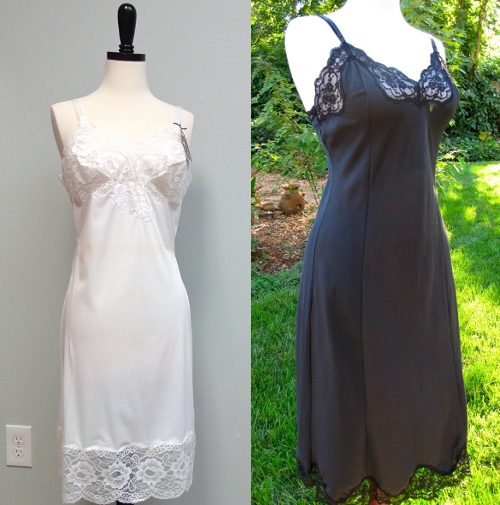 WHAT: A vintage slip dress in black or white. I'd suggest a bonafide vintage slip dress in a silk material from the '60s, which will cost you around $50. Anything older is most likely a polyester blend and shouldn't cost more than $20-$30 when bought from a vintage seller online.
VINTAGE HOW: Slip dresses were historically worn to create smooth lines below dresses. Think of  slips as our style life before the onset of thongs, "control top" nylon stockings, wireless bras and yes … even Spanx!
Slips were introduced to women in the '20s, a few years after the US War Industries board encouraged women to stop buying corsets to free up metal for World War I production.
This change in trends — along with evolving women's rights coupled with a more sexually liberated counterculture a la the Flapper lifestyle — spurred sales of slip dresses as an alternative undergarment to the corset.
Girdles also became en vogue during this time. The female silhouette was no longer focused on achieving an hourglass figure but rather looking long and lean like a boy.
So while corsets tightened the waist, girdles slimmed down the hips. Out with the pear shape, and in with the carrot!
VINTAGE NOW: For a touch of forward-thinking femininity, you can buy a vintage slip and wear it beyond original practical use as a smoothing undergarment.
Think out-of-the-box by wearing your slip dress with knit tights and a slouchy knit sweater, plus a pair of rugged cowboy boots. Or, let the lace of the slip dress pop below an A-line skirt for a more dramatic, luxurious effect.
You can even cut a slip dress into a slip "top," or tie-dye for a rad swimsuit cover-up or stand alone piece!
I own a bias cut slip dress that's so beautiful in a rose pink that it can be worn as a stand alone dress! It's a vintage classic from the '30s, so the slip dress was made to be one-of-a-kind and because of this attention to detail, looks the part of a formal dress if worn on the appropriate occasion.
If you're lucky enough to find a bias cut slip dress (bias is a type of stitching that's "diagonal" across the body) from the '20s-'40s, just make sure the slip dress isn't too sheer to wear as is.
To alleviate any risk of  reveal, add touches of modernity with control top pantyhose worn over a thong. The control top is slightly darker than the hose, and should cover any areas you don't want to show through the slip when worn as a dress.
Invest in a pair of adhesive sticky bra cups. Call me crazy, but a pair like these have been a wonderful investment for those "how the heck do I cover my boobs in this" moments!
Check out the SHOP FINDS PAGE for my vintage slip dress suggestion available to buy now on Etsy!
2.) A VINTAGE "NOVELTY" ITEM (SUGGESTION: SILLY SEQUINS)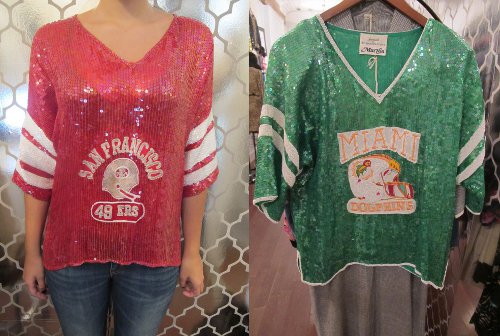 WHAT: Go bold, go gold … GO SEQUINS!
I firmly believe that sequins make me smile on the outside no matter how I'm feeling on the inside, and because of that I believe every vintage lover should invest in a wild & wacky "fun" sequin piece which is impractical but totally lovable and perhaps, even laughable like these vintage sequin football jerseys shown above.
For the classic girl with no idea how or what to invest in that skews from their normal conservative style, look no further than SEQUINS. You can literally light up the room with the right sequin piece. Sequins are like a silent shout to the world that you're a person to talk to and to know.
When worn appropriately, sequins can spur conversation and connection only previously left to the imagination. What sort of conversation are you going to have with a girl in a drab dress?
I truly believe that if everyone wore sequins on a regular basis, we'd be a planet of happier people. Wear sequins and smile today!
VINTAGE HOW: First and foremost I have to thank La Sirena Knits for being the most accurate resource for the brief history of sequins to follow. There are many resources on the Internet for education of whatever your heart desires to learn, but it's important to keep in mind that not all are factually accurate — including this very site! So keep in mind that holes or disconnects may exist because resources to truly research aren't available at this time.
So here's my best attempt at this vintage how, sequin lovers! "Sequins" — shiny, sparkly things used for fashionably decorative purposes — can be traced as far back to the ancient times (think time of the Egyptian Pharaohs on) when "sequins" were made from metals, coins and other non-plastic heavy and valuable materials.
Flash forward to modern times: In the late 1800s, lovers of fashion sequins found a temporary solution in celluoid plastics. A gelatin material (yes: that stuff in Jell-O!) made from celluoid was developed as an alternative to the expensive metals. But as logic would assume, gelatin would melt near sun or heat. The term "hot mess" never seemed so literal!
We can thank technology for today's modern sequin, which is made from PVC materials (read: not safe for environment) and in most modern cases, is machine washable.
But when purchasing vintage sequins, depending on the quality of the piece you may find some shining examples made from real metals. These were most likely hand-sewn and not factory made, which relied on the mass production of plastics for shiny sequin making success.
VINTAGE NOW: For today's fashionable purpose, sequins are however you want to wear them. In ancient times, Pharaohs had their gold sequins buried with them to wear in the after life. But you? You LIVE to wear sequins!
I first encourage sequins for festive occasions. Sequins are to soirees as the Little Black Dress is to a black tie affair. If you want to wear something that manifests a fun, festive party then wear a good sequin dress. Stylish satisfaction guaranteed!
As for all other occasions, it depends on the piece and your personal time, place & taste. I'd wear sequins to bed if I could, but you may only want to wear a bit of shine here or there.
For all practical purposes, balance your sequins with dark solids and a less-is-more attitude. That way, you won't feel like an undercover Broadway star or a Renaissance Gypsy (yes … they wore them too!).
Check out the SHOP FINDS PAGE for my fun & funky sequins suggestion available to buy now on Etsy!
3.) VINTAGE HIGH-WAISTED PANTS (SUGGESTION: SILK MATERIAL & TAPERED LEG)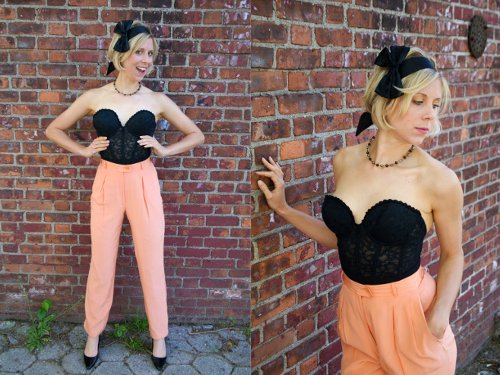 WHAT: Vintage high-waisted pants, preferably made from silk and with a tapered leg to keep on modern trend. Brightly colored pants were big on the runways for this fall/winter season, too.
VINTAGE HOW: I've jokingly called high-waisted pants "mom pants," because for some random rhyme & reason the trend has been associated with the "high-denim-wearing-Soccer-Mom-look" of the '90s.
Now, high-waisted DENIM is another vintage story to tell for another day. Today's tale is on the art of the high-waisted hotness trend, and how you can incorporate a stellar pair of trousers into your contemporary closet.
When I began researching the high-waisted trouser trend and how it all began, I was under the misguided impression that high-waisted hotness was circa the '80s. And ONLY the '80s.
But here's the jaw-dropping reality: When women's American husbands left for World War II in the '40s, they had very little income to buy new fashions. Not to mention the fact that the American and British governments were limiting how much food & clothing one could purchase by the week, known as "war rations."
So when women wanted to go on a shopping spree they satisfied their need for style without leaving home, choosing to raid their absent husband's closets of trousers to wear in their new patriotic roles as wife/mother/workers. With the men away, it didn't matter that women weren't wearing dresses or skirts. They could dress like men without fear that they weren't attracting any!
Men's trouser trends skewed high-waisted at the time, and legendary out-of-the-box-thinker Coco Chanel introduced high-waisted trousers to women in her own collections.
But the advent of the '50s welcomed skirts and dresses … and the boys back home. It wasn't until the '60s that pants for women returned, and this time they were high-waisted because women sought the hourglass, curvy figure that the "high" pant creates by cinching your waist. It wasn't until the rebellious hippie era that low waisted would be embraced in a lady's closet.
VINTAGE NOW: If not wearing vintage high-waisted denim, the high-waisted "look" is quite 2011. That's thanks to mainstream stores selling less low and more high, encouraging women of all ages and sizes to tuck their shirts into their trousers and show off those bombacious curves!
I prefer high-waisted pants with a tapered leg and made with a lux material like silk. Opting for "nice slacks" means I can pair 'em with a bit more "slinky & sexy" pieces up top, like the corset I'm wearing in the picture above or even a crotch-snap (yes, I just said crotch!) body suit in a solid color from the '80s. (confession: I own 4 body suits!)
I think high-waisted pants are a stylish alternative to just any old pair of trousers. And unlike modern styles today, shopping for vintage means you have more cut, color and coordination opportunities since the style spans from the '40s, skips the '50s and made a comeback in both the '60s and '80s.
Check out the SHOP FINDS PAGE for my high-waisted pants suggestion available to buy now on Etsy!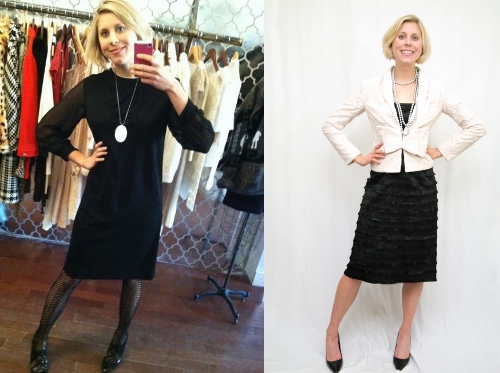 WHAT: The LBD or Little Black Dress, a look that's been forever emblazoned in the style consciousness of women everywhere as the "must-have" piece of fashion next to a good pair of black pumps.
VINTAGE HOW: The Little Black Dress found its claim to fame thanks to Audrey Hepurn wearing a Givenchy one in 1961's Breakfast at Tiffany's, but it was Coco Chanel who first introduced the idea of wearing black on non-mourning occasions and who can be credited with the LBD's invention altogether.
While the practice of widows wearing black for mourning was a culturally persistent one prior to World War I, it was the record number of fallen American men during this time that established "black" as the new norm for women's daywear. Imagine knowing that a stranger's husband was a fallen WWI soldier simply because the woman was wearing all black — for at least 3 months, and up to 1 year!
So, it makes sense where the fabulous Coco Chanel drew her LBD inspiration: War & Death. Despite it's morbid origins, the LBD was celebrated by Vogue Magazine in 1921 as "Chanel's Model T," a reference to the classic Ford vehicle that set the standards for all automobile production thereafter.
With the fashion Bible's stamp of approval, the LBD picked up speed as a trend and a uniform of sorts for women of all social classes. The LBD lost it's popularity in the '50s when the hourglass figure was embraced once again, but the dress made its comeback thanks to Holly Golighty's penchant for wearing them with pearls.
VINTAGE NOW: In the pictures above, I'm wearing two mid to late '60s LBVD — Little Black Vintage Dress! The one on the left is a sheath cut with sheer sleeves and a metal zipper in the back. The one on the right has a fabulous fringe cut horizontally like stripes across the entire dress. I added a big 'ole blazer from H&M with a front bow clasp and some pearls — like Miss Golightly would have worn herself!
As you can see from these two LBVD pics alone, the Little Black Dress isn't just ONE dress style. In fact, it's truly just any to the knee (or if feeling sassy, slightly above) black dress that suits your personal tastes best.
While black was worn for mourning purposes over 100 years ago, today black is worn because it's easy, breezy and dare I say it … slimming! Our relationship with the color is no longer from a place of distress.
Wear your LBD with the same celebration that Vogue printed Coco Chanel's dress in 1921. Pair it with textured tights and bright pumps. Buy an all-sequin blazer and rock the town with blitz & bling. Layer it with the details of fine jewelry or simplify with a cozy cardigan and riding boots.
The LBVD is your canvas for modern marvel!
Check out the SHOP FINDS PAGE for my Little Black Dress suggestion available to buy now on Etsy!
******