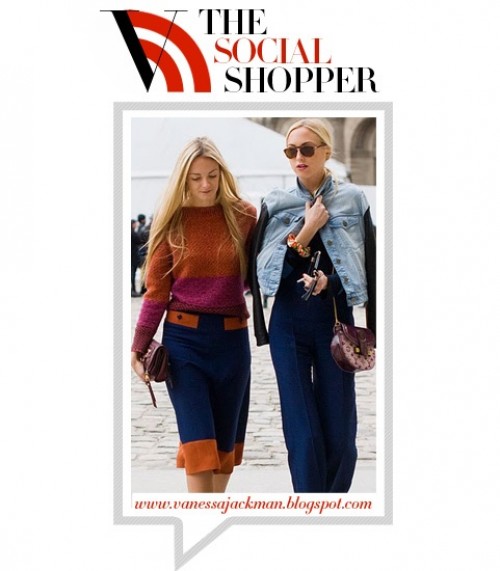 Happy vintage mailbox Wednesday, everyone!!!
I was so pumped to debut a new regularly occurring post last week called "vintage mailbox," where I answer a question as posed by a thrift warrior and vintage lover like YOU!
Last week I answered a few questions about my history & love of vintage fashion as asked by Kirsty, an awesome reader in the United Kingdom. This week, I pulled a question from the mailbox on how to shop for vintage fashion to match a look from Vogue.com's "Social Shopper" section of its site.
The image above shows blogger Vanessa Jackman (left) working '70s style with a blue and orange knee length knit skirt and wool sweater in complementary colorblocks of orange and magenta pink. If you take a closer look, she's holding a dark brown leather clutch.
Reader Katie wrote me the following question on how to match Vanessa's look above, inspiring me to share my tips on shopping online vintage marketplaces like Etsy & Market Publique so that you're inspired to shop vintage similar in style, structure & material that matches the coveted modern or era-inspired look of your choice.
Keep reading after the jump for Katie's request, and to learn how YOU can shop this vintage-inspired look as seen on Vogue's Social Shopper!
And after reading this post — leave a comment on which look your prefer (I present two options!) and also, your own "online vintage shopping" secrets. I don't know everything, and I want to learn from you so that I can spread the love (and make style PEACE!)
Before jumping into Katie's question, thanks to ALL of you — new & old — for checking out the site today. I've been experiencing boundless abundance & gratitude thanks to your support, passion and creative, spiritual energy hanging out here. THANK YOU!
Got a thrift or vintage fashion question of your own? Drop me a few lines of love to [email protected].
Looking forward to sharing a new video with you tomorrow (with voting!) and a giveaway of MORE VINTAGE FASHION with Etsy seller Lady Jane Vintage on Friday!
So stay tuned … cause you're thrift & vintage warrior rock stars!
xx, SD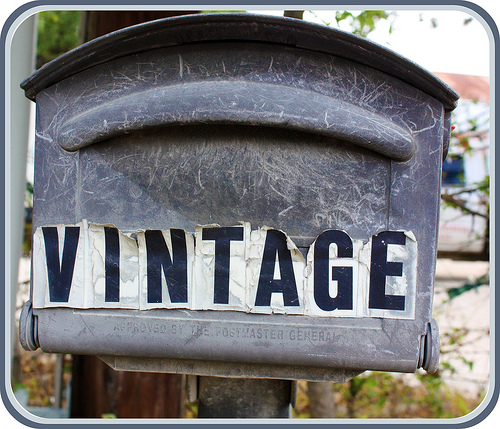 Q: HOW CAN I BUY THIS LOOK VINTAGE?
Hi Sammy!
I LOVE your blog! As Rachel Zoe would say… I die for vintage! I collect vintage dresses and modern shoes to go with them- but also vintage outfits!
Right now I have been looking and looking for a full 1970s outfit like the one I saw in Vogue (matching sweater and skirt!) I would be very interested in buying it at a reasonable price (I am still in college… majoring in History– which might explain my love of vintage and elementary education)!
I love fashion and I love bring old pieces back… would you be able to help me find something similar to this?
Thank you!
Katie
A: VINTAGE NAVY BLUE & RUST ORANGE DRESS
A: SEARCH FOR KEY STYLE ELEMENTS LIKE COLOR & MATERIALS
SEARCH FOR COLOR: Identify the key colors in your outfit. What we see here: "Rust" orange, "navy" blue and "magenta" pink. The purse is a "dark" leather brown.
SEARCH FOR MATERIAL: Identify the key materials of the outfit. The purse is made from leather materials and the skirt and top are knits — wool is a popular "knit" material for winter, while "crotchet" is perfect for summer because it is a porous knit that allows air to pass through and touch your skin.
OUTFIT OPTION #1
HOW TO BUY?
Dress on Etsy ($48) / Wool sweater jacket on Etsy ($35) / Brown leather clutch bag on Etsy ($39)
WHY TO BUY?
DRESS: The dress possesses the necessary style elements of the look's skirt, and then some!
Searching "70's navy & orange skirt" presented a few options of mixed orange & navy plaid skirts — but it was this dress that won the search game. Like the skirt in the look, it has orange accents a la horizontal and vertical lines. The orange is not just any orange, either — it's a rust orange, which is slighter darker than what we're most familiar with, like a Crayola crayon orange or a pumpkin orange.
SWEATER: Now, the piece obviously isn't a skirt. But that's where some creative vintage matching comes into play. According to the look, I should have a colorblock knit sweater in magenta pink and rust orange that sits slightly below my natural waist.
Using these characteristics as keywords but making the colors more generic by removing magenta & rust so that I was only searching for  "orange" and "pink," I searched for "orange and pink colorblock sweater."
The search results? Zero. Zilch. Nada. Nothin'!
Boo! It's OK. Because instead of finding an exact equivalent to the orange and magenta sweater, we can accessorize some magenta pink into the look. But first, finding that sweater!
So next, I searched for the sweater again, but now using "knit" and "orange" as keywords to differentiate this sweater from any other. I opted for orange because a bright pink sweater woud be a very bright addition to the look. I'd much rather accessorize in such a brilliant hue via a neck scarf or bag scarf (keep reading farther below!).
So while "orange pink colorblock sweater" returned nothing, searching "1970s knit orange sweater" resulted in nearly 10 pages of results! So, I checked "relevancy" at the top of the page to sort the results by which fit my keywords best, and would ultimately be the best match for my look.
The sweater coat made sense because instead of a skirt and sweater combo, I was looking for an open sweater to pull over the dress to establish a platform of colorblocking. Adding a full sweater on top of this long sleeve dress would be a sure-fire (not to mention bulky) no-no.
PURSE: This was an easy one, but it still takes a few style search conclusions.
What you see in the look is not just a bag, but a clutch. You know it's a clutch because she can hold it, or "clutch it" in her hand. A lot of modern & vintage clutches have handles for easy lift, or detachable straps for an off-the-shoulder or cross body lay.
As well as being a clutch design, the structure of the clutch consists of dark brown leather.
So, I pulled "clutch," "dark brown," and "leather" to search for my prized '70s piece. Searching "1970s dark brown leather clutch" returned a page of results. Only one page?!
I didn't like any of the clutches as a "top choice," but I did find a second choice — see the tooled dark brown leather clutch below.
Here's where, because we're not receiving more than one page of search results, it's time to get less picky. I removed "dark brown" from my next search attempt because I instinctively knew that most leathers were dark brown to begin with.
Searching "1970s leather clutch" resulted in finding this look's lucky winner!
OUTFIT OPTION #2
HOW TO BUY?
WHY TO BUY?
SWEATER: This wool button down wool cardigan has wide sleeves that creates the necessary arm space you need to pull over the dress with enough openness to reveal the rust orange accents below.
I found this sweater searching "1070s orange knit sweater." It was my second choice for the look not only because it's a near-match orange, but for an even better color bonus: The navy & sky blue stripes complement the navy base of the dress itself, connecting the two pieces as if they were meant to be worn together from birth (or so we can pretend!).
PURSE: I like a tooled leather clutch for this outfit because it adds a youthful edge to a fairly modest look — I found this clutch searching for my purse the first time using "1970s dark brown leather clutch."
Fear of looking matronly? You can breathe a sign of relief! Thanks to the look's bold, solid colors, you lose the granny quality. I'd even add dark brown cowboy boots (to match the clutch) so that my stomps were surely stylish!
A: CREATIVELY ACCESSORIZE TO CREATE COLORBLOCK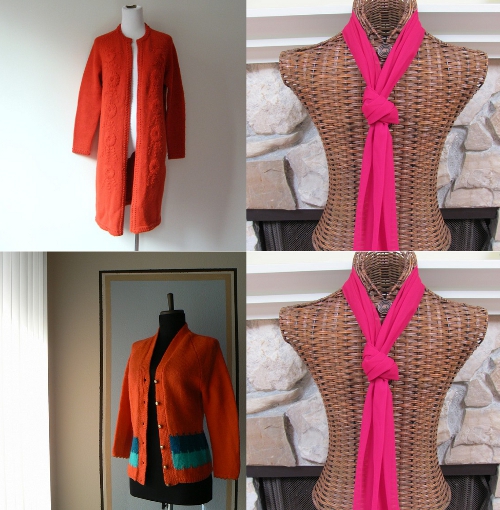 HOW TO BUY?
Magenta scarf on Etsy ($15.95)
WHY TO BUY?
Due to the fact that searching for "orange and pink colorblock sweater" yield no results, I decided to opt for an all-orange sweater instead, knowing that thanks to a creative twist I could still add a colorblock attribute with a special and easy-to-wear accessory.
Because the pink and orange colorblock were two horizontal blocks "stacked" on one another, I can use a bright pink scarf "stacked" on top of the sweater around my neck to create the same feel.
I searched for "solid pink scarf" on Etsy and found this slightly sheer, perfectly magenta pink option above. Wrapped elegantly around your neck or tied in a bow, it adds another sensual element to the outfit for fresh & youthful charm.
NOTE: Searching for "pink scarf" is not specific enough, as it yields you with pink scarves in a multitude of floral and print designs. Because this look is solid and knit, you do not want to add a pattern. Keep it simple and keep it solid!
A: NOTE COMPLEMENTARY ELEMENTS OF OUTFIT
WHY NOT TO BUY?
PURSE: It's a cute burnt orange/brown clutch on its own — but when paired with the deeper red orange of the sweater jacket, it's a recipe for clash-aster (when clash & disaster combine!)
When looking to pair a purse with an outfit of oranges, opt for coffee table brown colors in crisp leathers.
Stay away from any "skin" leathers too — knitwear is too modest for the sexy edge that snake-alligator-crocodile and the like emanate are really meant as evening wear materials, anyway.
Which look do you like better — option #1 with the rust orange sweater coat, or option #2 with the button-down cardigan with blue accents?
Let me (and Katie!) know your thoughts by leaving a comment on which you prefer below!