Fashions of the '50s were more varied than ever before especially considering movies, magazines and television were introducing new looks faster than you can say Fifties Fashion ten times fast!
The typical '50s lady either purchased her favorite fashions made ready-to-wear from a department store or small boutique or if  handy with a sewing machine, she chose to make her favorite style of the day using patterns included between the pages of popular women's magazines Vogue and McCall's.
Thus, the amount of "trends" from the decade are much greater than that of previous eras and it takes some simplification to easily rock '50s fashion in your modern life!
I believe that every woman can channel some fifties into her wardrobe — and fast! — using these three easy suggestions of what to wear for definitive '50s style.
My mid-century fashion picks are below – but what do you like most about this vintage style era?
Let me know by leaving a comment below, or by saying hello on Twitter, Facebook, Instagram or by subscribing to my newsletter!
xx, SD
1950s FASHION WESTERN STYLE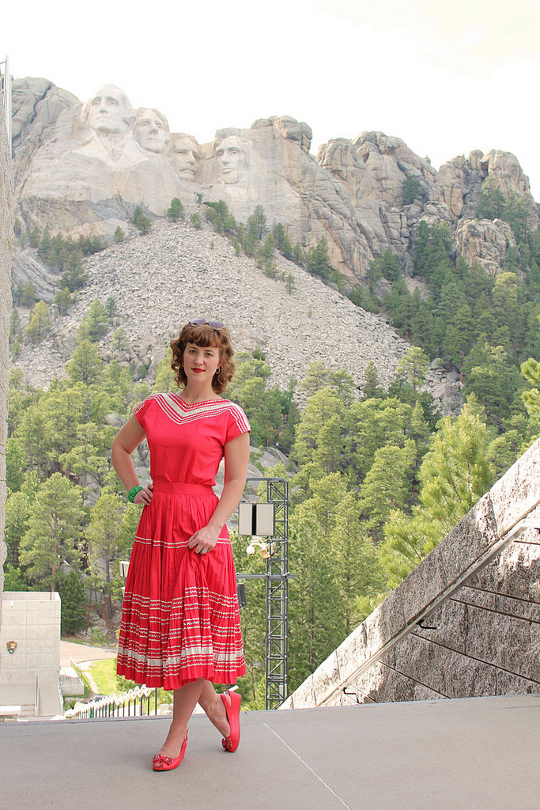 THE STYLE: Western wear fashions inspired by the Great American West and Native American designs.
FUN '50s HISTORY: Square dancing dresses, fringe jackets, snap button shirts and tooled leather purses were all the rage in the '50s because Westerns like The Lone Ranger and The Roy Rogers Show were some of television's big hit shows. By 1959, there were 26 Western themed shows airing during TV's prime time!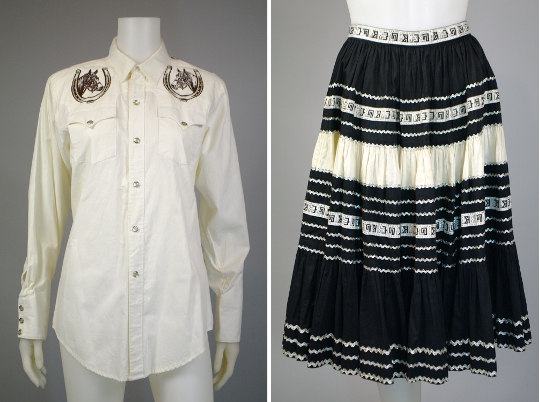 '50s Snap Button Western Shirt & '50s Square Dancing Skirt Available from Hinesite Vintage 
Also, American designers sought inspiration from Western style and Native American fashions to differentiate themselves from European designers. Post World War II saw a rise in American design and for the first time ever, American fashion wasn't solely dictated by the couturiers of Paris.
MORE ON THIS LOOK: The square dancing dress (shown on Midnight Maniac ) was an invention of American design and especially popular with the '50s lady living in Southwest America because it fit with the area's more casual dress code.
First coined a "Squaw" dress, the style's original name isn't used much today because to some, squaw is used as a derogatory term for a female Native American. Thus, vintage sellers and buyers prefer calling the dress a square dancing, patio, fiesta, kachina or tohono depending on its type of metallic threaded rickrack.
1950s FASHION SHIRTWAIST DRESSES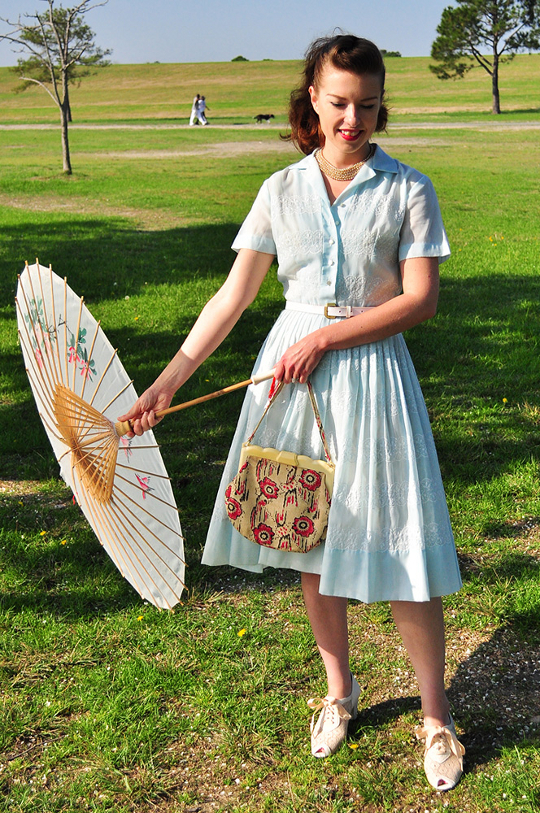 Source: Elegant Musings
THE STYLE: It's one half dress, one half shirt. Put the two together and you've got yourself a shirtwaist dress, which was probably the most popular and mainstream style to come out of the 1950s.
FUN '50s HISTORY: Tune into Leave it to Beaver and chances are you'll see June Cleaver rocking a shirtwaist dress with pearls while she bakes, cleans and runs a household full of boys!
Late '40s and '50s magazine advertisements showed women wearing a shirtwaist dress while using the era's new and improved home appliances (vacuums, washer/dryers, refrigerators), which encouraged women to want the style because it represented the idealized suburban life as a happy mother and a wife.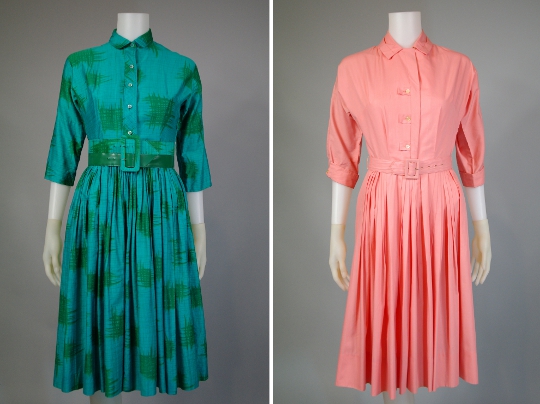 '50s Green Shirtwaist Dress & '50s Pink Shirtwaist Dress Available from Hinesite Vintage 
The shirtwaist dress had a resurgence in the '80s, but not without some crazy prints and colorways to differentiate the styles. See how I wore an '80s shirtwaist dress from Olive's Very Vintage.
MORE ON THIS LOOK: More photos of Elegant Musings' classic '50s shirtwaist style and how she styled it four different ways!
 1950s FASHION FULL SKIRT DRESSES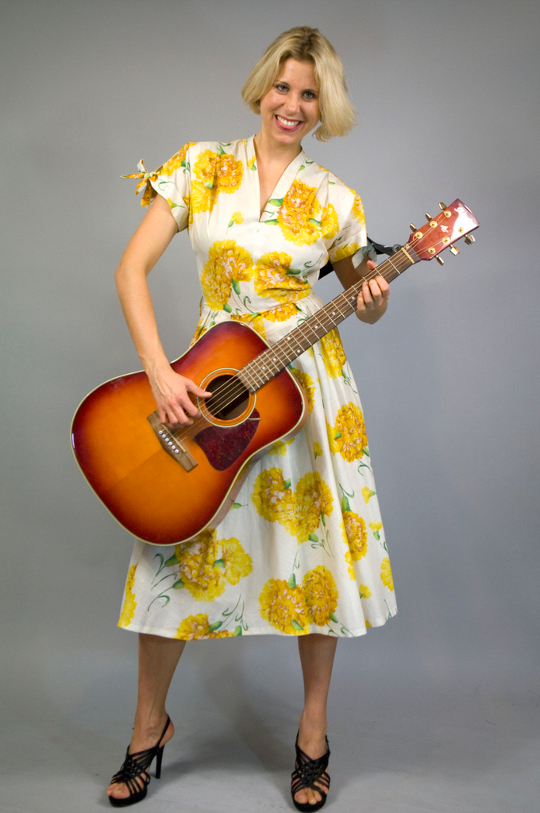 THE STYLE: Full skirted dresses — the type that are oh-so-forgiving of every woman's butt, hips & thighs!
Fitted on top with an A-line flare, the quintessential '50s dress has a silhouette of fullness that flatters any body type with (read: not tight!) coverage of your lovely lower half.
FUN '50s HISTORY: The tubular skirt styles of the '40s were required by law to conserve fabrics for the war. The less-is-more styles remained until the early '50s, when Christian Dior's "New Look" of the perfect hourglass silhouette made the use of more fabric for dress production a fashion trend requirement.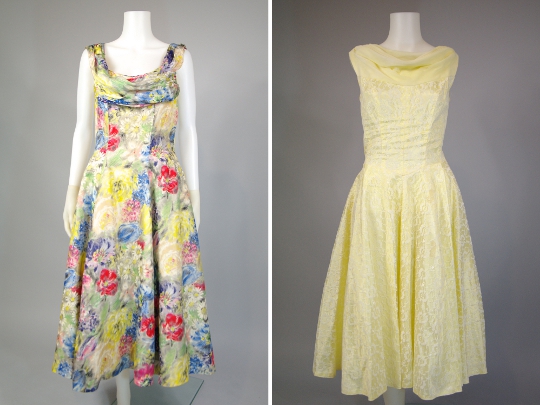 '50s Floral Full Skirted Dress & '50s Pale Yellow Full Skirted Lace Dress Available from Hinesite Vintage
The full skirted dress is so quintessential '50s because it's conservative chic. In other words, you're not seeing fabric stuck onto a girls butt, hips and thighs in this look.
MORE ON THE STYLE: More photos of me wearing this full skirted dress style, plus other fabulous '50s dresses from Hinesite Vintage.
Thank you to Hinesite Vintage for loaning the vintage clothing in some of these photos.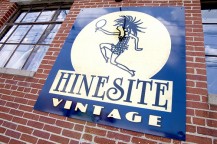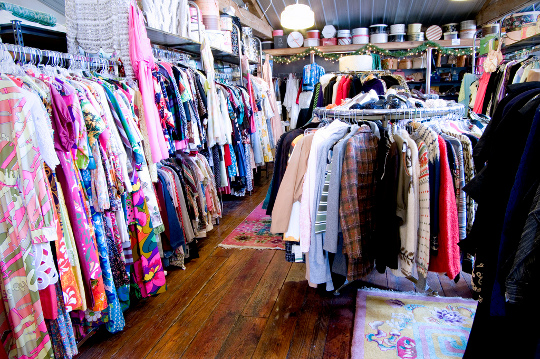 Hinesite Vintage is located at 24 West Walnut Street in Lancaster, Pennsylvania
MORE 1950s FASHION
'50s FASHION: Why You'll Feel Like a Lady Wearing '50s Style
HINESITE VINTAGE: My '50s Dresses Photoshoot with This Vintage Store
CELEBRITY: How to Dress Like a '50s Style Marilyn Monroe 
STOP STARING: At This 1950s Style Wiggle Dress! 
PLUS: Where to Buy '50s Style Clothing from Stop Staring!